Because people can only buy your products and services if they can find them, a website should be easy to use and have a fighting chance at securing the highest possible ranking on search engines. As one of Pittsburgh's longest standing website design agencies, Elliance has been delivering prosperity with SEO-friendly websites for regional, national and global clients for the past 30 years. Here are six ways we infuse SEO into every stage of website design: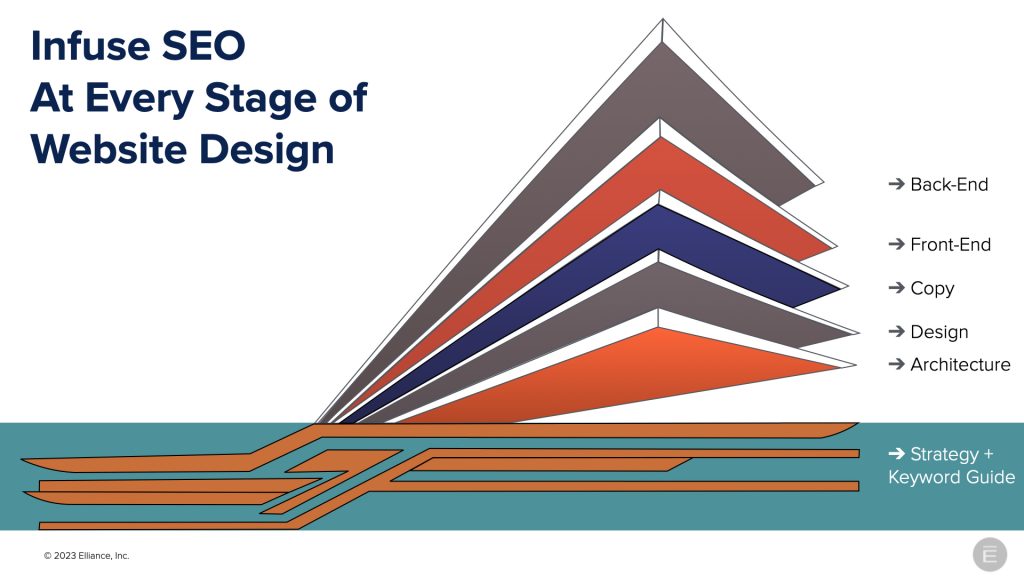 1. Strategy + Keyword Guide
At the very start of your website redesign project, ensure that you not only declare your SEO goals in the website strategy document, but also craft a Keyword Guide that contains clusters of keywords and phrases spanning your products/services and areas of thought leadership, innovation and intellectual capital. Laying claim to the keywords begins with an intentional plan.
2. Information Architecture
After completion of your sitemap, build wireframes with a balanced mix of digital assets to increase user engagement and page scroll depth. Map out a rational URL naming structure and nomenclature that is friendly to search engine bots. Develop a plan to map old URLs to the new URLs to ensure you retain your website's current SEO rankings and so new rankings are secured in addition to the older ones.
3. Design
Incorporate and optimize the right mix of images, copy, videos, tables, pdfs, interactive elements and links on each website page to maximize page engagement and scroll depth – both of which are ranking factors for Google.
4. Copywriting
While writing short, inspired and poetic copy that informs, persuades, engages and delights prospects and customers is critical. it must be artfully infused it with the right keywords.
5. Front-End Development
Partly to develop websites more efficiently and, more importantly, to ensure they rank higher on search engines, build responsive websites i.e. ones that auto-adjust to various-sized devices. Because page load time is a ranking factor, ensure that you are generating standards compliant HTML, CSS, and JavaScript code, and off-loading functionality off-page whenever possible. Populate meta-data to influence search engine bots and humans alike. Build your website pages to meet accessibility criteria for people with special needs i.e. make your code ADA WCAG 2.1 Level AA compliant.
6. Back-End Development
Since mentions in social media is now a key Google ranking factor, enable social sharing on all website pages. Generate automatic XML sitemap which is used as the list of all active pages on a website. Avoid duplicate content penalty and direct old URLs to the new ones using 301-redirects. Activate 404 pages to improve user experience, lower bounce rate and increase site usage. Wire robots.txt files to skip sensitive, duplicate and irrelevant pages.
When designing and building websites, remember that God truly is in the details.
If you are seeking a website design agency with 30-years of SEO mastery for your organization , view our website design capabilities and consider partnering with us.