Recently Elliance worked with Highmark Insurance Group to launch their new website. As part of all our web design and development projects, whether for insurance or manufacturing companies or higher education institutions, one of the points of distinction that no one ever sees is the SEO work that gets baked into the structure and thinking of the website.
Here are some ways SEO is essential to all our web projects:
Sitemap optimization:
A sitemap is like a blueprint – it defines the structure of the website and provides a map of how the content will be laid out.
When we start to think about a sitemap, we focus on the ways people will consume content on the website – how they will search for it and find it, and once they arrive, how they will interact with it. What's important to note here is that visitors may not come in just through the homepage. Each page becomes a doorway that leads into the site and creates an opportunity for ranking that page on search engines.
As we work through the process of understanding the client and their audience, we also come up with a keyword guide which the target audience is searching for and can be applied to critical pages on the site.
For HMIG, understanding the mapping of the content based on business objectives and audience habits helped us build out a keyword guide which was mapped to each critical page. If a user now does a search for "stop loss insurance companies" they can find HMIG's Stop Loss Insurance page ranking on Google page 1 results.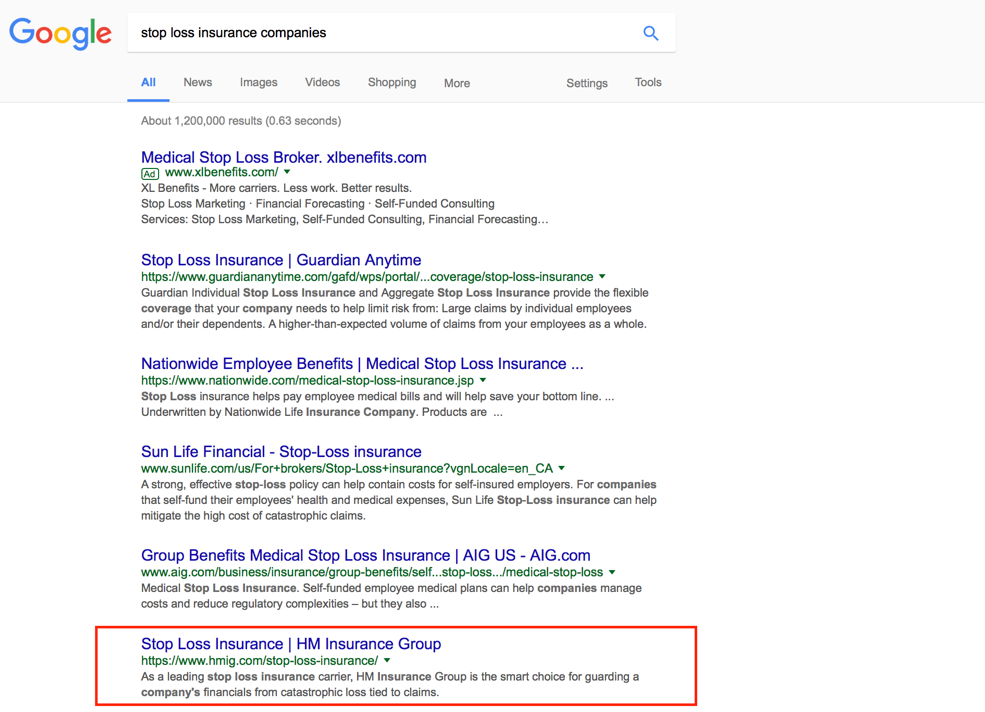 User experience optimization:
We make it easy for users to navigate the website. The purpose is to make information easy to find. This includes keeping together clusters of related pages – grouping together relevant content positively affects rankings on search results. It provides more content relevance for a topic causing that website to rank higher for keywords.
For example, in the case of HMIG, top level navigation was split into two major service areas – Stop Loss Insurance and Managed Care Reinsurance. All content for each of these sections was pulled into the respective sections, making it easy for users to find if they were only interested in looking at that specific area of the website.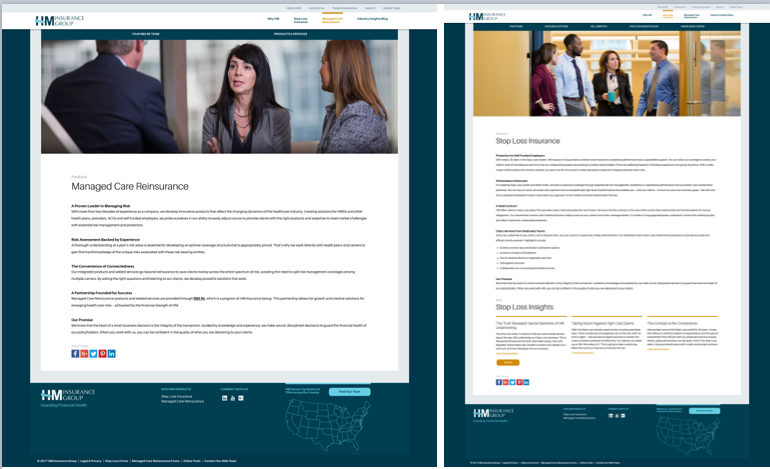 Content optimization:
Clients gain brand credibility by being ranked on Google Page 1. The perception is that a leader lives on Google Page 1. As we create content we create with both the search engine bot and the user in mind – how they will consume the content and the kinds of searches they will conduct to get to the website. The keyword guide again becomes a starting point for this effort, providing the client a targeted content area to focus on.
Over time in order to sustain rankings we focus on creating consistent content such as blog posts. The keyword guide that was created with the new website continues to lead these efforts of strengthening and maintaining rankings. We also help clients with active optimized content creation and will monitor and report regular progress to our clients on how they're doing on search results.
Conversion optimization:
We bring people to a website to take some action such as to make a sale. Which is why it's very important to make it easy for users to find a way to engage with a company. Conversion points on a website create engagement, which helps to reduce the bounce rate, which in turn is rewarded by search engines through stronger rankings. For example, if someone comes to the site and cannot find a way to request information, it becomes a lost sale. We make sure conversion buttons are placed in prominent places and are easy to find. This makes it easier for the user to move to the next step and your ranking to move up in results.
In the case of HMIG, the link in the footer is available for users across the website so they can find the team in their region easily.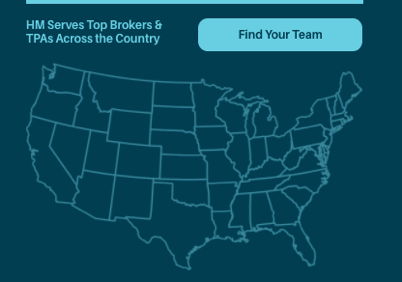 Once all of this is in place, this starts the website on the right path to becoming search friendly and to building strong and stable rankings on search engines. But this is just the beginning. In order to maintain those rankings and stay ahead of the competition, building fresh and consistent content through blogging and social media efforts becomes key to success.
Contact us to learn more about Elliance inbound and search engine marketing services.