Many people approach PPC and SEO as completely separate strategies. But if your PPC and SEO campaigns aren't talking to each other, you're wasting time and money. It's important to share insights learned in each area to avoid duplicated efforts and missed opportunities.
When used strategically, PPC can actually help your SEO strategy. Here are a couple of things to consider:
When running PPC, you can see what specific search terms are getting clicks and driving leads. It's important to factor this in when deciding which keywords are best to optimize for organically.
You'll dominate the search engine results page when you effectively optimize both efforts: PPC + SEO = 2/20 listings. Increasing the visibility of your brand is always beneficial. Dominating the paid and organic search results will prove that you're an established presence in your market, and greatly increase traffic as a result.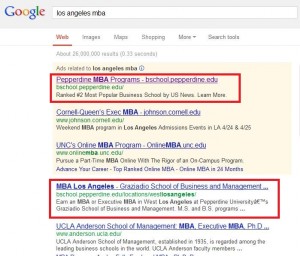 Here you can see where our client's PPC ad is in the #1 PPC spot and #1 Organic listing.
Weve found that the impact of PPC and SEO listings together on a SERP (search engine results page) is far greater than the sum of their parts.
This study by Googledemonstrates that simultaneously implementing both PPC and SEO strategies has a big impact over implementing one or the other individually.
The average customer can expect up to 89% more clicks by combining SEO and PPC than from PPC or SEO alone. In other words, if you're getting 111 clicks/day from SEO, adding PPC will slightly reduce your SEO clicks (say, to about 100), but it will also add 100 more clicks from PPC to your total traffic pool.
Utilizing these PPC efforts with SEO and different inbound marketing strategies will maximize your budget and drive qualified leads.
If you are seeking a paid advertising agency, consider partnering with us.