As the trend line in medical school applications rises and falls, and as the makeup of future classes moves decisively toward more female and far more diverse applicants, the level of integration required between strategic planning and strategic communication becomes more crucial, and the potential rewards greater.
Most Schools of Medicine feel competitive pressure from two ends — with the entrenched elite top schools attracting game-changing private donations, and ambitious emergent schools aggressively pursuing prospective students.
Your claim to greatness can come on many fronts — research, global, intellectual capital, and clinical partnerships. These can provide a solid bedrock for a more assertive reach and push across the digital ecosystem. Only by claiming this will the School of Medicine secure the share of message, mind and market needed to distinguish its next hundred years.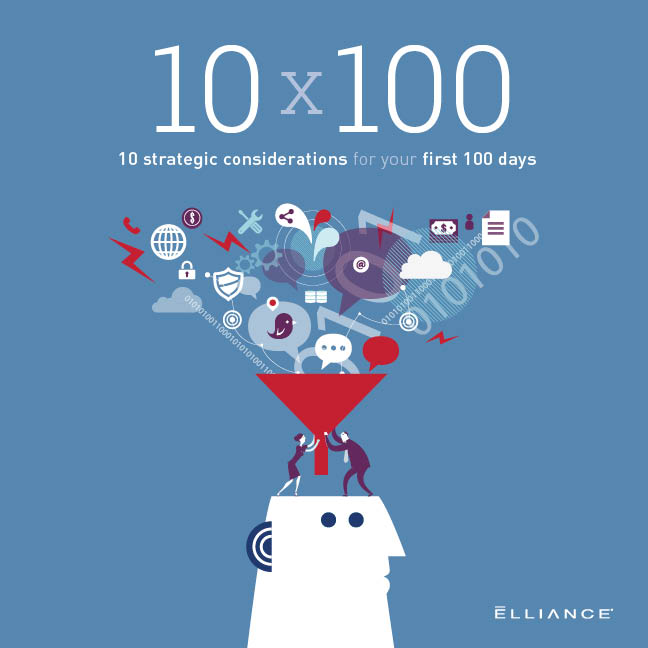 Experience tells us that great beginnings matter for these reasons:
a clear purpose calms the winds of change
seeing (our future) becomes believing
strong messages invite loyalists
trust takes root
The number and variety of decisions, opportunities and challenges that come with assuming leadership of a major medical school require a steady hand. Below, we've put together 10 strategic considerations for your first 100 days to help you navigate from analysis to synthesis.
1. Strategic Planning
What mix of analytical insights, high-level metrics, broad directional focus and emotion-stirring goals (ambitions) will galvanize faculty, partners and prospects — and tap unrealized energies and potential within the School of Medicine?
2. Brand
How do we mature our understanding of and grow our aptitude with brand — visual and voice — so that internal teams can communicate with broad and fine brush strokes, and inspire the School of Medicine community to act more as one, bound by a newfound sense of shared purpose?
3. Reputation
How do we empower the School of Medicine teams — communications, development, alumni, recruiting, corporate/government relations — to transcend outdated silo thinking and embrace the integrated nature of reputation building in the age of digital channels and content?
4. Enrollment
How do we look beyond broad measures — school and program enrollment trends — and arrive at a more granular and precise assessment of our ability to achieve predictable and reliable enrollments for the School of Medicine? How do we attract and shape a robust class of motivated and diverse students? How do we respond to trends (gender, age, diversity) sure to impact future enrollments?
5. Research/Content/Publishing
How do we bring a "content is destiny" perspective to the School of Medicine, and turn all publishing — academic, research, alumni, general audience — into a reputation building, Google dominating cooperative enterprise that powers enrollment, reputation and fund raising? How do we learn to curate for ubiquity — rather than publishing in silos?
6. Institutional Collaboration
How do we position the School of Medicine within the larger University system? How do we tap into the potential for current undergraduates and graduate students to bring awareness to their networks, including many potential future medical students?
7. Program Development
How do we bring a greater understanding of Generation Z wants, needs, expectations to the School of Medicine academic, student support, global study, clinical and community engagement programs? What programs drive brand, revenue, reputation — and in what proportions? What opportunities exist for corporate partners and donors to coalesce around signature program (capital building) initiatives?
8. Medicine/Data/Technology
How do we better position the School of Medicine within a larger conversation about the integrated nature of medicine, data, and emerging technologies (machine learning, artificial intelligence, robotics, engineering)? How do we better communicate with prospective medical students who currently see their aptitudes, interests and career trajectory on the periphery of the life sciences?
9. Donor Relations
How do we build a culture of shared beliefs and purpose across the School of Medicine (advisory boards, key corporate partners, alumni leaders and emerging stakeholders)? How do we balance annual and long-term fund-raising priorities? Can we inspire others to create next generation alumni activities and constituent relations programs, and train the School of Medicine thought leaders and more visible/influential representatives?
10. Legacy
While it takes considerable confidence and charisma to succeed as the Dean of a medical school, ultimately the qualities of humility and curiosity become the defining features of the most effective leaders. How do I lead and communicate so that others join me in the greater ambition of building something larger and more lasting than ourselves? How do we come together so that attention shines not on ourselves, but on what we create, and contribute?
If you are seeking a strategic planning agency, marketing agency, or a branding agency for your medical school, view our capabilities and consider partnering with us.