As one of the top higher education marketing agencies, we are frequently asked to share our thoughts on emerging trends in this space. Here is what we are seeing.
The past two years have seen a historic decline of more than one million students in US colleges and universities. Racially and ethnically diverse student populations continue to grow. The number of International students shrank during the pandemic but are growing again. College endowments surprisingly grew at first and then took an inflationary hit. Marketing and enrollment arms races are on. Colleges are battling to win an outsized share of a shrinking pool of domestic and international students.
Here are the top ten higher education marketing trends for 2023 that we are sharing with our clients and partners: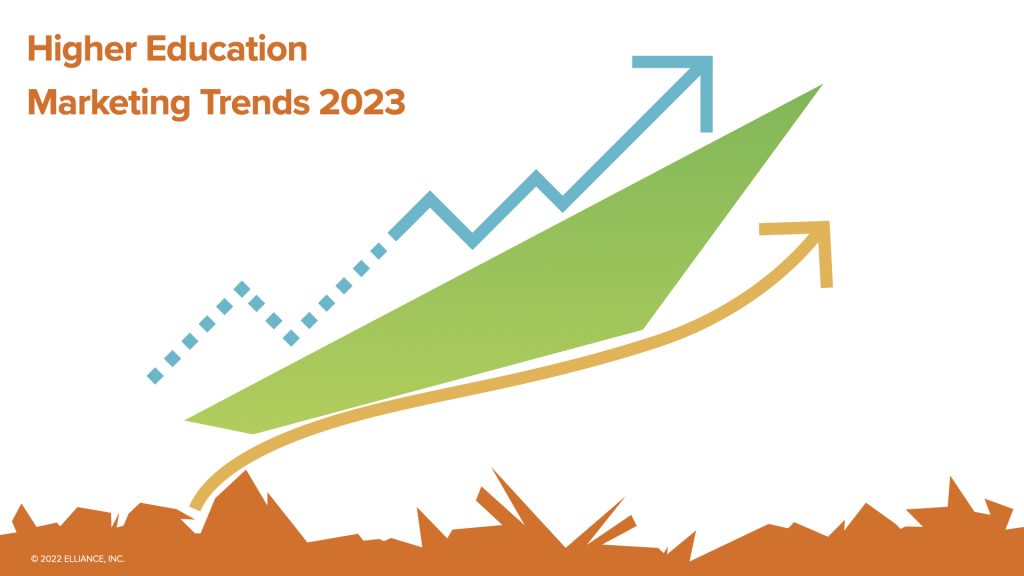 1. Responsive Ads
Machine learning has arrived. Google algorithms are creating responsive Google search ads and Google display ads. For search ads, marketers generate multiple headlines and descriptions, and Google tests different combinations, serves the performing ads, and starves the non-performers. Ditto for display ads: marketers upload several images, sizes, headlines, descriptions, and Google adapts fast and gravitates automatically towards the winning combinations.
2. Look-Alike Audiences
Look-alike audiences are groups of prospects who share similar characteristics with the current students at a college. They tend to become applicants at a faster rate than prospects in the open market. Marketers are leveraging look-alike audience features on the advertising platforms.
3. Personalization
This smart software treats prospects differently depending on where they are coming from and where they are in their decision cycle. Treating warm prospects, hot prospects and hottest prospects uniquely reflects not only good manners but is also good for business. Personalization is increasingly being deployed in websites, emails, event marketing and advertising.
4. Keyword Lexicons
Before marketers embark on the content journey, they are routinely crafting SEO Keyword Lexicons that guide creation of all new content. The Lexicon is comprised of keywords and key phrases the college should rank for and claim. Keyword categories in the Lexicon include: program, brand positioning, reputation, decisioning, and location.
5. Celebration of Diversity
Given that diverse student populations are growing and the white student population is shrinking, higher education marketers are increasingly targeting diverse Gen-Z populations. Since Gen-Z values a broad definition of diversity, equity, sustainability, and climate change, they are seeking out colleges whose values are aligned with theirs. Marketers are responding.
6. Humorous and Authentic Content
Born in the digital age, Gen-Z live on Snapchat, TikTok, Instagram, Twitter, Netflix and Google. The internet is an extension of their brain. They have an app for everything they do, or have an interest in. Memes are a part of their daily lives. They expect authentic, show-don't-tell marketing. They have a deeper appreciation and need for humor because they feel overwhelmed by the existential crisis that they are facing in weaker families, divided politics, rising costs of education, climate change, and a shrinking world.
7. Content/Blog Marketing
Great content is the lifeblood of successful brands. "Juiced" with keywords, informative blog posts are one of the most effective means of securing Google page one rankings for long tail keywords. Depending on the type of college and university, they are either creating thought-leadership blogs or advice-oriented blogs with practical content.
8. Democratization of Research
A trend we are seeing emerge is what I call the TED-effect: faculty and thought leaders sharing their expertise in a democratized style via blogs, videos, and podcasts.
9. Influencer Marketing
Gen-Z tend to follow many influencers and generally trust what likable influencers are promoting. Social media account takeovers by students are now an effective means of bringing authentic voices to college marketing.
10. Emerging Website Norms
Colleges are using photographs of diverse students, faculty, and staff. Investigative reporting and high-octane storytelling are becoming the cornerstone of great websites. Signature program pages are being constructed with higher content fidelity. "Hamburger menus" are now routinely appearing for site navigation. Sticky admission funnel intakes, like call-to-action buttons, are becoming common. Personalization is taking root.
Contact us if you are seeking a smart higher education marketing agency which can help you join the elite group of successful colleges we have turned around.