This is the third of a four part series on website design best practices we have used as one of Pittsburgh's longest standing website design and SEO agencies. These practices have consistently delivered prosperity to regional, national and global clients for the past 30 years.
Because Google page one is destiny-creating, our second crucial web development best practice is to apply this search engine optimization (SEO) checklist. The key elements are: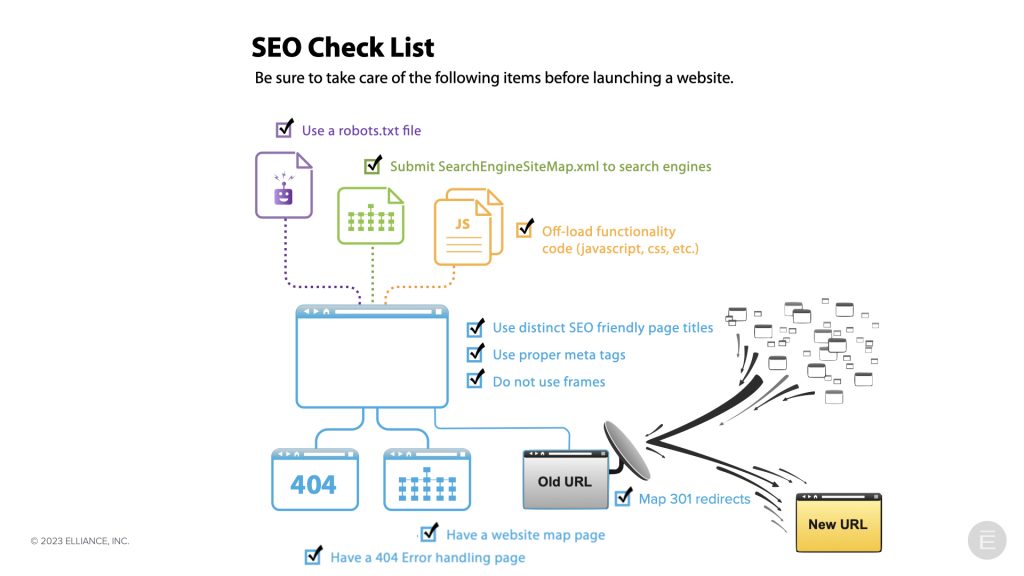 1. Write Distinct, SEO-Friendly Page Titles
Arguably the most important on-page ranking factor, these titles are served up on search results pages. They should make a promise to users, motivate users to click to explore further, differentiate you from competitors, and guide search engine bots on what to expect on the page.
2. Compose Proper Meta-Tags
Though partially invisible to human beings, they provide content and ranking guidance to search engine bots. Parts of the meta-tag are served up on search results pages and social media post news streams. The two groups of tags that must be present are:
search engine meta-tags including page title, description and keywords that describe page content to search engine bots
open-graph tags that are displayed when page is shared via social media
3. Activate a Robots.txt File
It contains instructions on which pages a search engine bot should crawl and index and which ones it should bypass. To avoid being penalized, it is advisable to instruct the bot to skip sensitive, duplicate and irrelevant pages.
4. Generate and Submit Search Engine Sitemap XML File
Your CMS should automatically enable you to generate this file which lists all the website pages you want search engine bots to crawl and index. It contains signals that define content hierarchy, identification of new and updated pages, and takes the guesswork out of the pages the bot will crawl.
5. Enable and Use the 404 Error Handling Page
This is the page that your website generates if a user tries to land on a non-existing page.This page becomes mission critical if you decide to move your pages around, or rebuild your website. We recommend revealing the most critical parts of your sitemap. With a well-designed 404 page, you:
improve the user experience by providing suggestions for important pages.
don't lose website traffic that is going to old URLs because they are baked into an old sitemap structure.
improve your website bounce rate.
improve your SEO performance because search engines penalize dead pages and dead links.
track page-not-found error logs and can take corrective action.
6. Create a Sitemap Page
This page typically shows your critical website pages organized in a hierarchical manner. It is a useful fallback if a site user gets lost, and doesn't think of using the site search feature. It also helps search engines understand content hierarchy, and at times even assists the search engine bots in crawling the website. Make it useful and pretty.
7. Map 301 redirects
When you redesign a website or consolidate website pages, you'll most likely change all the URLs which were ranked on search engines. Ingenious architects of the web devised 301-redirects as the surest and safest way to:
retain your old search engine rankings so you can continue to build upon them as opposed to starting from scratch every time you change your website. With a 301-redirect, you automatically transfer the "link-juice" – a key search engine ranking factor – to the new page.
manage duplicate content which search engines frown upon by penalizing rankings.
keep people who might have bookmarked the page happy by showing them the new page rather than a dead end or a 404 page.
Know that the steps outlined above are simply foundational SEO. To secure and sustain Google rankings, you will need a keyword-inspired content strategy. If you don't wish your website to be a lotus flower in the Himalayas yearning to be seen by crowds, it would behoove you to follow this checklist and undertake an ongoing content campaign.
If you are seeking a web development agency for your organization, view our website development capabilities and consider partnering with us.