The stakes are high when higher education institutions launch new academic programs. According to Burning Glass, a market research firm, the estimated cost of sustaining a new program over a four-year period is around $2M and only a third of them succeed. When launching new programs, college leaders are looking for recipes to ensure success and avoid failure.
Here at Elliance, we advise our clients to consider the 7 P's: program, price, place, prospects, professors & program chairs, promotion, and process. Here is what we recommend: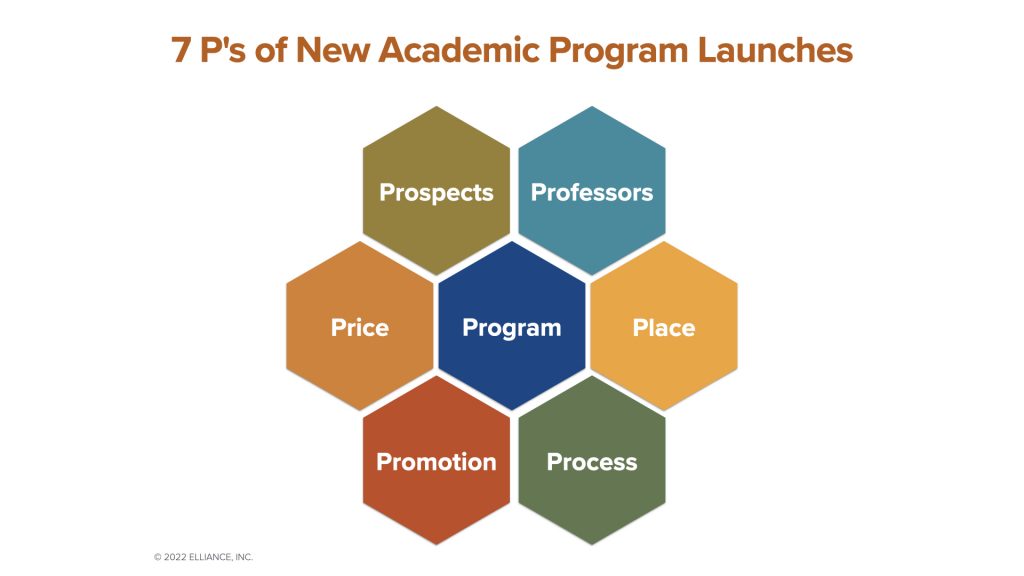 P R O G R A M
New program launches follow the law of supply and demand. The higher the demand for program graduates and lower the supply of colleges offering the program, the higher the chance of success.
Analyze data from the Department of Education and the Department of Labor to assess the competitors and the demand for your new program's graduates.
On rare occasions, if you have an insider's view of a field, feel free to rely on your intuition rather than market research.
P R I C E
Charge higher tuition if you are offering a distinctive program. This is hard to implement for undergraduate programs, but is easily doable for graduate and certificate programs.
P L A C E
Academic programs can be offered in various settings and formats: on-campus, on-line, hybrid or at corporate offices. Offer the format in the location that best meets the needs of your ideal students.
P R O S P E C T S
Know the profile of your right-fit prospects. Remember, the student, not the institution, is the real hero of your story. Resist the temptation to talk too much about yourself; instead shine a light on prospects' needs, desires and ambitions.
Recognize that you are serving an increasingly diverse group of students. Recruit, enroll and support students from diversity of faiths, ethnicities, genders, and socio-economic backgrounds.
Identify influencers for your new academic program. This group includes influential alumni, corporate recruiters, community leaders, educational journalists and high school teachers, principals and college counselors.
P R O F E S S O R S & P R O G R A M C H A I R S
Tap the most talented professors from your top-ranked schools to teach the new program. Augment with practitioner adjunct faculty if necessary. Reflect the racial, ethnic and gender composition of your students in your faculty choices. In the age of social media and "Rate My Professor", the word gets around quickly about the quality of faculty choices you make.
Choose your program chairs wisely and smartly. Mediocre programs, in the hands of effective program chairs, succeed — and great programs, in the hands of weak program chairs, fail.
P R O M O T I O N
If students can't find your new program, they simply can't buy it. How do you cut through the clutter of 4,000 to 10,000 ads an average person is seeing every day? By outsmarting, not outspending. Here are fourteen steps for marketing success:
1. Allocate a Sufficient Marketing Budget
If you build an in-demand program, new students will not just show up and enroll. Even the elite colleges learned this lesson the hard way.
2. Position the Program
Avoid creating a me-too program. If you are entering a crowded space, focus on a unique perspective where you have special competency. For example, instead of offering yet another data analytics program, create a health care analytics or financial analytics program.
3. Name the Program Strategically
Ensure there is Google search volume for the program name and that it flows smoothly off your tongue.
4. Know Your Brand
In the sea of sameness, brand wins. Begin your marketing by first knowing and then infusing the spirit of your brand in every touch point you create.
5. Build a High-Fidelity Microsite
New programs are more successful when launched with a high-fidelity program page and a microsite. Experiment and A/B test messaging on microsites; they'll teach you important lessons you can port back to the program page.
6. Create a Story Landing Page
Landing pages should start a romance between the prospect and your college. Resist the temptation to create transactional, skinny landing page with an intrusive inquiry form. Build a story landing page that distills your argument and tells a compelling story.
7. Create a Program Brochure
Print is not dead. Program sheets and brochures are a calling card in meetings with students, families, and partners.
8. Create a Program PowerPoint
Distill your argument into a small presentation that's right, tight and bright. You'll use it in program open houses and webinars.
9. Start a Blog
Know the mission of your blog. Depending on the type of college and university you are, create a thought-leadership blog or an advice-oriented blog with practical content.
Create blog posts with stories, infographics, downloadable pdf's, thought leader interviews, professional recognition awards and videos. Optimize each blog post so it ranks on the first page of Google for a premeditated keyword.
10. Launch a Paid Advertising Campaign
Launch a smart, micro-targeted and machine-learning-based paid advertising campaign using the right mix of paid channels. Show up and serve a prospect at every step of their journey to becoming a student.
11. Promote on Social Media
Weave the launch announcement and ongoing program activities into your social media calendar.
12. Conduct Open Houses, Information Sessions and Webinars
Roll out the red carpet. People who show up are most likely to enroll.
13. Energize Influencers, Referral Networks and Reliable Feeders
Wholesale student streams provide a solid foundation upon which you build your retail student recruitment.
For undergraduate programs, build relationships with school principals, teachers, college counselors, alumni, and educational journalists so they can create a steady source of new students.
For graduate programs, build relationships with employers, industry partners, trade groups and educational journalists.
14. Activate Boots-on-the-ground Activities
It's hard to achieve success with marketing alone without a good ground game. Speak in public forums, visit schools and colleges, meet corporate leaders and recruiters, and partner with people who influence prospects.
P R O C E S S
Staff Appropriately
Hire diverse staff. Increasingly diverse students expect to be served by diverse staff.
Follow-up with Inquiries and Applications on a Timely Basis
Keep it human. Respond quickly. Pay as much attention to admissions yield and follow-up systems as you do to generating and nurturing leads.
Recruit friends and colleagues to become secret shoppers for your new program. Ask them about their experience.
Deploy a unique game plan for every stage of the admissions funnel.
Know what prospects and influencers need at every stage of the admissions funnel, and meet their needs. Pay as much attention to admission yield communications and follow-up processes as you do to lead-generation and lead-nurturing communications.
The key lessons we learned from our experience was that colleges should break away from convention; that if you are offering a distinctive program, marketing should be proportionately elevated; that success is a byproduct of a good partnership between the agency and your team; that the agency and clients teams must learn fast, adapt fast and move fast to get an unfair share of the market. The leadership belongs to the bold.
Contact us if you are seeking a smart higher education marketing agency which can help you join the elite group of successful programs we've launched.