I recently came across an article from Clayton Christensen, Harvard Business School professor, discussing the success and failure rates for new products. He shared that about 30,000 new products are introduced every year, and a whopping 95% fail. This made me wonder about the success and failure rate of new academic programs at colleges and universities. After some digging, I found a study by Burning Glass, a market research firm, titled "Bad Bets: The High Cost of Failing Programs in Higher Education." They analyzed graduation data for the 10,536 new undergraduate and graduate degree programs that were launched in 2010-2011. In 2018, they took a snapshot of graduates to assess the success and failure of these programs.
Sobering Data
This is what they discovered: about a third of the programs weren't graduating any students; roughly half were graduating fewer than five students; and two thirds of the programs produced fewer than ten graduates. That's pretty sobering considering the estimated cost of sustaining a program over a four-year period was around $2M.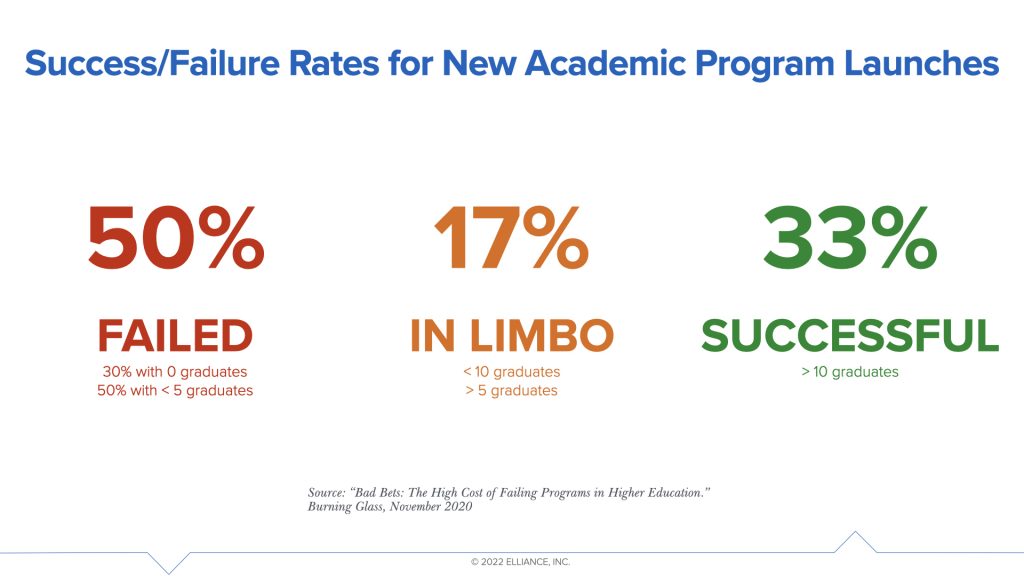 Public institutions fared a little better than private non-profit colleges and universities: 24% of publics failed to graduate any students as compared to 34% of privates; 37% of publics graduated less than 5 students, as compared to 55% of privates; and 51% of publics graduated less than 10 students, as compared to 67% of privates. This is dismal performance given the confidence and fanfare involved at the time of launch.
How Can Colleges and Universities Improve Their Success Ratio?
Having launched numerous new programs, we have learned that these eight factors determine success:
Tuition:

Higher tuition rates can be charged for more distinctive and unique programs. For more competitive programs, you have to articulate a distinctive value proposition and adjust tuition accordingly.

Competitive Landscape:

It is important to evaluate same or similar degrees in the geography you plan to serve. Study Department of Education data to analyze competitive offerings.
Demand For Graduates: Assess the demand for graduates. Evaluate job boards and Department of Labor statistics.

Pre-Existing Pipeline of Prospective Students:

Evaluate if a pipeline of students exists. If you have an established pool of interested prospects, it will give your program the headwinds it needs to get off the ground.

Nurture Leads:

Establish a thoughtful system for timely and intelligent follow-up of inquiries. Humanize your response and calibrate timeliness.

Faculty:

Bootstrap new programs with energetic faculty and program directors. Students are attracted to inspiring high-achievers.

Marketing Investment:

Prospective students can't enroll in programs they can't find. Half the programs fail to take off because the institution didn't invest in a commensurate marketing budget.

Marketing Imagination:

A creative marketing approach is the x-factor behind successful program launches. Hire an agency that thinks outside-the-box, tries innovative approaches, and looks at data creatively.
A smart higher education marketing agency can propel your program into orbit faster and create success. If you are interested in joining the ranks of legendary program launches, please contact us.