In anticipation of the looming 2025 demographic cliff when college bound undergraduate students will begin to shrink, colleges and universities have started investing in launching and growing graduate programs to diversify their revenue.
Our clients have started asking us to prepare a playbook for successfully recruiting and growing graduate student enrollment. In growing enrollment for graduate programs for the past 25 years for over 50 colleges and universities, we have learned two things: First, students can't buy your programs or buy-into your university unless they can find you; Second, you can't bore students into enrolling in your university. To achieve success with recruiting graduate students, universities must start with the right portfolio of programs, assess the environment, and deploy a balance of the marketing air-game, boots-on-the-ground game and follow-up contact strategies.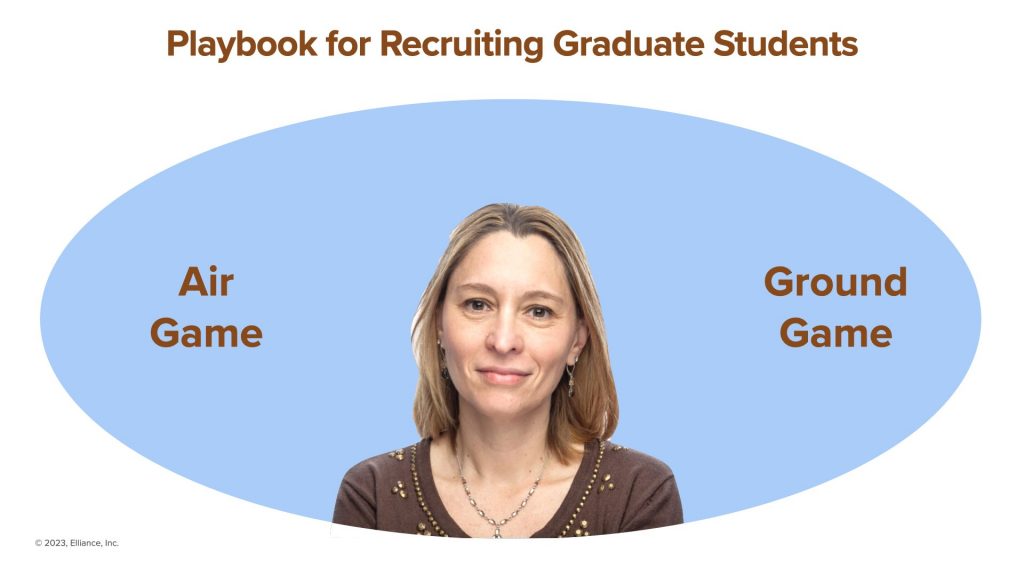 WIN BEFORE YOU WIN
Start by creating distinctive, in-demand graduate programs in areas where your college can claim indisputable competitive advantage. Fight the temptation to start new me-too programs. No one has realized prosperity with commodity offerings. Not only are distinctive programs easier to rank on Google page one, students are willing to travel across the country and across the world to enroll in them.
ASSESS THE SITUATION
Appraise the university's situation by immersing yourself in the college, the market and competitive data:
Trend admissions funnel data
Perform SWOT
Benchmark competitors
Define right-fit students
Assess potential demand
Know your brand
Understand what the market values (brand, ROI, alumni proofs, faculty thought leadership, etc.)
MARKETING "AIR GAME"
1. Website: The Ultimate Conversion Machine. The website is the #1 lead and application generation tool for graduate programs.
Inform your website strategy with insights from market research. Let website strategy guide the development of information architecture, content, design and development.
Make it search-engine-friendly. Inform it with a keyword guide. Bake best practices in search engine optimization (SEO) into all aspects of it.
Make it beautiful. Romance prospects. Merchandise hope.
If your design template and CMS constraints don't let you elevate the website user experience, be prepared to create a new microsite for all or mission-critical graduate programs.
Carefully track prospect journey and conversion performance.
2. Paid Advertising: Hunt like sharks. Don't feed like whales. Deploy new paid advertising methodologies based on what the right-fit students value, micro-segments, look-alikes, A/B testing, machine learning, big-data algorithms and affinity groups. Direct prospects to brand-infused, high-fidelity, story landing pages. Infuse brand, ROI, differentiators, ROI stats and facts into the creative. Go beyond the traditional admissions funnel and embrace inverted admissions funnels strategies and tactics. Carefully track prospect journey and campaign performance.
3. Inbound/SEO Marketing: Get Found on Google Page 1. Mobilize SEO and your content marketing engine to dominate search engines. Start by creating a Keyword Guide with keyword clusters, frequently asked questions, and natural language queries. Develop smart foundational SEO and create ongoing high-fidelity, share-worthy, inclusive content to secure and sustain Google page one rankings. Create and showcase alumni stories, infographics, ROI stats, videos, quizzes/calculators, contests on your website and social media channels. Ensure that the information that appears on search engine results is persuasive and inviting. Monitor your search engine rankings and traffic to identify which pieces of content are performing well and adjust your emphasis accordingly.
Remember three things. First, research shows that organic Google rankings are more trusted, secure over 90% of click share, and generate close to two-thirds of inquiries. Organic inquiries tend to form long-term relationships with the universities and they tend to melt away at a reduced rate. Second, leads generated from Google organic rankings outperform paid advertising leads by three-folds. Third, the best prospects prefer to "discover" the college of their choice through "accidental finds" on Google page one and word-of-mouth on social media.
4. Conduct email marketing campaigns: Email marketing is most effective with house lists, undergraduate alumni lists, and as joint marketing campaign with related niche organizations. Carefully track prospect journey and campaign performance.
5. Influence ranking and rating agencies. Although colleges have an ambivalent relationship with college rankings, prospective students tend to gravitate towards the best ranked colleges they can afford to attend. Smart colleges routinely influence these ratings by creating committees that proactively affect ranking factors such as peer perception, student satisfaction, student placement rates, and salary data.
Each of these paid, earned and owned media strategies are good alone, but better together.
BOOTS ON THE "GROUND GAME"
1. Webinars and Campus Visits. The basic blocking and tackling of the ground game begins with webinars and campus visits. The meetings and interactions with faculty, students and alumni provide prospective students with the information and experiences they need to determine if a college is the right-fit for their academic and personal goals. Prospects who attend these events tend to apply and enroll at a much higher rate than those who show up by other means.
2. Attend industry conferences and events. Attend conferences and events where prospective students and influencers congregate. Since like attracts like, attend inclusion-focused conferences and bring appropriate diverse faculty, staff and alumni to them.
3. Use your grad certificates and CE programs graduates as feeders. They perpetuate relationships and create future referral streams for graduate programs.
4. Send email and text reminders to incomplete applications. Sometimes it just takes a reminder to move prospects over the fence.
5. Create partnerships with undergraduate program feeders – regionally, nationally and globally. Nurture relationships with reliable undergraduate program chair allies in your own university and other colleges. Wholesale student streams provide a solid foundation upon which a university can build retail one-on-one recruitment.
6. Recruit international students. With over one million international students heading to the US in 2023, the race is on to attract the brightest and most financially well-off international students. Attract students from overseas with international scholarship contests, international SEO and paid advertising, country-specific social media, international websites, international information sessions, WhatsApp, prominently featuring your international faculty and more.
7. Care and feeding of partnerships with regional and national employers. They generate a steady stream of referrals for your programs. Conduct joint marketing events, give joint presentations and publish co-branded stories.
Furthermore, by facilitating corporate projects, capstones and speakers, universities help students realize a return on their investment by helping them gain practical experience, develop job-specific skills, secure quality job opportunities and expand their networks. Become known as a gateway to corporate America, nonprofits and government agencies.
"FOLLOW-UP" CONTACT STRATEGIES
All your marketing investments will be wasted unless you build a solid follow-up system for inquiries and applications.
1. Follow-up with inquiries on a timely basis. Respond quickly. Keep it human. Recruit friends and colleagues to become secret shoppers for your programs — and ask them about their experience.
2. Deploy a personalized contact strategy for every stage of the admissions funnel to maximize yield. Know what prospects and influencers need at every stage of the admissions funnel, and meet their needs. Pay as much attention to admission yield communications and follow-up processes as you do to lead-generation and lead-nurturing communications. Offset reduced contact with stealth applicants by stepping up the game at each touch point.
Ask faculty and program directors to personally follow up with high-value leads, not just accepted students. When faculty and program chairs follow up personally with quality prospects/applicants and probe them about their motivations, aspirations and ambitions, it becomes a force multiplier: it surprises them and builds brand affinity. Moreover, when the insights gathered from these conversations are fed back to marketing, the messaging becomes even more effective.
3. Deploy a unique contact strategy for applications to prevent melt.  The application is the new lead. Treat admitted students with the same care as you treat leads. Deploy drip campaigns, accepted student days, early orientation, and welcome reception.
4. Leverage an appropriate CRM system. Many good systems exist in the market: Slate, Salesforce, Element451, HubSpot, Ellucian Recruit, and Full Fabric Foundation. Use the one that your organization can afford and support.
Remember two things. First, a broken inquiry and application follow-up process reflects poorly on the entire brand. Second, don't let automation get in the way of personalized and timely follow-up because there are no short-cuts for old-fashioned, human-centered relationship building.
Successfully recruiting graduate students creates a win-win-win situation for universities, individuals and society: universities grow revenue from diverse sources and keep their faculty engaged and creating new knowledge; individuals gain skills and knowledge to deepen their expertise and earn more; they go on to tackle societal challenges and improve quality of life through innovation.
If you are seeking an enrollment marketing agency to grow your graduate enrollment, consider partnering with us.