The pace of spinning out new academic programs at colleges and universities is increasing. Over the years, we've helped clients launch and market several new degrees. Some have been wildly successful, some mildly so and others just sputter along. What's the difference between success and failure? In my view, God is in the details.
Everyone knows that the overall process is pretty straightforward: you assess the opportunity, plan the rollout, and execute the launch.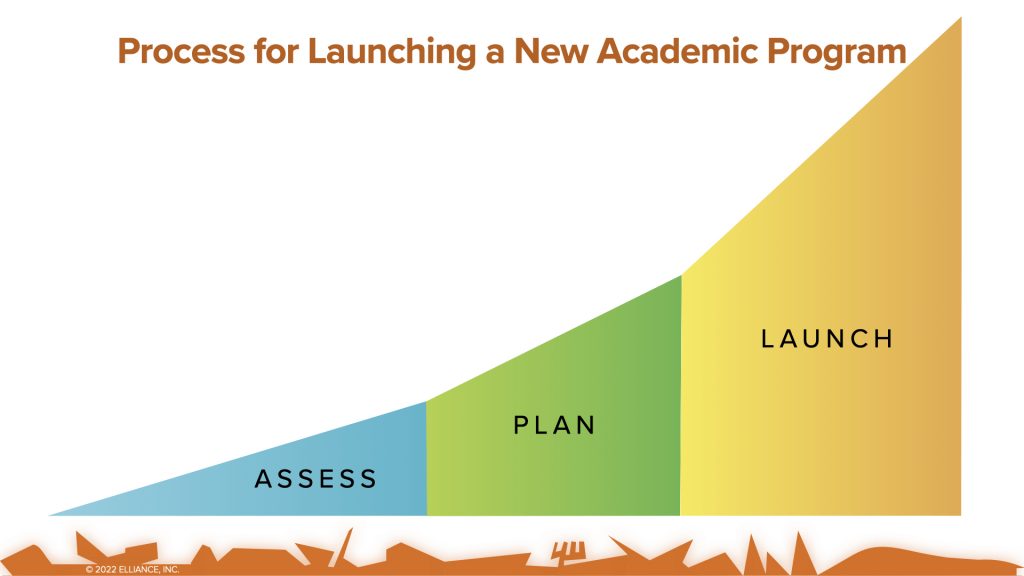 I'll share a story of a program that applied this logic and almost didn't take off. And how we turned it around to become a runaway success. This is the story of Carnegie Mellon's MS in Product Management.
Assess the Opportunity
Most colleges hire a market research firm to analyze data from the Department of Education and the Department of Labor to assess the competitive landscape and the demand for graduates. Carnegie Mellon approached it differently.
Carnegie Mellon's former Dean of the School of Computer Science had recently left Google. One of the challenges he faced there was the difficulty in finding seasoned product managers. The few product managers he was able to hire had risen through the ranks from marketing and software development. They had acquired the necessary customer experience and management skills on the job. He knew there was growing demand for product managers but no school was offering a masters degree in product management.
Armed with this insight, he designed the world's first MS in Product Management program tapping talented professors from Carnegie Mellon's top-ranked computer science and business schools.
Plan & Execute the Launch
Carnegie Mellon hired an agency to promote the program on a nominal budget. The agency launched the program with a website comprised of 15 pages of copy and a single image. Instead of applying marketing imagination, they reasoned: "It's Carnegie Mellon. If you build it, they'll come."
The agency ran a paid advertising campaign and directed prospects to the website. The campaign generated 3,000 leads, but only a handful of these turned into applicants. In the first year, CMU only accepted four applicants, two of whom barely met the admissions criteria but were admitted anyway to jumpstart the program.
Enter A New Program Director & Elliance
Greg Coticchia, a serial entrepreneur, had matured into a very successful product manager through his experiences with more than a dozen startups. He was ready to give back to society and train young talent. He was recruited to save and turnaround this fledgling program. His first step was to seek out an agency that understood both marketing and demand generation.
He asked us if we could take the program to the promised land of prosperity and growth. I said only if he would trust our instinct — honed over 25 years. This was our assessment:
Carnegie Mellon is selling a premium product and asking prospects to make a $160K-$180K decision: $68K for tuition, $25K for room & board, and the $70K-$90K salary they would forgo to enroll in this program. For someone to make this expensive decision, we'll need to romance them with a "Ferrari-looking" microsite and a thought-leadership blog. We recommend that CMU invest more money to market the new program with smart, micro-targeted paid media. Our initial goal will be to generate 300 leads of which 20 or so will convert into an enviable class for the second year. This initial investment will generate a pipeline of prospects for subsequent years. We added one more condition: "These students will trust you because you are a product manager. You'll personally follow up with the leads in the first year."
Greg liked our assessment and we got started.
Step 1: Build a "Ferrari" Microsite
We persuaded Greg to allow us to build the microsite outside the rigid grid of Carnegie Mellon's website template system. Greg fought the internal battles and gave us the permission to produce this masterpiece: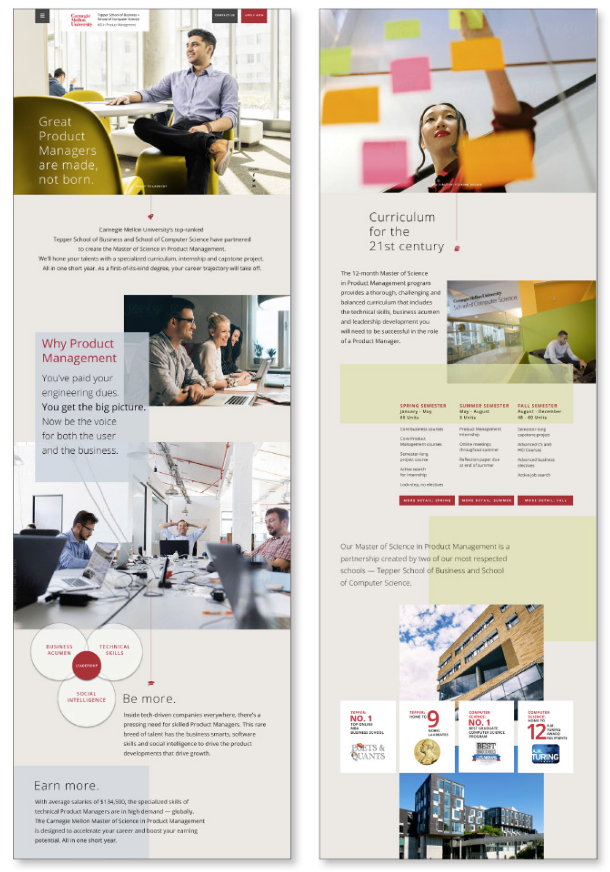 Step 2: Create a Story Landing Page
Since paid advertising prospects don't have the patience to experience an expanded microsite, we built a story landing page that distilled our argument and told a compelling brand story. This was in sharp contrast to the industry best practices where prospects are served a skinny landing page with an intrusive inquiry form.

Step 3: Start a Thought Leadership Blog
Being one of the pioneering product management degrees, we recommended CMU claim their thought leadership position with a blog. Each blog post became a keyword hive to secure Google page one rankings for the program globally.

Over the next few years, we created several infographics, downloadable pdf's, thought leader interviews, professional recognition awards and videos. Below is one of the videos we created to introduce the program:
Step 4: Launch a Paid Advertising Campaign
Elliance launched a smart, micro-targeted and machine-learning-based paid advertising campaign using various paid channels.
Step 5: Wait for the Inquiries and Applications
Right-fit prospects raised their hands. In the first year, close to 500 leads were generated from professionals working in blue-chip companies. Greg kept his promise. He called every one of them. He learned a ton from those conversations and shared his insights with us. In turn, we fine-tuned and optimized our marketing messages and blog posts. The leads and applications continued to grow.
Step 6: Enjoy the Success
At the end of our first year, the enrollment grew from 4 to 20 — as we had projected at the outset. In year two, the class grew to 30 students. In year three, enrollment grew to 40, and finally in year four to 50. We successfully grew enrollment 12-fold in just a few years! Everyone was ecstatic. Carnegie Mellon raised the program tuition from $68K to $70K.
Google page one rankings for the website and the blog grew steadily. Here is a sample screen shot of some of their rankings at the end of the fourth year.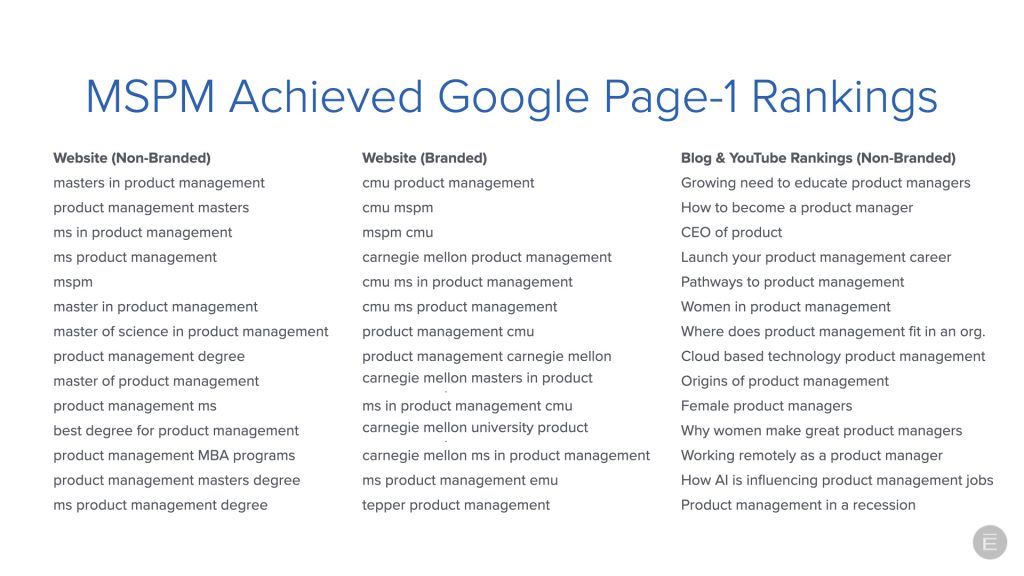 Epilogue
After four great years, Greg regretfully left for greener pastures. My team and I wept at the news of his departure.
The key lessons we learned from this experience were that colleges should be prepared to break away from conventions. That if you are offering a premium degree, marketing should be proportionately elevated. That success is a byproduct of a productive partnership between the agency and client team. That the agency and clients teams must learn fast, adapt fast and move fast to claim a leadership position. That leadership belongs to the bold.
Contact us if you are seeking a smart higher education marketing agency which can help you join the legendary ranks of Greg and Carnegie Mellon's MS in Product Management.