In the past 25 years, I've had the privilege of collaborating with more than fifty college vice presidents of enrollment. Whether they are recruited as a change agent or a strategic visionary, they are increasingly expected to liberate new growth for the college by focusing on the 3 R's of prosperity: Revenue, Reputation and Rankings. These three currents flow under the fifteen practices for managing and running successful college enrollment operations in this manifesto: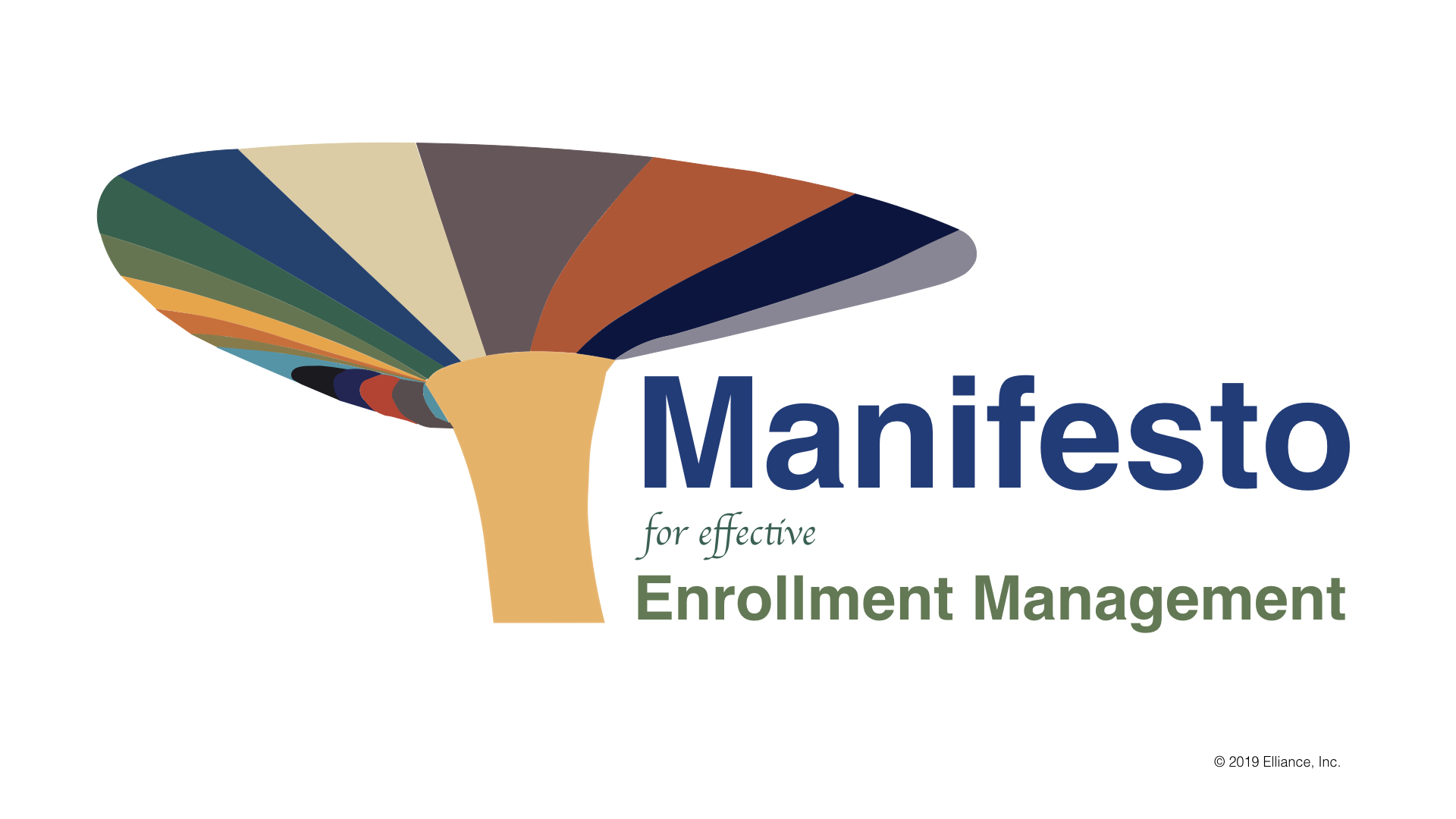 1. Invest in brand. Speak with one brand voice.
In the sea of sameness, brands win. Know your brand core promise, values, ideals, distinctions and the ideals you stand for.
Articulate your brand value cheerfully irrespective of whether you are a liberal arts college, STEM university, healthcare college, college of access, online educator, a research powered, experiential brand, or an integrative brand.
Speak with one brand voice to all audiences, but strike different notes for each segment of students, alumni, donors, partners and influencers.
2. Curate and manage first impressions.
Fortify every digital touch point including websites, social media channels, search engine descriptions, paid campaigns and brand anthem videos. Infuse beauty and strength in every physical touch point such as open houses, information sessions, college entrance, campus grounds, campus signage, classrooms, tours, and admissions office décor.
People make snap judgements. Their perception of your college is created in a few minutes.
3. Pursue right-fit students.
In addition to the traditional admissions funnel, invert the admissions funnel by marketing your students and alumni heroes to attract like-minded prospects. This will create admission pipes, not funnels.
Right-fit students will go on to become brand ambassadors, recruiters, partners, donors and engaged citizens.
4. Abandon traditional student search models. Hunt like sharks. Don't feed like whales.
The era of buying prospects names, spamming them, seeing who sticks, and praying some convert is over. Embrace new paid advertising methodologies based on right-fit, micro-segments, look-alikes, machine learning, big-data algorithms and affinity groups. Direct prospects to high-fidelity, story landing pages. Think right-fit, admission pipes and inverted admissions funnels, not just traditional admissions funnels.
Smarter enrollment strategies win an outsized share of the shrinking student market.
5. Avoid democratic budget allocation.
Lead with strengths. Bet on champion program chairs and signature programs. Let the signature programs generate profits to sustain others. Allocate pilot budgets for novel portfolio approaches and tactics.
Great enrollment managers are rarely democratic in budget allocation. They play favorites with winners.
6. Think student life cycle.
From prospect to current students to alumni and donors. Take the long view. Insist on providing robust academic support, career guidance and a great campus experience to your students.
Happy graduates will become brand ambassadors who'll generate referrals and donate their time, treasure and talent to advance the institution.
7. Claim your Google page one rankings.
Develop smart foundational SEO and create ongoing high-fidelity content to secure and sustain Google page one rankings. Create stories, infographics, stats, videos, quizzes/calculators, contests — on your website and social media channels. Ensure that the information that appears on search engine results is persuasive and inviting.
Remember two things. First, leads generated from Google organic rankings outperform paid advertising leads by three-folds. Second, the best prospects prefer to "discover" the college of their choice through "accidental finds" on Google page one and word-of-mouth on social media.
8. Energize influencers, referral networks and reliable feeders.
Wholesale student streams provide a solid foundation upon which you build retail recruitment. Successful enrollment vice presidents cultivate relationships with school principals, high school college counselors, influential alumni and educational journalists which form a steady source of referrals.
It's much easier to recruit groups of students (wholesale) rather than winning one student at a time (retail). Think wholesale and retail.
9. Insist on offering a distinctive portfolio of programs.
Foster creation of new programs and new flavors of programs where your college can claim indisputable competitive advantage. Fight the temptation to start new me-too programs. No one has realized prosperity with commodity offerings.
Not only are distinctive programs easier to rank on Google page one, students are willing to travel across the country to enroll in them.
10. Deploy a unique game plan for every stage of the admissions funnel.
Know what prospects and influencers need at every stage of the admissions funnel, and cater to their needs. Pay as much attention to yield communications and follow-up processes as you do to lead-generation and lead-nurturing communications.
Personalization and mass-customization outperforms one-size-fits-all.
11. Augment integrated marketing with timely follow up and boots-on-the-ground activities.
This trifecta is the holy grail of higher education enrollment and marketing. You take one part out, and success will elude you.
Don't let automation get in the way of personalized and timely follow-up. There are no short-cuts for old-fashioned, belly-to-belly relationship building.
12. Know your numbers and industry benchmarks.
Forge your own path. Perform better than how you did last year. Measure what matters. Keep an eye out on your referral rate, student quality measures, yield rate, melt rate, graduation rate, placement rate, and alumni giving rate. Periodically compare these numbers to those of your peers and aspirational competitors.
You can only manage what you can measure.
13. Combine data, intuition. and courageous action.
Embrace data-informed decision making. Measure what matters, watch what you see, see the unseen — but also trust your instinct and gut. Take bold action once you gather the insights from your data.
Boldness wins.
14. Leverage tools, technologies, process and imagination.
Adopt CRM and marketing automation software, but not to replace the essential work of relationship building that needs to be done to win hearts and minds of prospects.
Imagination, passion and purpose — not process — is what prospects ultimately buy and are buying into.
15. Balance profit and purpose.
No money, no mission. No mission, no money. Prospects are attracted to passionate brands. You need both to survive and thrive.
If you are seeking an enrollment marketing agency to grow your undergraduate, graduate, online, adult or international enrollment, view our higher education marketing capabilities and consider partnering with us.