With strained budgets, weakened endowments and the anticipated demographic cliff when college bound undergraduates will begin to shrink, colleges are eyeing international students from emerging economies. With over one million international students heading to the US in 2023, the race is on to attract the brightest and most financially well-off international students.
Our clients have started asking us to prepare a playbook for successfully recruiting and growing international student enrollment. In growing enrollment for international programs for the past 25 years for numerous colleges and universities, we have learned two things: First, students can't buy your programs or buy-into your university unless they can find you; Second, you can't bore students into enrolling in your university. To succeed, universities must invest in first impressions, and deploy a unique balance of the marketing air-game, boots-on-the-ground game and follow-up contact strategies.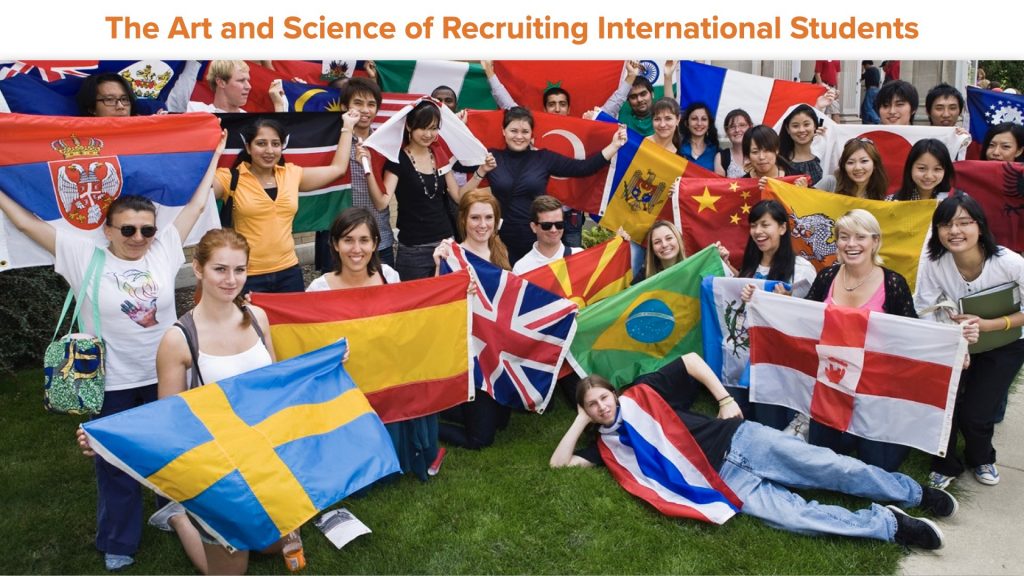 INVEST IN FIRST IMPRESSIONS
INSTITUTIONAL TOUCH POINTS
Your website and social media are the most important touch points for international prospects. You'll be judged and evaluated by their quality. Romance prospective students and their families by making them informative and beautiful.
1. Spotlight enrolled international students, alumni and alumni chapters in the institutional website, viewbook, and social media. If international students can't see others like themselves there, they simply won't show up. They also rely heavily on word-of-mouth from friends. Craft brand messaging and content that is inclusive of people of different races and faiths.
2. Prominently feature institutional reputation points because international students are more brand conscious than US students.
3. Feature proof points of your commitment to international recruitment such as international students, alumni and faculty, the office of international students, interfaith chapels, host family programs, international ambassadors, etc.
4. Create customized sections for international admissions, financial aid and scholarships that address the unique needs of international students and their families. Provide the ability to contact international admissions through WhatsApp and Skype.
INTERNATIONAL TOUCH POINTS
Beyond your website and social media, you have to surround and engage the international prospects where they hang out.
1. Build language specific or country-specific microsites to target students from specific countries. Build microsites for large countries (e.g. China), and build language specific websites for country clusters (Latin America). Provide comprehensive information such as academics with featured programs, admissions, reputation hallmarks, financial aid (scholarships, international funds transfers, etc.), student experience, and full campus support for international students.
2. Apply SEO best practices to the country-specific microsites for country-customized Google, Bing, and Yahoo search engines – as well as country specific search engines such as Baidu for Chinese, Yandex for Russia, etc.
3. Create and manage accounts and pages on country-specific social media portals. Form an international student ambassador program, and hire your international students for work study to update information, monitor discussions and respond to prospective students' questions.
UP THE MARKETING "AIR GAME"
1. Hold International Scholarship Contests. Contests ignite the competitive spirit amongst high performance students. Ambitious schools use them to attract fiercely competitive students.
2. Use Mobile Multilingual Virtual Tours. Colleges can cost-effectively reach a wider, international audience. They are an effective and powerful way for recruiting international students who may not be able to visit the campus in person before making a college decision.
3. Use WhatsApp and Skype to Connect With Prospective Students. With close to 84% adoption rate of WhatsApp and over 4 billion people accustomed to Skype, they are a cost-effective alternative to more expensive international calls, video calls, and international travel.
4. International Inbound/SEO Marketing: Get Found on Google Page 1. There is no better way to reach international markets than a frequently updated blog. Mobilize SEO and your content marketing engine to dominate search engines. In sharp contrast to the US search engine results, the number of search results for academic keywords in other countries is very low – which shows the large opportunity for US colleges and universities in the international markets.
Start by creating an International Keyword Guide with keyword clusters, frequently asked questions, and natural language queries. Be sensitive to reputational keywords, international terminology and the keywords local prospects are typing. For instance, the phrase "information systems management" is a popular term overseas but less so in the US. 
Develop smart foundational SEO and create ongoing high-fidelity, share-worthy, inclusive content to secure and sustain Google page one rankings. Create and showcase alumni stories, infographics, ROI stats, videos, quizzes/calculators, contests on your website and social media channels. Ensure that the information that appears on search engine results is persuasive and inviting.
Remember three things. First, research shows that organic Google rankings are more trusted, secure over 90% of click share, and generate close to two-thirds of inquiries. Organic inquiries tend to form long-term relationships with the universities and they tend to melt away at a reduced rate.  Second, leads generated from Google organic rankings outperform paid advertising leads by three-folds. Third, the best prospects prefer to "discover" the college of their choice through "accidental finds" on Google page one and word-of-mouth on social media.
5. International Paid Advertising: Hunt like sharks. Don't feed like whales. 
Understand your prospects. As with any enrollment campaign, the first thing you need to focus on is a deep understanding of the prospects that you're trying to attract. In this case: Where are they? What languages do they speak? What are they looking for in an institution of higher education? Which family members are involved in the college decision? All of your choices should be made with these considerations in mind.
Say it well. When building relationships with prospective students, you want to make sure you're speaking their language. In this case: literally. Use professional language translators to ensure your keyword lists, ad copy and landing pages are properly translated. Use a human translator, not an online tool, to ensure that cultural subtleties are taken into account. Using an inappropriate term or an awkward translation is not going to win you hearts and minds.
Deploy advanced paid advertising techniques. Deploy new paid advertising methodologies based on what the right-fit students value, micro-segments, look-alikes, machine learning, big-data algorithms and affinity groups. Direct prospects to brand-infused, high-fidelity, story landing pages. Infuse brand, differentiators, ROI stats and facts into the creative. Go beyond the traditional admissions funnel and embrace inverted admissions funnel strategies and tactics.
Focus on the right geographies: Once you've identified the target student, you can determine just how targeted it's possible to be from a geographic perspective. The targeting options within Google Ads vary from country to country, but in some cases you can target specific areas within a country or even a specific radius around a particular location. Narrow your focus appropriately.
6. Influence ranking and rating agencies. Although colleges have an ambivalent relationship with college rankings, prospective international students tend to gravitate towards the best ranked colleges they can afford to attend. Smart colleges routinely influence these ratings by creating committees that proactively influence ranking factors such as peer perception, student satisfaction, student placement rates, and salary data.
Each of these paid, earned and owned media strategies are good alone, but better together.
BOOTS ON THE "GROUND GAME"
1. Start an International Student Ambassador Program. Hire the ambassadors to create and oversee international social media properties for the college. Ask them to welcome new international students and their families. Connect them to local host families who welcome international students into their homes and families.
2. Hold international student webinar information sessions. The basic blocking and tackling of the ground game begins with webinars. Since like attracts like, bring appropriate international faculty, staff, students and alumni to these webinars. The meetings and interactions with faculty, students and alumni provide prospective international students with the information and experiences they need to determine if a college is the right-fit for their academic and personal goals. Prospects who attend these events tend to apply and enroll at a much higher rate than those who show up by other means.
3. Ask international faculty and program directors to visit countries of strategic interest. "To increase effectiveness, Involve alumni in the cities they are visiting" recommends Ed Barr, my first business client who now teaches communications at Carnegie Mellon.  This not only increases cultural understanding but also builds relationships that become feeders.
4. Form international partnerships with schools in other countries. Nurture relationships with reliable college counselors, principals and program chairs. Wholesale student streams provide a solid foundation upon which a university can build retail one-on-one recruitment. 
5. Create and run summer ESL and cultural immersion programs. In addition to generating new revenue, they will build your reputation for global engagement, and attract more international students and faculty.
6. Promote your college via state consortia like StudyNewYork, StudyTexas.edu, etc. These consortia, designed to foster economic development at the state level, routinely travel overseas to promote the member schools in educational fairs.
7. Create, cultivate and fortify corporate relationships for internships, coops and job placement. International students invest significant time and resources in their education abroad. By facilitating corporate placements, colleges help students realize a return on their investment by helping them gain practical experience, develop job-specific skills and secure quality job opportunities. Become known as a gateway to corporate America.
"FOLLOW-UP" CONTACT STRATEGIES
All your marketing investments will be wasted unless you build a solid follow-up system for inquiries and applications.
1. Follow-up with inquiries on a timely basis. Respond quickly. Keep it human. Recruit friends and colleagues to become secret shoppers for your university — and ask them about their experience.
2. Deploy a personalized contact strategy for every stage of the admissions funnel to maximize yield. Know what prospects and influencers need at every stage of the admissions funnel, and meet their needs. Pay as much attention to admission yield communications and follow-up processes as you do to lead-generation and lead-nurturing communications. Offset reduced contact with stealth applicants by stepping up the game at each touch point.
Ask faculty and program directors to personally follow up with high-value leads, not just accepted students. When faculty and program chairs follow up personally with quality prospects/applicants and probe them about their motivations, aspirations and ambitions, it becomes a force multiplier: it surprises them and builds brand affinity. Moreover, when the insights gathered from these conversations are fed back to marketing, the messaging becomes even more effective.
3. Deploy a unique contact strategy for applications to prevent melt. The application is the new lead. Treat admitted students with the same care as you treat leads. Deploy drip campaigns, accepted student days, early orientation, and welcome reception.
Remember two things. First, a broken inquiry and application follow-up process reflects poorly on the entire brand. Second, don't let automation get in the way of personalized and timely follow-up because there are no short-cuts for old-fashioned, human-centered relationship building.
AVOID THESE 5 DEADLY SINS
A colony of international recruiting agents have emerged, willing to sell colleges the names of international prospects for a fee or revenue share. However, we at Elliance are of the belief that colleges need to take control of their own destiny not relegate their destiny to the international recruiting agents. Avoid them.
Don't patronize or talk down to immigrants.
If you invite international students, create the support infrastructure for them.
International students are coming from more collective and less individualistic cultures. To not take into account the role of extended families in college decisions would be detrimental to your cause.
International students are extremely brand conscious. To not play up your brand credentials will hurt the college.
Immigrants have always been and will remain the innovation engine of America. For instance, 60% of high value tech companies were founded by first or second generation immigrants. In the most recent AI boom, 65% of top AI companies in the US were founded by immigrants. By attracting and educating international students, the college will not only enrich its culture, become more financially stable with full-pay students, but also increase the likelihood for creating long-term donors.
If you are seeking an enrollment marketing agency to grow your international enrollment, consider partnering with us.