With much excitement, we are launching the first inbound marketing web resource for higher education marketers and enrollment marketing teams. It's free and comprehensive.
As the old era of traditional college search comes to an end, inbound marketing heralds the new era of authentic, high-quality, content marketing that deepens brand trust, secures SEO rankings, and fosters social sharing with the spirit of attracting more of right-fit prospects. Colleges are not only recruiting students to meet their enrollment goals, they are also recruiting future brand ambassadors and life-long donors.
The Inbound Marketing For Colleges Flashcards website includes five sections: audiences, strategies, tactics, tools and ROI, so those working in higher education marketing can understand how inbound marketing works.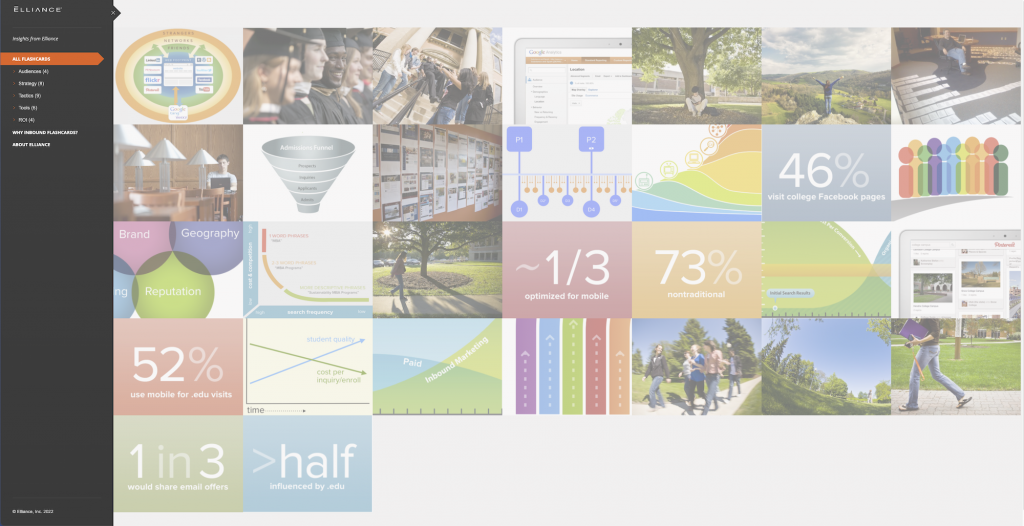 Inbound marketing is magical because it'll impact the shape of the admissions funnel and student life cycle in four different ways:
Because prospective students will discover the college using Google search, it'll bring seekers and right-fit prospective students to your website.
These prospective students who discover the college on their own will be more likely to apply and enroll.
Colleges will have a better chance of retaining these students.
Colleges will recruit the right-fit students who are most likely to become brand ambassadors and long-term donors.
Experience it at the official Inbound Marketing for Colleges Flashcards website.
If you are seeking enrollment marketing agency to fortify the reputation of your college or university, view our higher education marketing capabilities and consider partnering with us.