Great content is the lifeblood of successful brands. However, creating great content is a labor of love. It takes both an investigative mind (that discovers and uncovers brand evidence and proofs) and an imaginative mind (that infuses brand romance) to create persuasive content.
Two quick reminders before I dive into the content ecosystem.
First, the best college copywriters and storytellers uncover truths about an institution that it may not have even known about itself. They instinctively know that the real hero of their story is the student, the alum and the faculty member — not the institution. They tell the stories of the challenges the brand heroes faced and how they creatively overcame them to realize their personal destinies. As my colleague Todd Erkel would say, a college becomes the story it chooses to tell.
Second, before you embark on your content journey, I would strongly encourage creation of a SEO Keyword Lexicon that'll guide all future content creation. It's comprised of two parts. First is the collection of keywords that prospective students will use at various stages of their college search process. Second is the groups of keywords that peer academics, corporations, foundations and influencers use to find critical content. These keywords should be infused into all content you create moving forward.
Now, let's take a look at content categories in this ecosystem: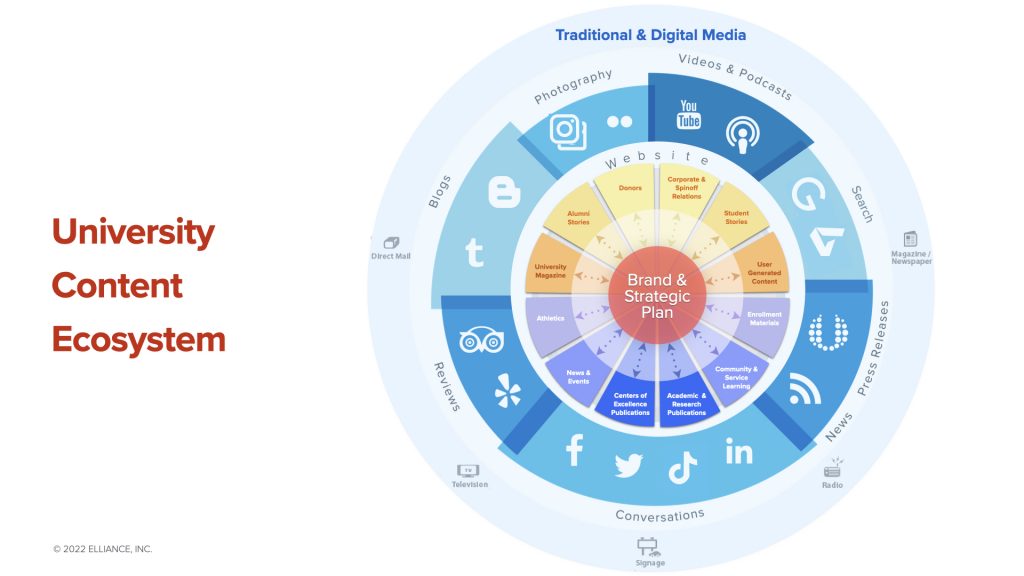 Brand & Strategic Plans
In the sea of sameness, brands win. Great brands stand for something unique and let the world know about it with their brand guide and brand anthem video. They tell their brand origin story. They speak with one brand voice to all audiences striking different notes for each audience segment.
To size up a college, most parents also look for and carefully scrutinize strategic plans. They reveal the size of college ambition and business smarts in the face of emerging societal realities. They position you as a school of consequence.
Student Stories
Disciplined brands engage in high-octane storytelling. They treat students as the heroes on their personal quests. A college brand is the sum of all the stories a college tells. Research shows that when you listen to a story, your brain experiences sympathetic resonance with the storyteller, which deepens empathy. As the old saying goes: "Stories sell. Facts tell."
Enrollment Materials
"No money. No mission," is the mantra I've preached to colleges. For tuition dependent colleges (which most colleges are), the financial health of a college rests on growing enrollment. That's why enrollment communications are the ultimate moment of truth. It's where a prospect and their family come to know if a college truly understands their deeper needs: the promise of a generative experience, academic rigor, wholesome outcomes and the gut feeling of an emotional fit.
Community & Service Learning
Parents increasingly expect colleges to encourage their children to participate in what Frances Moore Lappe calls citizen democracy and citizen politics. Community and service learning projects teach students empowerment through action, agency in the public realm and personal responsibility for shaping the future of society. Parents want proof that colleges will impart this on their children by reading the stories of current students engaged with community, service and experiential learning projects.
Academic & Research Publications
Knowledge creation and knowledge dissemination are essential to the mission of a university. These should be done in various forms ranging from TEDx-like, democratized summaries to journal-worthy research papers. All key stakeholders expect this from institutions of consequence.
Centers of Excellence Publications
These hubs of interdisciplinary cooperation and industry-academia partnerships produce unique applied knowledge that transcends traditional academic boundaries. They pave the way for emerging work of the future.
News & Events
Both the prospective students and their parents are looking for schools with a sense of vibrancy, which is partly reflected in the institution's news and event pages.
Athletics
Nothing builds school spirit better than athletics and intramural sports. That's true whether a college is a Division 1, 2 or 3 sports school.
University Magazine
The university flagship magazine has the potential to move the reputation needle further and faster than any other brand signal. Vital to its success is maximizing content productivity by creating a story engine that treats each story as a Google ranking asset instead of bundling the entire issue into a PDF or an ISSUU format.
Alumni Stories
Nothing demonstrates the worth of a college investment more than the life trajectories of generations of alumni, their impact, their passions, and their contributions to society. And nothing creates more endearment for the alma mater than a celebration of their personal stories, victories and triumphs.
Donors
Beyond tuition revenue, the endowment is the second largest source of revenue for most colleges. A few ways to keep the individual donors engaged include telling the stories of their ongoing involvement in shaping the institution and celebrating their personal passions. For corporate and foundation donors, recognize their generosity and resulting institutional impact on society.
Corporate & Spinoff Relations
As government research funding has dried up, corporations and entrepreneurial companies led by alumni have stepped in to fill that gap. These funds form the third leg of the academic revenue stream. Amplifying these crucial relationships is an essential part of university communications.
User Generated Content
Traditionally overlooked, crowdsourced content can be a rich source of audience involvement and ambassadorship.
In a nutshtell, the content ecosystem aims to earn attention and grow brand reputation by providing content that informs, persuades, engages and delights various stakeholders. Prospective students and parents judge a college by the high fidelity content it produces to shape brand perceptions.
Now, let's turn to media and channels where the content is promoted.
Website
A website is the digital soul of a college. All roads lead to it. Great websites are more than a digital asset; I don't recall re-designing a website that didn't become a means for organizational transformation or didn't create an inflection point in institutional history. A well designed website should engender trust, respect and endearment — creating elusive brand preference. I recommend building and fortifying it with great love.
Digital Marketing Channels
We now live in a world where digital leads the brand. In this era, content becomes productive when its energized, optimized, distributed and ranked on digital channels. Google page one rankings are destiny. Social media channels are viral engines. Curating, orchestrating and promoting content creates brand reputation. Handle with a plan and care.
Traditional Marketing Channels
Traditional media isn't dead. Now, it must be leaner, smarter and strategic. It should mutually reinforce and complement digital content.
In our more than 75 years of collective brand experience, we have come to realize that it's the artful orchestration of content, code, optimization and channels that creates brand success for colleges. As you work on your next annual content marketing strategy and plan, be sure to mutually reinforce the content opportunities with marketing channels to nurture and grow a high-impact brand.
Learn more about Elliance content marketing services.