Reducing the frequency of a printed alumni magazine is a controversial idea. Generations of alumni will react to this change differently. However, as Yogi Berra said, "if you see a fork in the road, take it."
Benefits and Costs of Print Alumni Magazine
Great alumni flagship magazines are beautiful, comfortable and great coffee table pieces. They have the potential to move your college's perception/reputation needle with alumni and friends. They draw you into the great stories and iconic photographs that slow you down and take you back into the memory lane of your youthful idealism. Above all, they don't get lost in the email clutter or sea of web distractions.
However, they are not cheap, they're difficult to produce and have a limited reach. It's not uncommon for them to consume budgets of over $100,000 for quarterly or bi-annual issues. Production requires teams of editorial and design staff. Despite best efforts, you can only tell so many stories that can only reach alumni and the limited number of friends of the college on your mailing list. This is where digital alumni magazines begin to out-perform print versions.
Benefits and Costs of Digital Alumni Magazines
Let me start by saying that a PDF, ISSUU or flipbook version of an alumni magazine is not a digital magazine. They are walled gardens that prevent the Google bot from crawling, indexing and ranking each story. For us, a digital magazine is an interactive hub where each individual story can be read, interacted with, optimized for Google rankings, promoted and shared. The beauty of digital magazines is eight-fold:
Small Staff, Big Impact: They look perennially fresh with weekly stories produced by a skeleton crew of a writer, a designer, a photographer and a videographer.
More Story Formats: The stories are told in short, intermediate and long format and in innumerable digital formats (video, interactive infographics, podcasts, etc.).
Create Once, Publish Everywhere: The stories are readily served up into related academic program web pages, giving web pages and institutional web pages.
Better Analytics: Story metrics (views, shares, clicks) are measured with precision and guide crafting your editorial calendar for maximizing future brand engagement.
Stronger Alumni Engagement: Alumni submit their own stories and profiles. They also offer suggestions for future story ideas.
Longer Story Shelf Life: Digital stories are easily findable with site search, surface in related/popular stories dynamically, circulate on social media and appear on search engines. This prolongs the shelf life of each story.
Wider Reach: They reach friends of the college (via email and social media), brand-unaware strangers (via Google page one rankings) and friends-of-friends (via social media shares).
More Sustainable and Climate Friendly: Digital magazines are more environmentally friendly than their print counterparts.
The cost of digital magazines is primarily in building the story engine and getting trained on how to use it. However, this one-time cost can be capitalized and amortized over several years.
Print + Digital Alumni Magazine: Good Alone, Better Together
Colleges and universities are increasingly moving towards a hybrid model, with a digital alumni magazine that is ever-green with fresh, weekly content and an annual "Year in Review" print issue that is published to influence the US News & Report rankings and appease the older alumni. The print stories routinely connect to additional photos, videos and interactives in the digital edition. This symbiotic relationship between the print and digital positively impacts college reputation, rankings and revenue simultaneously.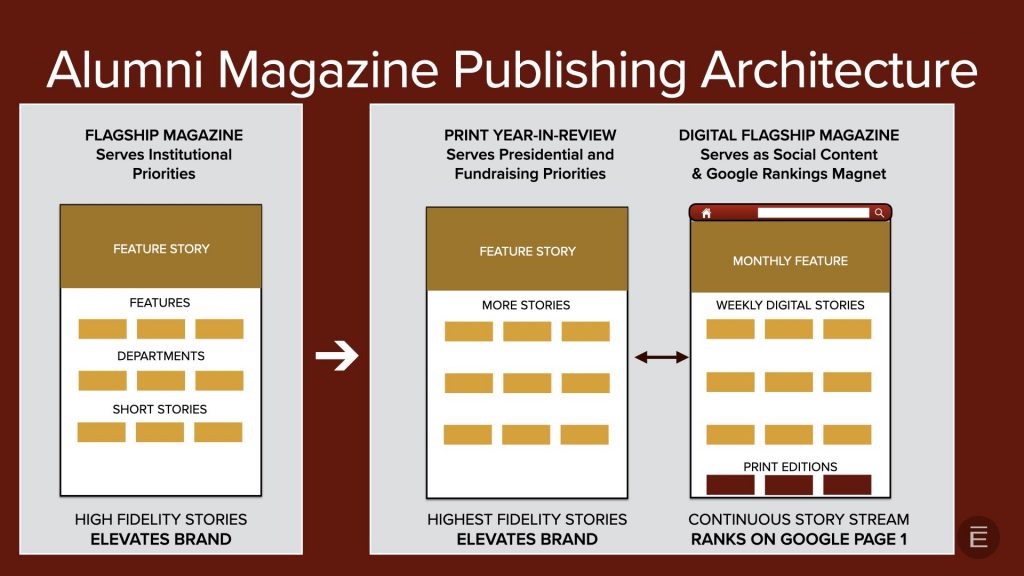 How to Transition from Print to Print + Digital Editions
To make the case for this transition, share your commitment to creating a more sustainable world, enhancing brand value that serves all, and embracing comprehensive digital technologies as a force multiplier to expand brand reach beyond alumni and friends to new prospects, new corporate partners, new foundation funders, new media contacts and new influencers who aren't yet aware of the college brand.

Learn more about our magazine design services and responsive web development capabilities and higher education marketing services.