We are proud to announce the launch of a responsive web design magazine for Carnegie Mellon alumni and friends. Initially launched a decade ago before RWD was born with uncertainty about whether alumni would engage with an online version, the magazine was initially designed for desktop and laptop devices and had a smaller content management system. As the multi-device world matured and the number of users increased, the magazine was sorely in need of an upgrade, which we magically completed in a short 3 months.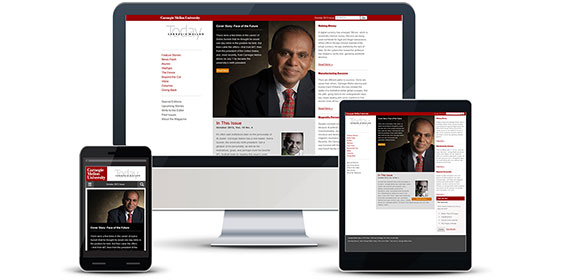 How did we achieve the herculean feat in a short 3 months? Four secrets.
First, we reused the existing design and Sitemap instead of reinventing new ones.
Second, our seasoned development team has been on a roll transforming numerous websites into responsive web design; they have worked out most of the challenges around navigation, breakpoints, image sizing, optimal page size, and other subtle issues.
Third, during the initial build, we had the foresight and taken the pain to separate the content and visual layers.
Fourth, we replaced the old content management system with Umbraco in which our team is well practiced.
It all paid off when Carnegie Mellon turned to us and asked us to modernize the decade old website, making it responsive and powering it with a more robust content management system.
Learn more about our web design and responsive web development capabilities.