Today, more than any other touch point, a website is the digital soul of an organization. All roads lead to it. As one of Pittsburgh's longest standing website design agencies, Elliance has been delivering prosperity with websites for regional, national and global clients for the past 30 years. Our arsenal of best practices includes: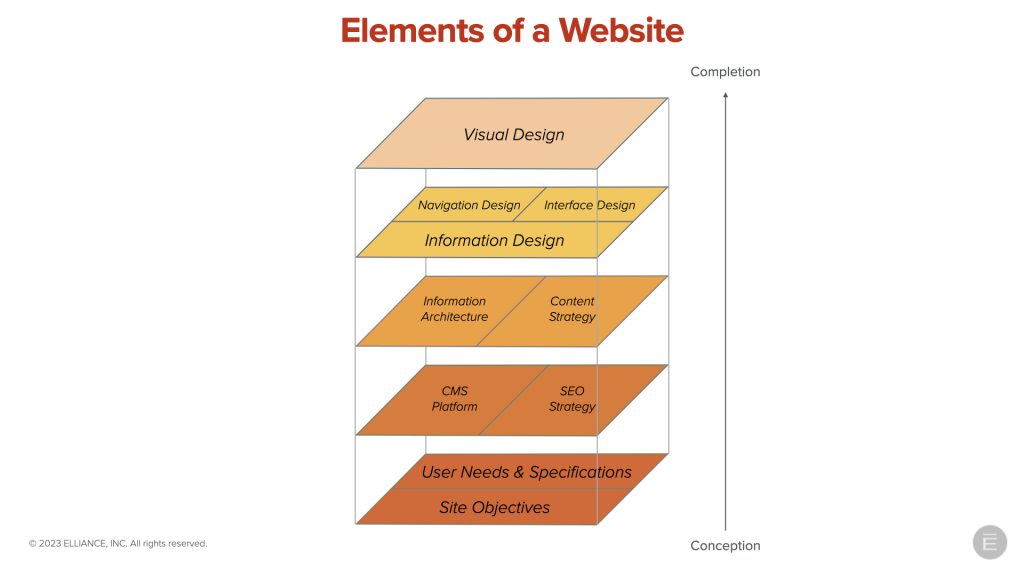 1. Start with the Wise Strategy
Revenue Strategy, Communication Strategy and Search Engine Ranking Strategy are the three building blocks of Website Strategy. Bake each of them into every stage of website development.
2. Make it Beautiful
Strategy is invisible. Good design makes it visible.
Milton Glaser, the iconic designer, once said "There are only three reactions to a piece of design: no, yes or WOW! Wow is one to aim for." We couldn't agree more. Create a beautiful website with contemporary aesthetics. And like retailers, refresh it periodically so if reflects the most current aesthetic.
3. Delight Prospects and Customers
You can't bore people into buying from you. Create a user experience that is persuasive, delightful and conversion-friendly. Recognize that customers, not your company, is the real hero of the story. Make sure that the needs of the right-fit customers come first. Make it easy for customers to do business with you.
4. Make it Mobile-First & Responsive
Given that more than half of website traffic now comes from mobile devices, build a responsive website (i.e. auto-adjusts to various browsing devices) that is mobile first and delights people. Ensure that third party embeds such as forms, apps and videos are equally mobile-friendly. Most importantly this will influence the Google bot to rank your website higher on search engines.
5. Make it Accessible
Whether you are motivated to create an ADA compliant website by the noble desire to serve all audiences or simply wish to avoid being sued by unscrupulous law firms chasing non-compliant website, your website should be both beautiful and compliant with the WCAG AA Level 2.1 standard. Use third-party tools like DubBot, WAVE and A-Checker to ensure your website is accessibility compliant.
6. Make it Google Friendly
If people can't find you — your organization, your products, and your services — they can't buy you. Google page 1 is destiny. 90% of users never go beyond page 1 of Google results. Organic rankings (i.e. the top 10 natural search results) are clicked more, trusted more, and convert three-folds better than paid ads. Begin a website project with a Keyword Lexicon. Bake SEO thinking into every phase of website development: strategy, architecture, copy, design and development. Create buckets for fresh content (blogs, magazines, feeds, etc.) which Google rewards.
7. Power With Smart CMS Technology
Depending on website requirements, the size of your organization, your need for flexibility and internationalization, availability of in-house technology talent and budgets, you must pick a proprietary, open source or commercial grade CMS that best suits your needs. Ensure it is thoroughly SEO-friendly and plays well with other software components such as analytics, marketing automation software, CRM software, tracking tools, and more.
8. Host it Right
Because websites are mission-critical, people are impatient and Google penalizes slow websites with lower rankings, hosting matters a lot. Ensure your website is hosted securely on a high-speed Tier-1 environment with weekly software and security patches.
9. Sustain With a Content Governance Framework
Because content is the lifeblood of great websites, brands and Google rankings, three things are needed to manage a health content ecosystem: people, processes and frameworks. Key components of a content ecosystem include Keyword Lexicon, Brand Guide, Web Style Guide, and Content Governance Guide. These must be managed periodically, rationally and systematically. They must cultivate the content habit.
10. Measure Website Effectiveness and ROI
Upstream ROI metrics include growth in demand, achievement of thought leadership, and increase in brand value. Keep an eye on downstream metrics also such as bounce rates, conversion rates, time on site, growth in organic traffic, content popularity, expansion in reach, and more. Establish regular meetings to measure the ROI.
Over the past 30 years, we have built over 500 websites. We've seen website projects become catalysts for organizational transformation. We have had to use deft diplomacy to reshape power structures and align internal stakeholders. We've brought strategic smarts to create new inflection points helping clients realize their organizational destiny. Every website redesign energized the entire organization. You should expect nothing less.
If you are seeking a website design agency for your organization, view our websites design capabilities and consider partnering with us.