As one of Pittsburgh's longest standing B2b and higher education branding agencies, Elliance has been delivering prosperity to regional and national clients for the past 28 years. Our arsenal of branding best practices includes:
1. Know Why You Brand
When choices proliferate, branding ascends. Three reasons why successful organizations brand:
In the sea of sameness, brands always win.
Brands command premium prices.
Financial markets value brands higher than generics.
2. Define "Brand"
A brand is the sum of all experiences. It attaches an idea to a product or service e.g. achievement for Nike, freedom for Southwest Air, great books for St. John's College, and engaged learning for Elon University. A brand creates expectations and promises around a product or a service while creating strong or even impenetrable differentiation in the marketplace.
3. Discover Your Brand
Bring both a rational and an investigative mind to brand discoveries. Scour all available data to look for key insights. When listening to internal stakeholders, customers and partners, choose quality over quantity. Listen as much to what's not being said. It's better to find brand proofs with happy, ambitious, and essential brand ambassadors. Look more closely at hidden assumptions and unexamined bias — on your way to a clearing where new light allows something fresh and unforeseen to emerge. Be ready to receive brand insights and cues that arrive as faint signals from unlikely sources. Be ready to challenge conventional wisdom.
4. Articulate Your Brand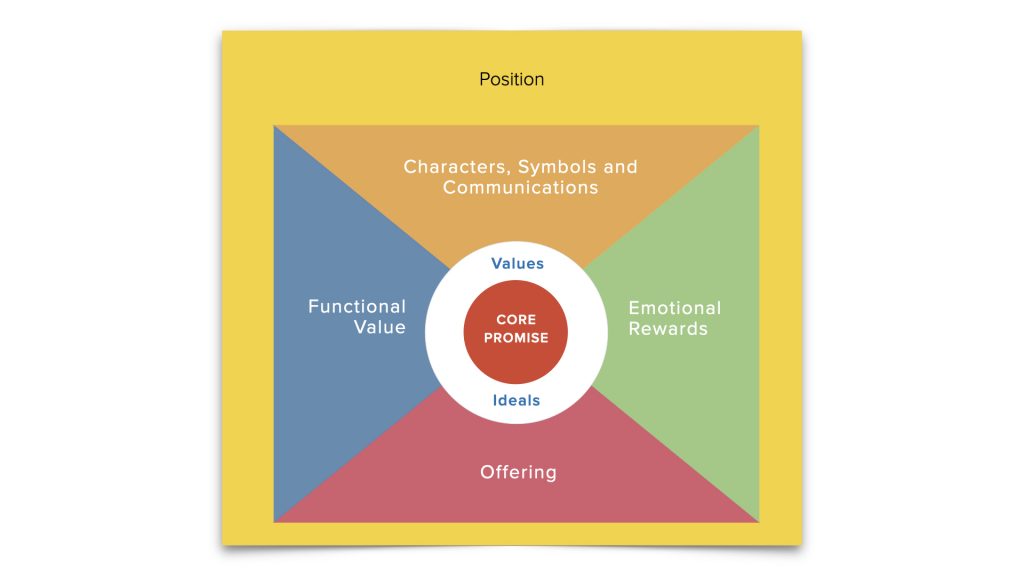 Your Core Promise is the unchanging center of all you are and do. Your Values and Ideals shape and support who you are and guide what you do. Your Offering is how customers experience your brand "viscerally" in servicing their needs. Your Functional Value is the ROI that your customers receive from you. The Emotional Rewards are how you make customers feel about you and themselves. Your Characters and Symbols are the first visual evidence of your brand that customers identify you with. Your Brand Position is the uniqueness you offer that sets you apart from competitors.
5. Touch people's hearts with great customer-centric creative
Remember that the customer, not your organization, is the real hero of your story. In a world in which audience "testing" and quantitative research threatens to aim communication down to the lowest common denominator — a people's choice kind of popularity contest — a few brands and creative teams dare to still speak to those "better angels of our nature." Nike did it with "Just do it". Apple with "Think different". IBM did it with "A smarter planet". These were rolled out over time rather than tested with focus groups. Having said that, there is a unique place for quantitative research in brand marketing.
6. Speak with one brand voice
Articulate your brand cheerfully. Merchandise hope. Speak with one brand voice to all your audiences, but strike different notes for each segment.
7. Stand for something unique and let the world know about it.
To draw attention you must stand for something authentic and distinctive. To stand out, here are four things you can do:
Become a product or service innovator in your industry.
Become the leader in the product or service you offer.
Position yourself as a thought-leader in your industry.
Champion a meaningful societal or global cause that is rooted in your organizational strengths.
8. Mobilize your publishing potential. Claim your keyword rankings.
Tell better stories. Tell smart, authentic, surprising, delightful and compelling stories. Train your market to expect great stories. Brand articulation without the benefit of a good acoustic backdrop — without an audience accustomed to listening for and relishing great storytelling — will ultimately ring hollow. Weaponize your blog and magazine stories based on your thought leadership, innovation, and intellectual capital with a Keyword Lexicon, and an ongoing search engine optimization campaign that secures Google page one rankings and fosters social sharing. Remember, if prospects discover your brand, you have leverage; if your brand imposes on them with interrupt advertising, they have leverage.
9. Create an enviable advisory board.
Invite aspirational influencers and thought leaders to your advisory board. Involve them in charting your future, striking new relationships, and opening new business growth opportunities.
10. Measure Brand Strength Periodically.

Listen to the market and periodically monitor the institutional brand strength, brand sentiments and brand reach – with both brand "awares" and brand "unawares". Benchmark your brand against competitors.
If you are seeking an inspired branding agency for your organization, view our brand development capabilities and consider partnering with us.