This post was informed by our agency experience with clients and partially inspired by my reading of Jim Langley of Langley Innovations' books on fundraising.
College presidents, vice presidents for advancement, and board members form the trifecta for envisioning, executing and consummating a successful capital or comprehensive campaign.
College presidents play these 10 crucial roles: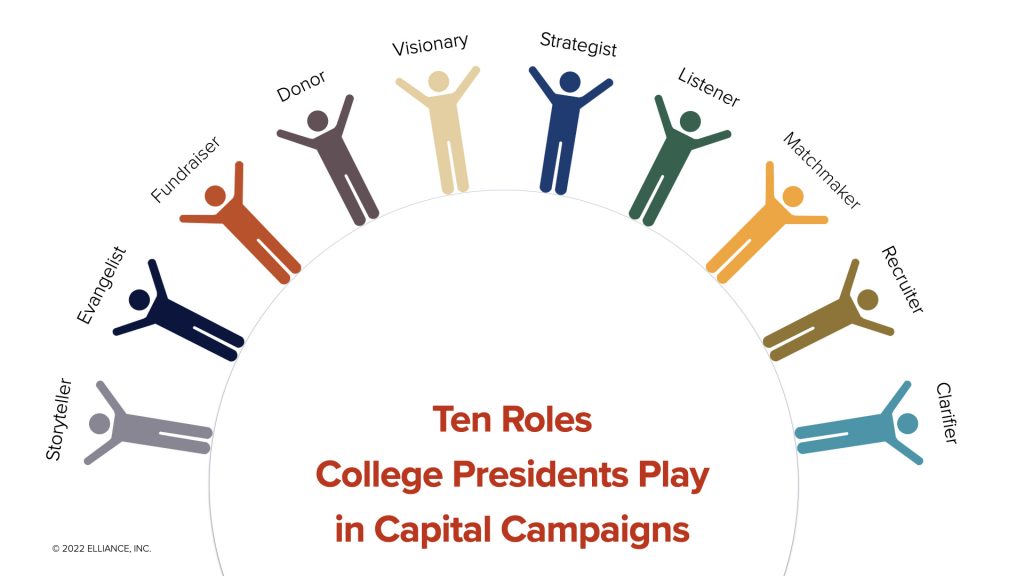 Visioning
The Visionary:

Knows the fundraising goal and is able to articulate the transformative impact that the funds will have on the institution, those it serves and society at large.

The Strategist

: Leads strategic planning based on thorough, objective assessment of institutional strengths and weaknesses in the context of societal shifts. Involves board members, faculty, alumni and corporate partners in their strategic planning process.
Recruiting
The Listener:

Acts as the chief listening officer, infusing stakeholder views into the evolving campaign dialogue.

The Matchmaker:

Helps identify faculty and staff champions for each campaign priority. Involves different board members at all levels based on their talents and passions.

The Recruiter:

Helps select the fundraising consultant and bears responsibility for holding them accountable.

The Clarifier:

Ensures the vice president of advancement distinguishes between marketing and building alumni affiliation and loyalty.
Persuading
The Evangelist:

Speaks as the voice of the institution to all stakeholders.

The Storyteller:

Brags less about the institution and praises its students, faculty, staff alumni more.
Fundraising
The Fundraiser:

Helps identify and recruit potential lead donors for each campaign initiative.

The Donor:

Donates so they too have a skin in the game.
Prior to starting a new comprehensive campaign, the president reviews the detailed campaign plan that the vice president of advancement prepares. They then brief their board members on the unique roles they'll play and the expectations they'll meet. Once the campaign is underway, the president holds the vice president for advancement accountable for achieving milestones.
In the next blog post, I'll share the roles that a vice president for advancement plays in launching successful capital and comprehensive campaigns.
Learn more about Elliance philanthropic marketing services.