Making a business case for investing in a comprehensive website redesign to ROI-minded, quant-driven cabinet members is vastly different than making a case to marketing leaders who intuitively understand the value of a great website.
For quantitatively inclined cabinet members, here are five ROI metrics that we have used to justify the investment in a comprehensive website redesign: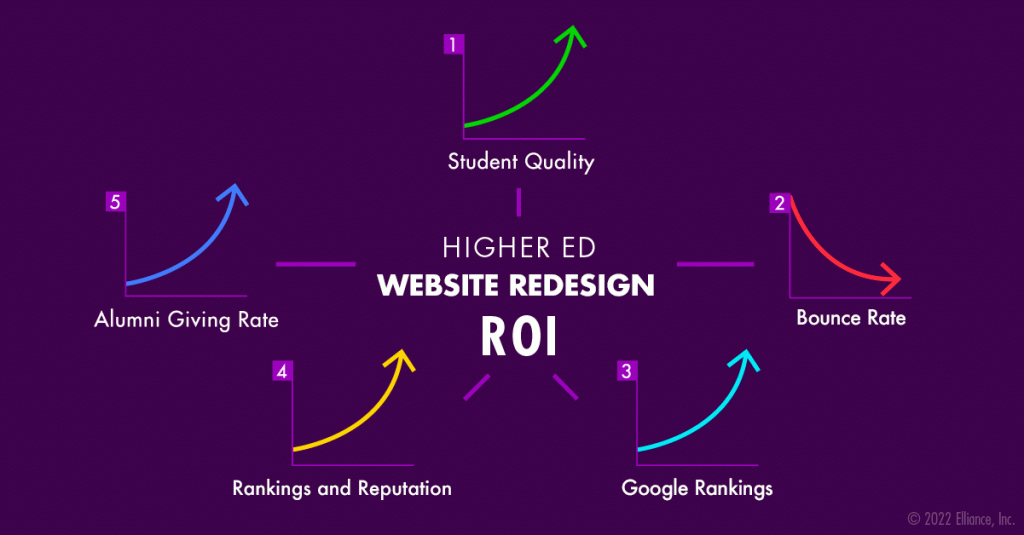 1. Better Student Quality: Fortifying program pages and the "why us" pages motivates better-fit students to raise their hands, dissuading wrong-fits from applying. You should expect to see conversion rates improve by as much as 25%.
2. Reduced Bounce Rate: Improving page architecture results in engaged traffic to your website. This should reduce your website bounce rate so it sits between 20% and 30%. The industry average exceeds 50%.
3. Stronger Google Rankings: Baking search engine thinking into every phase of redesign enhances your website's Google rankings. One year after relaunch, you should see an increase in search engine traffic by 25% to 30%.
4. Higher Rankings and Reputation: A new website impacts both peer and employer perceptions, which together account for almost half of most major college ranking algorithms. A website redesign should improve your school's rankings by several positions.
5. Improved Alumni Giving Rate: Money follows schools that look consequential. A website launch should result in the doubling of online giving rate, and in some cases receiving multi-million dollar donations.
Beyond the quantitative ROI, we have observed that website redesign projects are a catalyst for transforming a college, liberating new prosperity and realizing destiny. A great website redesign project realigns power structures, energizes the school community, and creates a new organizational inflection point.
If you are seeking college website design agencies, please see our work and consider partnering with us.