Experience tells us that great beginnings matter for these reasons:
a clear purpose calms the winds of change
seeing (our future) becomes believing
strong messages invite loyalists
trust takes root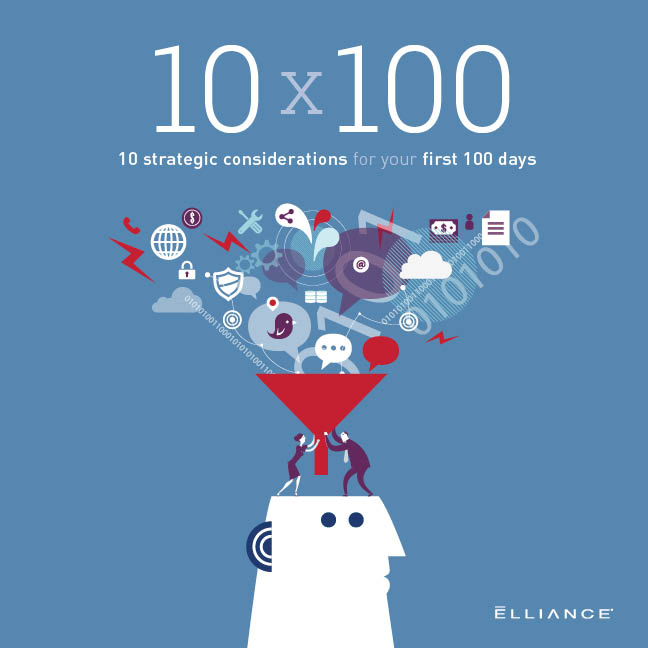 The number and variety of decisions, opportunities and challenges that come with assuming leadership of a major law school require a steady hand. Below, we've put together 10 strategic considerations for your first 100 days to help you navigate from analysis to synthesis.
1. Establish A Strategic Vision
Start by defining a unique vision that will galvanize the faculty, staff, alumni and partners. Establish a few major priorities that will make your school a school of consequence. Then devote most of your efforts to those few major things that make a school prosper.
Priorities could include things like becoming an innovator, positioning the school as a thought-leader in both established and emerging spaces, and championing a meaningful societal cause that is rooted in your school's strengths.
2. Assemble Your Team
You will be more successful with a trusted administrative assistant and competent associate deans and other senior administrators for marketing, fundraising and corporate relations. Choose people with complementary strengths who will support you and challenge you. Find people who will be selflessly devoted to the success of the school.
3. Articulate Your Brand
In the sea of sameness, brands win. A brand is the sum of all experiences. It attaches a memorable idea to your school. It creates expectations and a core promise while creating strong to impenetrable differentiation in the marketplace.
4. Grow Reputation
Bring a "content is destiny" perspective to the school, and turn all publishing — academic, research, alumni, general audience — into a reputation-building, Google-dominating cooperative enterprise that powers enrollment, reputation and fundraising. Craft a Keyword Lexicon containing clusters of thought leadership, innovation and intellectual capital keywords that are rightfully yours and weaponize all new content with it.
Empower various teams — communications, development, alumni, recruiting, corporate/government relations — to transcend outdated silo thinking and embrace the integrated nature of reputation building in the age of digital channels and content.
5. Shape the Incoming Class
Look beyond broad measures — school-wide and department-wide enrollment trends — and arrive at a more granular and precise assessment of your ability to achieve predictable and reliable enrollments for the school, and attract increasingly robust, motivated and diverse students.
6. Cultivate Corporate Relations
Differentiate the school as a source of vision, talent, executive education, joint-research projects, high-content events and global connections for the extended corporate community. Invite aspirational influencers to your advisory board and involve them in charting the school's future.
7. Nurture Donor Relations
Build a culture of shared beliefs and purpose across the school (advisory boards, key corporate partners, alumni leaders and emerging stakeholders). Balance annual and long-term fundraising priorities. Inspire others to create next generation alumni activities and constituent relations programs, and train thought leaders and more visible/influential representatives.
8. Build Relationships
Build relationships within and across the university system. Foster a diverse faculty, their productivity and intellectual capital all of which are essential to the larger strategic goals.
9. Benchmark and Measure KPIs Periodically
Keep a pulse on operating, brand, enrollment, giving and reputation metrics.
10. Embrace The Roles You'll Play
Listener. Evangelist. Storyteller. Fundraiser. Communicator. Recruiter. Relationship-builder. Visionary. Strategist. Leader. Above all, always be nice while you play the roles of a dove, a dragon and a diplomat.
If you are seeking a strategic planning agency, marketing agency, or a branding agency for your law school, view our capabilities and consider partnering with us.