Welcome to your new adventure. You may have been invited into this presidency as a change agent or a strategic visionary. Either way, get ready to liberate new growth for your college by focusing on the 3 R's of prosperity: Revenue, Reputation and Rankings. These three currents flow under the sixteen best practices for managing and running a successful college, gleaned from working closely with more than twenty college presidents and reading more than a dozen books written by them: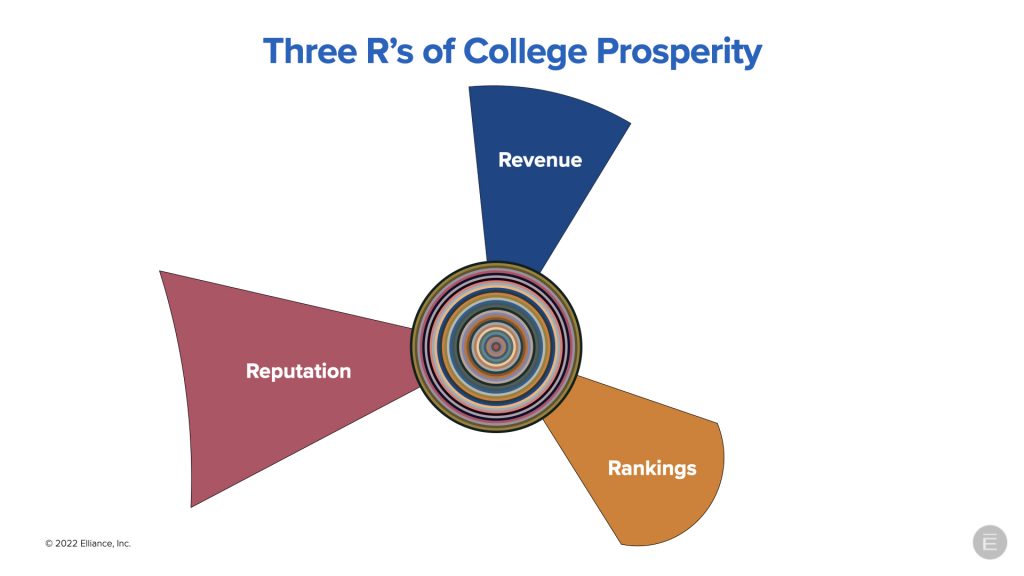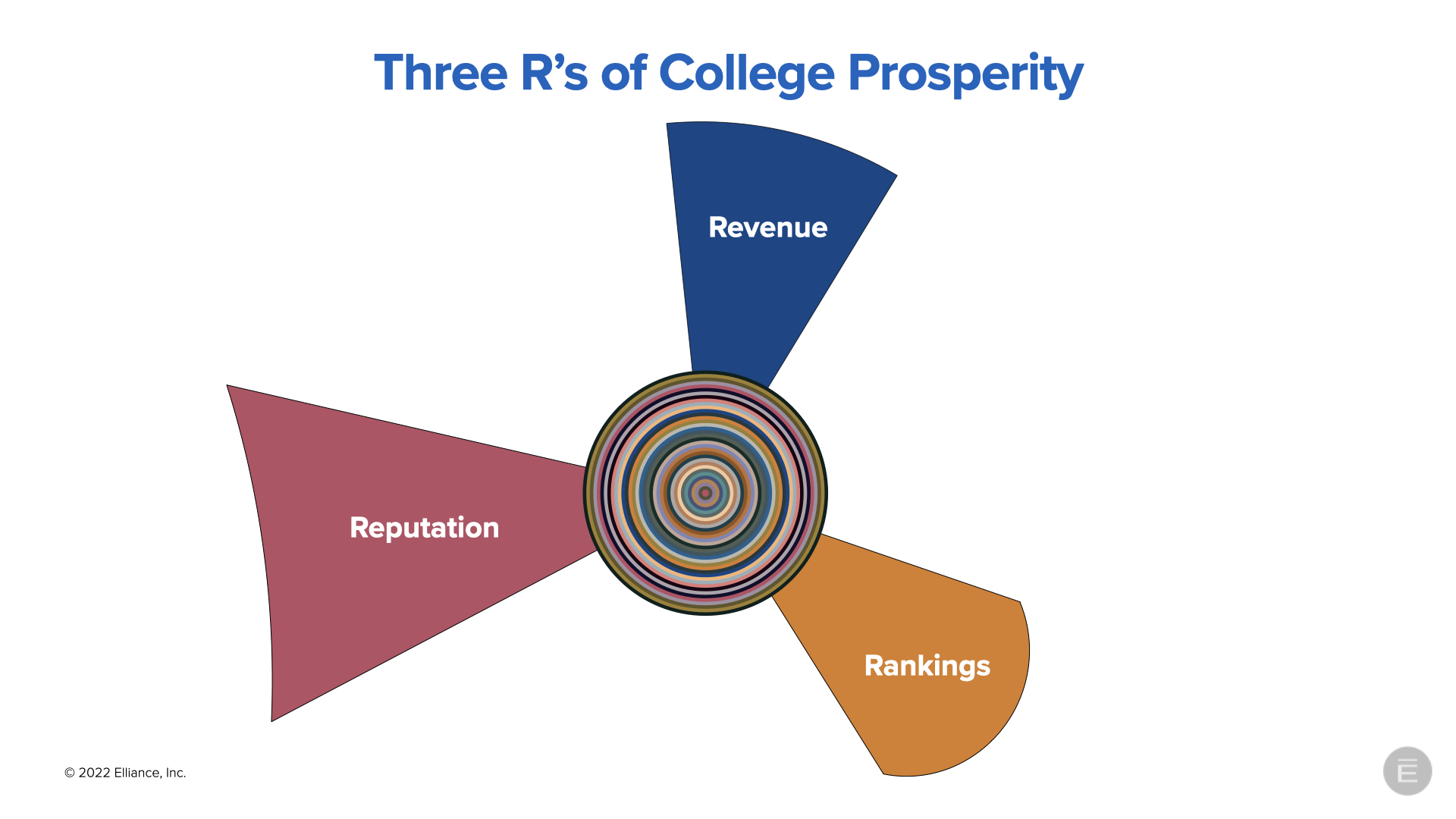 1. Winning Strategy: Winning, not playing and optimizing, is what successful college presidents focus on. To create an inflection point, they sometimes deepen their competitive advantages and at other times disrupt and challenge the status quo.
College presidents lead strategic planning based on thorough, objective assessment of institutional strengths and weaknesses in the context of societal shifts. They involve board members, faculty, alumni and corporate partners in their strategic planning process. To enact change, presidents must be keen observers, strong persuaders and strategic communicators. Their challenge is to effectively use key framing questions to challenge old ways, butcher a few sacred cows and tell stories that infuse new worldviews.
To become a school of consequence, you must behave like one.
2. Branding for Distinction: In the sea of sameness, brands win. Successful college presidents push their CMO's to either formulate a distinctive brand or refresh their existing institutional brand. They support CMO's who romance audiences, invest in first impressions – both digital and physical, insist on standing for something unique, celebrate outcomes, mobilize their publishing potential, and foster a culture of telling student, faculty, staff and alumni stories. They provide support for organizing conferences and symposia in areas of institutional distinction. The net impact of all these activities is formation of a reputable brand.
You become the story you choose to tell.
3. Talented Team: Successful presidents are not lone wolves. They surround themselves with a talented senior team, board members and allies that help them accomplish their administrative and stewardship visions. They excel as strategists, change agents and fundraisers, but they also elevate their leadership by surrounding themselves with people who are smarter than them, abandon themselves to the strength of others, and are selflessly devoted to the success of the enterprise.
You are as strong as your team of direct reports, advisors and allies.
4. Management Practices: Peter Drucker, the management guru, said, "The task of management is to make people capable of joint performance, to make their strengths effective and their weaknesses irrelevant." Successful presidents create shared vision, milestones and dashboards. They avoid creating departmental silos. They provide appropriate budgets. They delegate but hold people accountable by giving them the authority to "own" decisions and choices.
It takes a well-run village to raise a wholesome student and cultivate fulfilling alumni and partner relationships.
5. Culture of Service: Of course you ought to create an adaptive, dynamic and participative campus culture that's inclusive, diverse and respects differences. Of course your students, faculty, and staff must reflect the emerging realities of our pluralistic culture, society and world. But what people crave most is a culture of reciprocity, of giving to students, others and society.
It's not the strongest, nor the fittest, but the most caring that flourish.
6. Marketing for Rankings: In the new digital world order, Google rankings influence the more traditional school rankings. Demand an institutional content strategy. Oversee the creation of your college's Keyword Lexicon comprised of high-value words and phrases you can rightfully "own" in service of both attracting right-fit students and building an impeccable reputation. Then insist that each and every piece of content your college produces is weaponized with keywords, so your college can secure its rightful Google page 1 rankings.
Google page 1 rankings are destiny. When you secure them, traditional rankings will follow suit.
7. Enrollment Practices for Growth: Since the vast majority of colleges are tuition dependent, your enrollment team must achieve predictable and reliable enrollment revenue for your college by attracting increasingly robust, motivated and diverse students. Embrace machine learning, algorithmic and big data driven enrollment marketing strategies. Invest in CRM and Marketing Automation software. Fish where the fish are (hint: digital media). Attract and enroll only right-fit students.
You are recruiting students who'll be your brand ambassadors and life-long donors. Smarter wins.
8. Future-Proof Academic Offerings: No money, no mission. Know and market your signature programs, program portfolios and mission-oriented academic programs. Defend your core franchise while creating new degrees of the future: integrative, flavored and emergent. Let industry advisory boards inform new program creation and program adaptation.
Prospects are attracted to schools that have a competitive advantage and are continually relevant.
9. Diverse Audiences: Explore and harvest new student streams such as adult students, online learners, distance learners, working professionals and professional development communities.
Recruit, enroll and support students, faculty and staff from diverse faiths, ethnicities, genders, and socio-economic backgrounds
A diversified culture and revenue stream will future-proof you.
10. Support Services: In a college, the needs of your students must come first. Have a hand in recruiting critical talent and release budgets for training the staff so they are prepared to serve the various student segments. Ensure they live up to your institutional mission. Invest in enabling technologies. Provide ample opportunities for students to participate in work study, teaching assistanceships, labs, peer mentoring and other student experiences.
Care of the students will create a reservoir of life-long memories and goodwill you'll need to create a positive legacy.
11. Athletics: Nothing builds school spirit better than athletics and intramural sports. That's true whether a college is a Division 1, 2 or 3 sports school. Support athletics. Contrary to common belief, the athletes' habit of achievement transcends sports into their personal, academic and professional lives. Nurture them.
Great athletic cultures magically create brand ambassadors who give back to the college for life.
12. Community & Service Learning: Parents increasingly expect colleges to encourage their children to participate in what Frances Moore Lappe calls citizen democracy and citizen politics. Community and service learning projects teach students empowerment through action, agency in the public realm and personal responsibility for shaping the future of society. Parents want proof that colleges will impart this on their children by reading the stories of current students engaged with community, service and experiential learning projects. Vow to support these initiatives.
Colleges form solid citizens of the future with a sense of soul-centered agency.
13. Fundraising via Friend Raising: According to Jim Langley of Langley Innovations, successful fundraising operations are powered by affiliation, agency, appreciation and accountability. Since endowment income is the second most important source of college revenue, be prepared to play the role of a visionary, recruiter, persuader and a fundraiser in your next capital campaign. Ensure that vice president of student experience creates a participative culture for students. Motivate your vice president for advancement and provost to create a culture of giving by inviting alumni and friends to help shape the institutional future. Foster alumni engagement by accepting whatever they are willing to give: their time, treasure or talent. Sustain right, tight and bright communications with alumni and friends. Consider initiating a heroic capital campaign as a next natural step of your ongoing relationships to deliver greater good for society.
Your giving rate and endowment war-chest will determine your college's future.
14. Activist Boards: An institution is as strong as its board of stewardship. Form an enviable board of trustees willing to actively lean in to help you create an institutional inflection point.
Shape a balanced board comprised of philanthropists, operational experts and thought leaders.
15. Community Relationships: As government research funding has dried up, corporations, civic organizations and alumni-led entrepreneurial companies have stepped in to form the the third source of college revenue. Colleges live in an ecosystem of mutually beneficial relationships with these natural allies. Creating porous walls between the institution and these natural allies is an integral part of the job of the president and the provost.
These allies can create opportunities for forming new institutional trajectories.
16. Metrics That Matter: As management guru Peter Drucker said, "You can't manage what you can't measure." Create a culture of disciplined accountability with a shared dashboard of key performance indicators. For each organizational unit, mutually define a set of essential metrics that truly matter.
To achieve results, hold your people accountable for realizing their measurable goals.
Many college presidents have observed that their responsibilities rival those of a city mayor. Just as city mayors pursue growth in revenue, rankings and reputation, college presidents pursue the same goals. They do this by setting strategic direction, advocating big ideas, building allies, garnering revenue, betting on champions, celebrating heroes, administering day-to-day operations and upholding ideals. Orchestrated artfully, the new presidents have a fighting chance at flourishing in their new role, bringing prosperity to their colleges and leaving a legacy for the history books.
Learn more about Elliance higher education marketing services.