Friendship between First Commonwealth Bank and Elliance goes back a long way. In 1998, Elliance designed the bank's second website. Since then, Elliance has redesigned the bank's website three times – most recently three years ago before responsive design movement took off.
Last fall, First Commonwealth Bank reached out to Elliance and posed an interesting challenge: make the current website responsive without redesigning it. The bank's customers still loved their branch-architecture-inspired website design but wished it was mobile/tablet friendly. Elliance welcomed the challenge.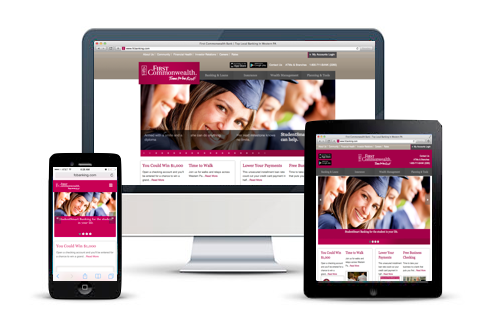 In short three months, we delivered well-documented responsive templates to their Web/IT team, and walked them through the template architecture. Then we supported them for another three months while the wonderful Web/IT team incorporated the new templates into their Content Management System. The entire process worked very smoothly. Two happy teams!
Most importantly, the site visitors are now enjoying the perfect website experience whether they are visiting the bank website from their desktops, tablets or smartphones. Now, that's peace of mind.
Learn more about Elliance responsive web design services