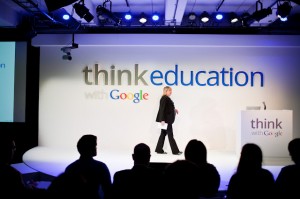 Photo courtesy of Google.
I recently attended Google's 3rd annual Think Education marketing summit in their New York City office. Google's offices are packed with color and excitement, and yes, they really do have chefs who cook every day for the employees! The event was led by Google education industry experts, and attendees consisted mostly of agency and marketing reps from many higher ed institutions. So much valuable information was shared about ways prospective students (80% of which are applying online!) are finding and engaging with higher education brands that I wanted to share some of those learnings here.
Search
Search is very much a part of prospects' journeys, as they research and collect information on colleges and universities. Google reported that 78% of converting prospects on education websites are, in some way, influenced by search.
It's critical for schools to ensure high organic rankings in the search results not only to allow maximum visibility for key reputation terms, but also to help drive enrollment goals. And, while the strength of your brand is important for converting prospective students once they reach your site, 83% of search query paths begin with a non-branded term. This is why it's important to ensure you have top rankings for your critical academic program – and other non-branded – phrases.
And, don't forget to also leverage the power of PPC. Paid search provides valuable visibility on highly competitive terms that may take time – or, frankly, too much budget – to rank organically. It's much more flexible than organic and can be used to test messaging or promote shorter-term goals. In fact, as Christy wrote several weeks ago, PPC can provide clicks that are up to 50% incremental to the clicks received on top organic ranks.
Mobile Devices
Prospects are now using multiple devices when conducting their research – laptops, mobile devices and smart pads. Mobile usage has grown tremendously over the last year, and it's not just for people on-the-go. According to Google data, 2 in 3 mobile researchers use their mobile device at home when researching education. Google also reported that 1 in 8 EDU searches will be mobile in 2012. It's more important than ever to mobilize your brand and to create engaging brand experiences across all devices.
Video
Video is a third area that is growing quickly and becoming more critical as prospects research schools. I was shocked to hear this next stat: there was a 1400% increase in unique visitors to education videos on YouTube last year. This shows how important this channel alone may be to your social media campaign. 2 out of 3 researchers who use video do so to understand specific features of a school. Video engagement can have a powerful impact. Schools should leverage this power and use it to provide real value and shape student perceptions. You can bet that students are replacing actual on-campus visits with virtual tours. This is a great place to start.
Takeaways
My biggest takeaways from the day: in order to be successful within the ever-changing higher education marketing space you need to ensure top rankings in the search results for key non-branded terms, mobilize your brand, create engaging experiences across all devices, and leverage the power of video.
If you are seeking a paid advertising agency, consider partnering with us.