In serving more than one hundred manufacturers in our thirty year history, our agency has developed a repertoire of best practices in manufacturing marketing. To commemorate the manufacturing month, we're sharing them with you: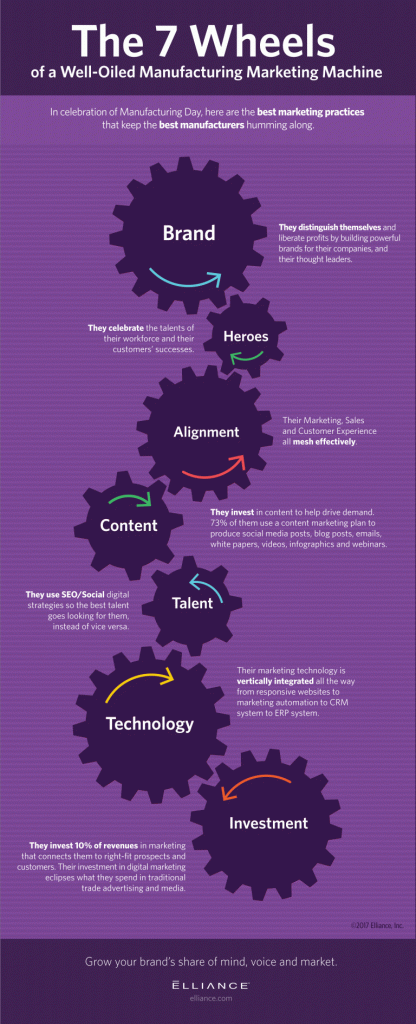 1. Invest in Branding: The best manufacturers distinguish themselves and liberate profits by building powerful brands, becoming thought leaders and aligning themselves with causes that matter to them. They play to win.
2. Celebrate Heroes: Manufacturers are increasingly challenged by a national talent shortage for the new jobs they're creating. They are also losing an entire generation of baby boomer buyers who are being replaced by Gen-X, Millennials and Gen-Z. To offset these macro-trends, smart manufacturers are celebrating the talent of their workforce and their best customers alike.
3. Marketing, Sales and Customer Experience Alignment: Successful manufacturers ensure that not only their earned, owned and paid media align, but their marketing, sales and customers experience mutually enhance each other.
4. Produce High-Fidelity Content: Top manufacturers maximize their content productivity by creating a SEO Keyword Lexicon, infusing keywords into all new content they produce including blog posts, white papers, videos, infographics, webinars and social media. They turn their content into force multipliers which facilitates revenue growth without increasing headcount.
5. Recruit and Retain Talent: The best manufacturers SEO-optimize the career sections of their own websites and their social media to directly recruit talent instead of letting them lean on job sites.
6. Leverage Marketing Technology: High-performance manufacturers run an integrated marketing ecosystem with responsive websites, marketing automation, customer relationship management (CRM) systems and Enterprise Resource Planning (ERP) systems.
7. Fund Marketing to Strategic Buyers: In addition to marketing transactional buyers, leading manufacturers surround and engage higher-margin strategic buyers with Google and Bing page one rankings, AI-powered targeting and A/B testing. They invest close to 10% of their revenue in marketing to right-fit prospects. Their investment in digital marketing eclipses what they spend in traditional media.
We hope these best practices get your gears turning.
Contact us if you are seeking a smart manufacturing marketing agency which can help you join the elite group of manufacturers growing their company's share of mind, voice and market.