In serving more than one hundred manufacturers in our thirty year history, we have helped our clients overcome the following eight business challenges they were consistently facing.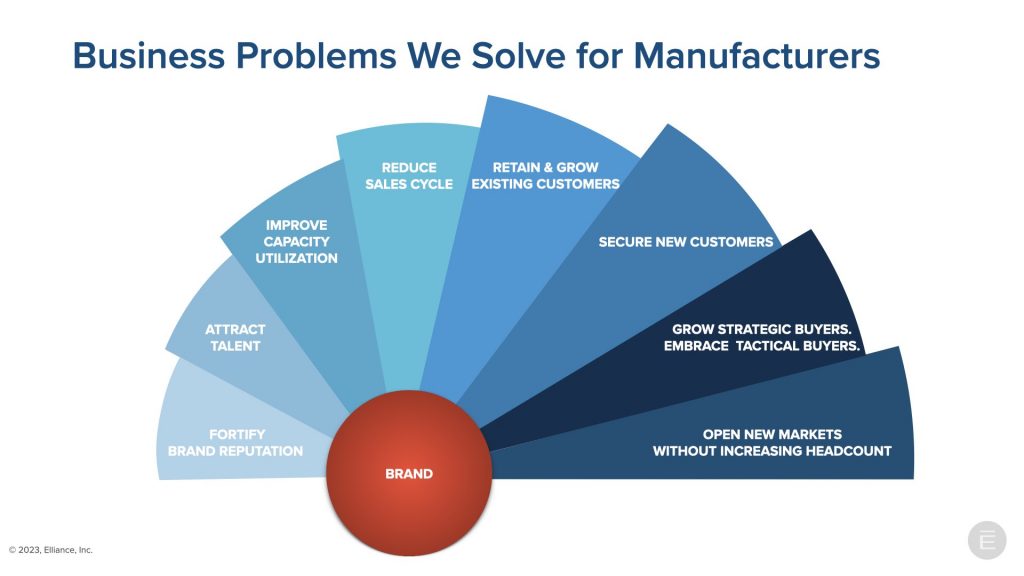 Fortify Brand Reputation
In the sea of sameness, brands win. Branding allows manufacturers to charge a premium and for financial markets to value them higher.
Manufacturing marketing agencies create a unified commercial brand for their clients. They infuse the brand in every touch point including websites, social media channels, Wikipedia entry, email signatures, newsletters, tours, webinars, and all sales presentations, trade show booths. They celebrate star customers and employees because they, not the company, are the real heroes of a company's story. They secure Google page 1 rankings for both tactical and strategic buyers, ensuring the information that appears on search engine results is persuasive and inviting. They position a manufacturer as a thought-leader in its space. They tell stories of product innovation. They help establish and deepen relationships with trade media.
Since Millennials and Gen-Zers care deeply about corporate values, they are gravitating towards manufacturers that embrace environmental, social and governance (ESG) standards and embody corporate social responsibility (CSR). Manufacturing marketers are using their client's brand communications to respond to this new social consciousness.
Attract and Retain Talent
Manufacturers are challenged by a national talent shortage to fill the new jobs they're creating. Instead of relying on tired, old ways, manufacturing marketers are engaged in Recruitment 3.0 which demands a better digital strategy. One that doesn't commoditize businesses by constantly putting them side by side with everybody else looking to fill seemingly look-alike roles. One that articulates and celebrates the company's values to match the needs of values-based Gen-Z and Millennials. One that SEO-optimizes each job in the careers and job listing pages so it can surface on Google page one. One that micro-targets with surround and engage campaigns, that influence talented people to seek the company out.
They orchestrate paid, owned and earned media tactics to create a reputation as the "The place to work" and help companies get the attention of the most talented people out there.
Improve Capacity Utilization
Marketing agencies contribute to improving capacity utilization by assisting with steady demand generation and demand forecasting. In tandem, the companies must engage in a number of operational strategies to manage their capacity including lean manufacturing, Just-in-Time inventory management, workforce training, product standardization, optimization of routing and scheduling, Kaizen and quality control.
Reduce Sales Cycle
Manufacturing marketing agencies begin by securing Google page one rankings so they can attract prospects who are ready to make a purchase. Next they target micro-segments of tactical and strategic buyers and leverage CRM, lead scoring and A/B testing tools to prioritize, nurture and convert the right-fit inquiries faster. Then they equip the manufacturer's sales teams with smart presentations, persuasive sales collateral, success stories and thought-leadership white papers. They next accelerate proposal generation and objection handling with sales enablement tools. Finally, they help activate limited-time special offers, reward and loyalty programs, where appropriate.
Retain, Grow and Cross-Sell to Existing Customers
It's well known that it takes up to five times more resources to acquire a new customer than to retain an existing one.
Manufacturing marketers assist in developing regular communication with customers with newsletters, product updates and industry insights. They keep the company's customers engaged by crafting and running annual customer satisfaction surveys. They implement incentive and loyalty programs that reward customers. They identify opportunities to upsell and cross-sell complementary products and services and help develop bundle deals for purchasing additional items. They help secure Google page one rankings for key product lines to project leadership and provide confirmation to buyers of their past purchase decisions.
Secure New Customers
Manufacturing marketers accelerate their digital investments. They are aware that customer-driven companies are investing 3.4 times more in digital experiences that are mobile-first, personalized and integrated. They help diversify digital experiences with the inclusion of video marketing, high-fidelity microsites, thought leadership content, search engine optimization and social media marketing in recently emerged channels.
By dominating national and international search engines and social media, they help manufacturers secure:
new customers from global markets
new customers who are not aware of the company
new customers seeking second source suppliers
new customers disappointed by a bad experience with competitive suppliers.
Grow Strategic Buyers. Embrace Tactical Buyers.
Smart manufacturing marketers realize that not all customers are born equal; they are helping companies focus their energies on attracting and converting high-margin strategic buyers. This doesn't preclude them from valuing and targeting tactical and transactional buyers. Manufacturers need to serve both types of buyers.
Open New Markets without Increasing Headcount
Smart manufacturers are making digital investments to help companies open new markets by securing top search engine rankings, growing their presence on online sales channels and leveraging marketing technology. They are also assisting in the formation of strategic partnerships to open new markets. They arm their clients with well-thought-out market entry plans, so they can achieve sales gains without a significant increase in headcount.
Contact us if you are seeking a smart manufacturing marketing agency which can help you join the elite group of manufacturers growing their company's share of mind, voice and market.