Ranked as one of the best B2B marketing agencies, we are frequently asked to share our thoughts about emerging marketing trends. We see three main forces impacting the B2B environment:
First, Gen-Zers are entering the job market. In the past few years, there has been a generational shift from Boomers to Gen-Xers and Millennials. By 2025, 75% of the global workforce will be largely comprised of Millennials and Gen-Zers.
Second, social justice movements with themes of diversity, equity and inclusion (DEI) and corporate social responsibility (CSR) are growing and increasingly fused together.
Third, the release of Forrester Research's 2023 Planning Guide for B2B Marketing Executives lays out new market trends.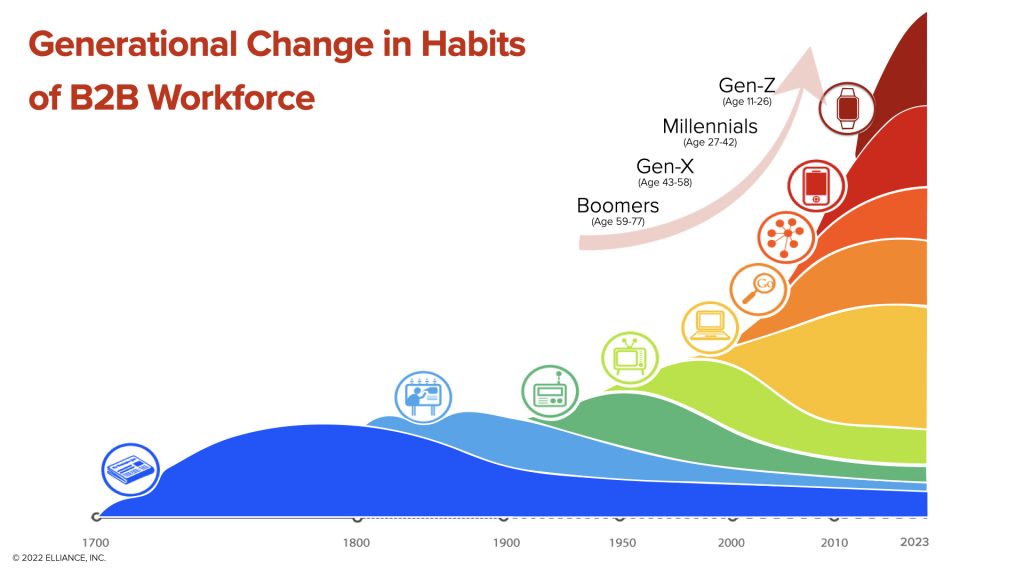 To grow their brand's share of mind, voice and market, successful marketers are focused on the following initiatives for 2023:
1. Purpose First
Since Millennials and Gen-Zers care deeply about corporate values, they are gravitating towards companies that embrace environmental, social and governance (ESG) standards and embody corporate social responsibility (CSR). Young buyers are attracted to B2B brands which live in accordance with their core values. B2B marketers are using their brand communications to respond to this new social consciousness.
2. Customer Retention First
B2B marketers have always focused on securing new clients, but are now shifting some of their effort to cross-sell, up-sell and deep-sell their products/services to existing customers. Because current customers generate higher margins and better ROI, 34% of smart marketers are wisely planning to increase current customer engagement budgets by over 10%.
3. Strategic Buyers First
Smart B2B marketers realize that not all customers are born equal; they are focusing their energies on attracting and converting high-margin strategic buyers. This doesn't preclude them from targeting tactical and transactional buyers.
4. Employees First
In the era of talent shortages, talent retention is of strategic importance for B2B companies. Gen-Zers, Millennials and Gen-Xers are eager for professional development. Boomers, reckoning with their imminent retirement, are stepping forward to train them. They recognize that engaged employees are happy employees. Fulfilled employees tend to stay and not switch jobs.
5. Digital First
B2B marketers are accelerating their digital investments. Customer-driven B2B marketers are investing 3.4 times more in digital experiences that are mobile-first, personalized and integrated. Digital experiences are diversifying to include video marketing, high-fidelity microsites, thought leadership content, search engine optimization and social media marketing in recently emerged channels like TikTok and Snapchat. The reason for this is simple: digital investments enable expansion of geographic reach without growing remote headcount.
6. Keyword Lexicons First
As part of their brand journey, B2B marketers are crafting SEO Keyword Lexicons that guide creation of all new content. The Lexicon is comprised of keywords and key phrases that they should secure rankings on page one of Google and Bing. Keyword categories in the Lexicon include: products/services, brand positioning, reputation, decisioning and location.
7. Reputation First
High-fidelity content is the lifeblood of reputable brands. B2B marketers are producing high-octane stories, thought-leadership white papers and informative blog posts — and infusing them with keywords to secure Google and Bing page one rankings.
8. Talent First
Instead of relying on Monster, Indeed, LinkedIn and other popular job promotion sites, smart B2B marketers are expanding the career sections of their corporate websites to celebrate and express its core values. Their sites now feature sections on corporate giving, employee volunteering, board participation and the initiatives their foundations support. They are optimizing their job listings for Google and Bing rankings and activating social media promotions to attract hard-to-find talent.
9. Localization First
Instead of localizing content for all regions, successful B2B marketers are localizing and optimizing content for regions where they have the best chance of earning the highest ROI. For example, in India, a company will run paid and organic campaigns on Google India, but in China, it will run them on Baidu (Google-equivalent) and Renren (Facebook equivalent). Prospects are directed to the landing pages or websites featuring their native languages.
10. Unified Data First
B2B marketing and sales dashboards are increasingly gathering comprehensive customer data. Value dashboards include annualized customer value, profitability, wallet share and renewal/retention rates. Interaction dashboards include content engagement, customer service interactions and community engagement. Armed with insights from this data, B2B marketers can predict renewal rates, cross-sell additional products/services and develop new products.
B2B marketers who adapt to the massive change will thrive in 2023 and beyond.
Contact us if you are seeking a smart B2B marketing agency which can help you join the elite group of marketers growing their corporation's share of mind, voice and market.