At Elliance, a Pittsburgh-based digital marketing agency, we create unique ad creative for paid campaigns for each of our higher education marketing clients. There are several factors that we take into consideration as we develop this ad creative. Keeping the client's brand in mind, the target audience and the goal of the campaign helps us come up with a one-of-a-kind strategy for each client.
Here are some best practices that we follow to develop high-converting ad creative for every client campaign:
Use authentic photography:
As all paid marketing platforms have become more and more visual, using the right image is really important to creating the right ad.The use of client images of actual students helps us develop a more authentic look and feel for prospects. It gives a realistic feeling of being on-campus and brings out the individuality of the brand. Following are some examples of ad creative that we used for our higher education clients marketing campaigns:
Chatham University's Master's of Sustainability Instagram Story Ads: This was a series of ads that we created for Chatham University's Master of Sustainability. The powerful images of alums, that were also captured by Elliance, created an impactful series to show prospective students what they could do with this degree.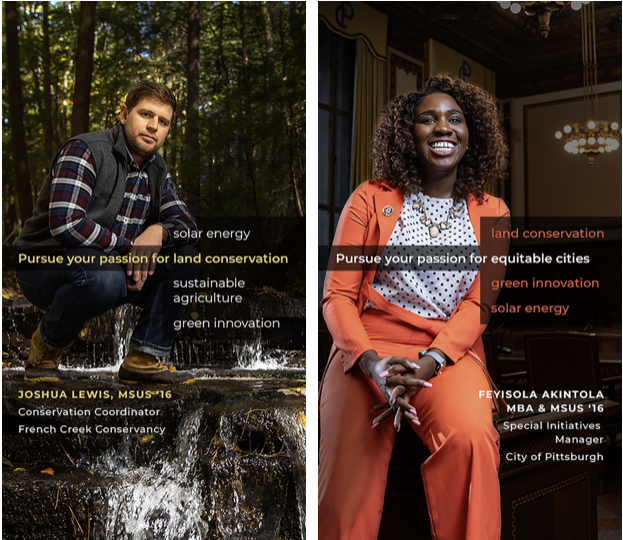 John Carroll University Parents Campaign: We used actual student images in the ad creative below from the commencement ceremony at John Carroll University. The campaign was targeted to parents which is why the creative showed students successfully getting to their end goal of graduation.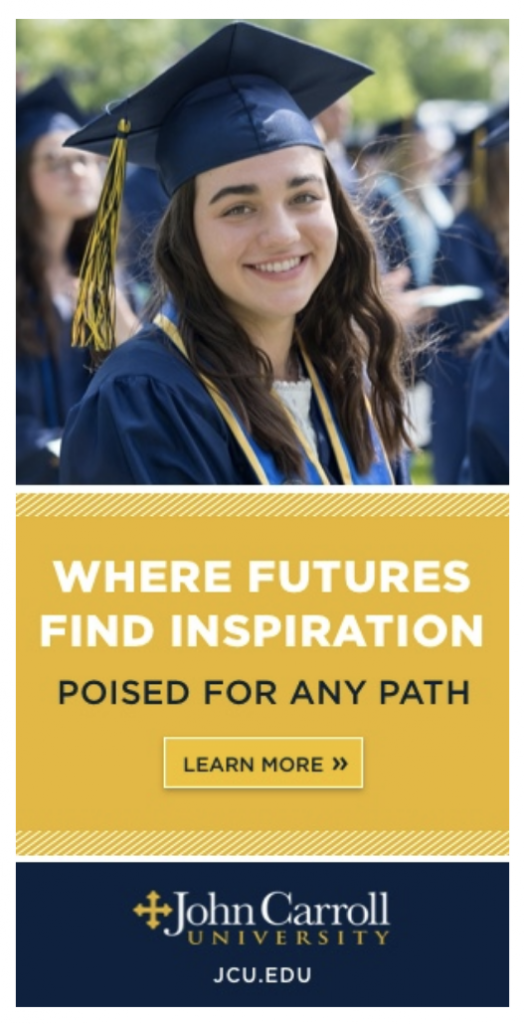 Stand out from the competition with eye-catching design elements:
With the increase in advertisers online, it becomes imperative to stand out from others. One thing that can help you distinguish yourself from the competition is to select images, copy and design elements which will make your ads memorable and your brand stand out from the crowd.
Hartford International University Master's of Interreligious Studies LinkedIn Campaign: The image selected for the LinkedIn ad below for Hartford International University was designed to show the diversity of their students and does a really good job of showing the various backgrounds and faiths their students come from.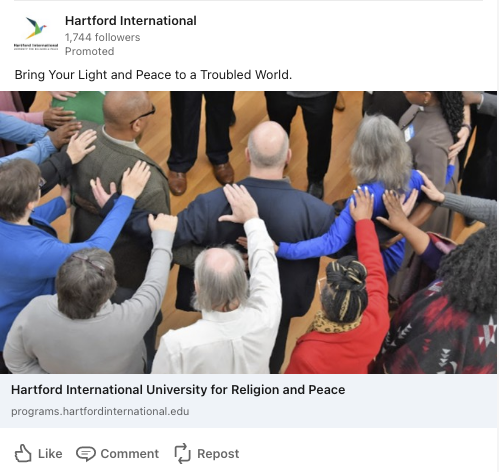 Chatham University's Master of Sustainability Program Instagram Campaign Ad: The aerial image of green fields to signify sustainability was something we used for Chatham University's Master's of Sustainability campaign on Instagram so that they would stand out from other sustainability programs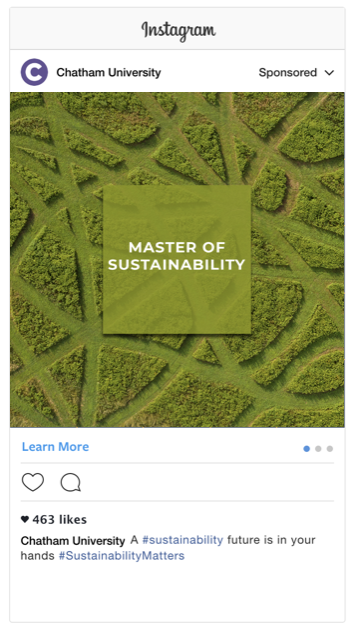 Capitol Tech University Gif Ads: We used moving gifs for Capitol Technology University which is a STEM-focused school near Washington D.C. With their high tech STEM curriculum the moving gif ads were created to show the fast paced nature of a technology education. It also highlighted the different aspects of a cybersecurity education that students would receive at Capitol Tech.
Write clear and concise copy:
Today's target audiences have limited bandwidth and attention spans. It's better to quickly get your audience's attention and provide your offer than to write long ads which will not show after a limited number of characters.
John Carroll University Exercise Science Campaign: Here is a set of ads that we did to attract prospects to John Carroll University's Exercise Science program. One copy is focused on the success of alums working with famous teams like the Buffalo Bills while the other test copy highlights the value of the education and experience at John Carroll.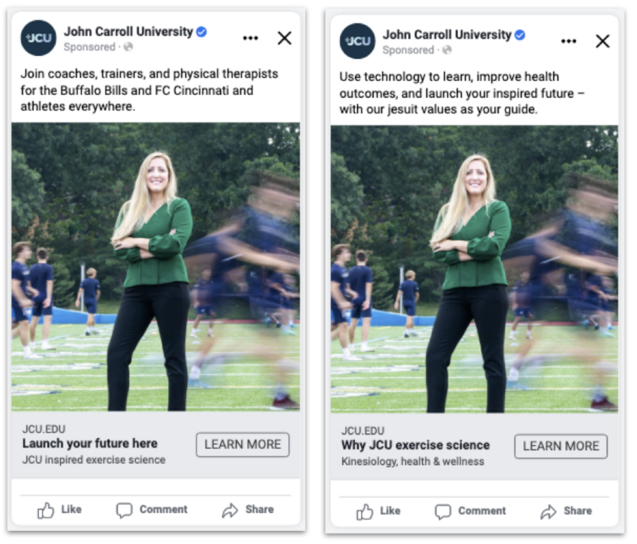 Missouri Military Academy Facebook Parents Campaign: The following series of ads was done for Missouri Military Academy which posed a question to the parents who, in this case, are the decision makers. The question draws the audience's attention and prompts them to take action and learn more about the school.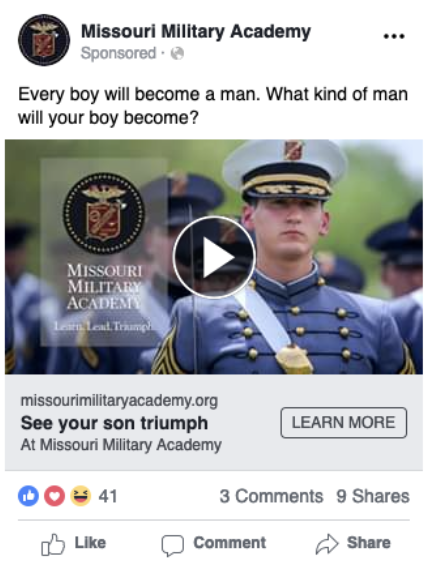 Highlight your uniqueness:
What is one thing that is unique about you? Use your ad creative to bring attention to that factor. It will set you apart even further from your competition.
Carlow University Nursing BSN Campaign: For example, with Carlow Nursing their high NCLEX exam pass rates was something that needed to be highlighted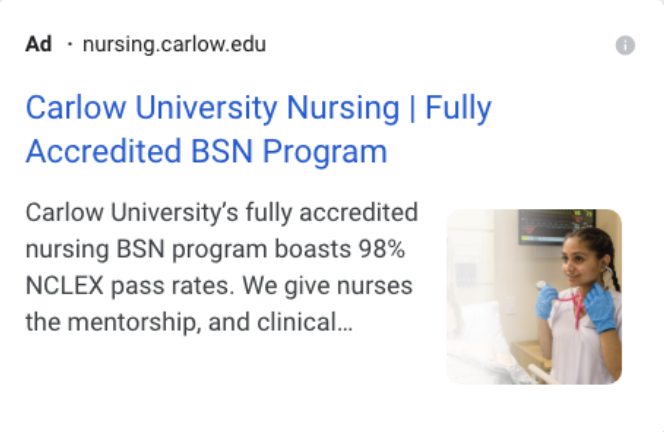 Capitol Technology University Cybersecurity Campaign: Capitol Tech Cybersecurity program is ranked #1 by the National Center of Academic Excellence in Cyber Defense. We made this the highlight of our retargeting campaign.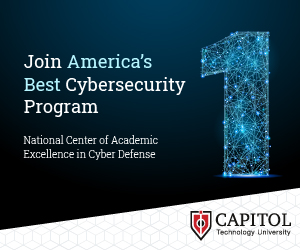 Add calls to actions:
Depending on what type of campaign you're running and where your prospect is in the funnel, calls to action will differ.
Lead Generation CTA: For example, if you're trying to build leads, your call to action may say 'Learn More' as in the Saint Vincent Facebook ad below.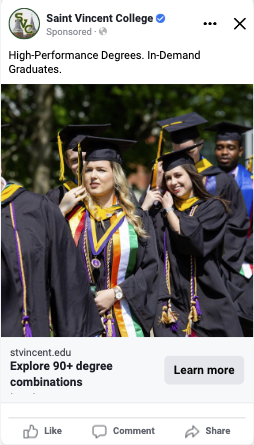 App Generation CTA: If a prospective student is deeper into their journey, you may be encouraging them to apply, as in the ads below for John Carroll University.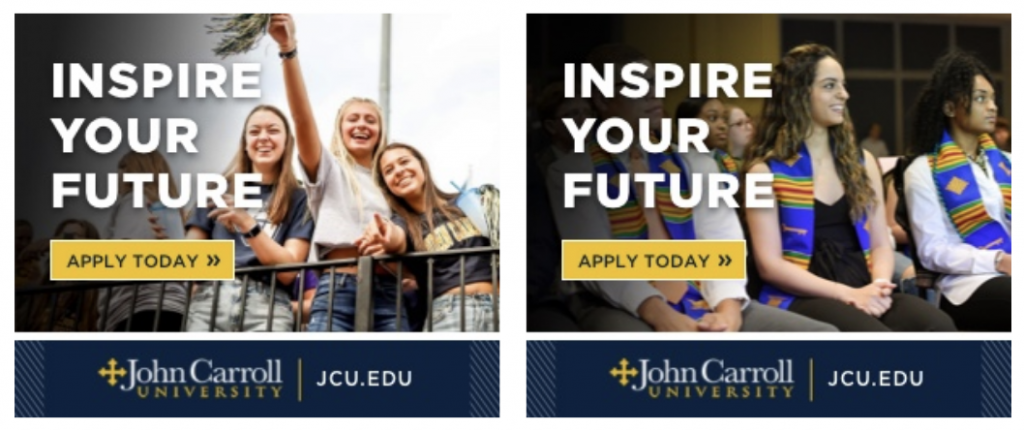 Yield Campaign CTAs: In other instances, we have also run yield campaigns for clients where we are focusing on improving yield and increasing the deposit rate. In those instances, the call to action on the ad is completely different as you can see in the Saint Vincent College deposit ad below: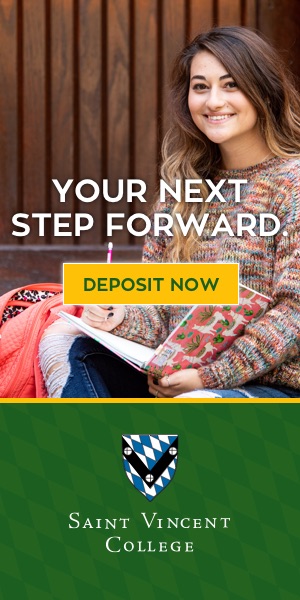 Run consistent messaging on all platforms:
If you are using multiple platforms for your campaigns, you would want to keep using consistent messaging across all platforms so that if a prospect uses one platform over another, you are able to reach them where they are.
Facebook & Retargeting Ads for John Carroll University Preview Day: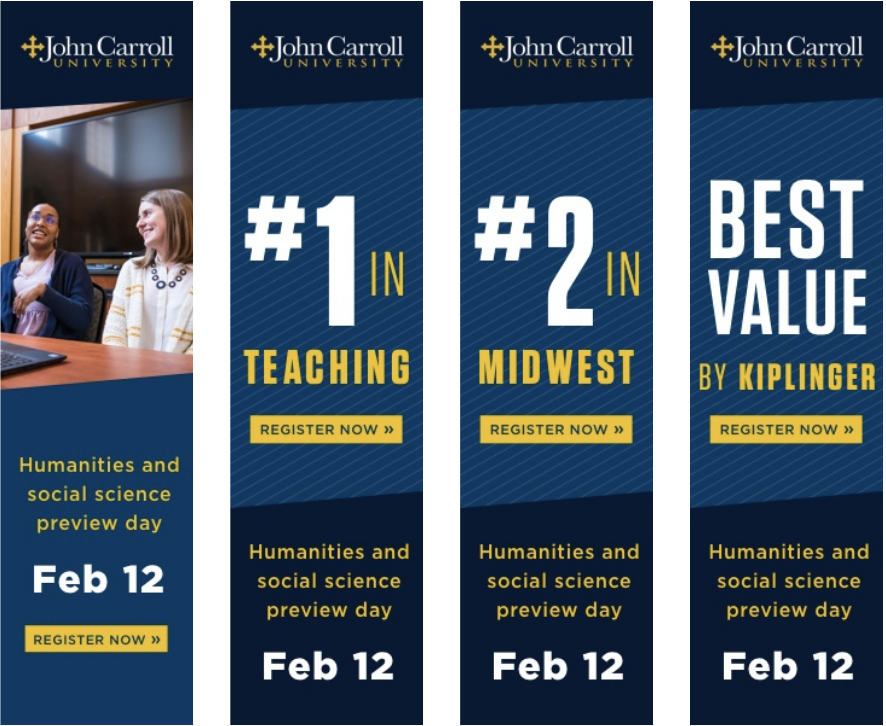 Facebook & Retargeting Ads for Spring Visit Day for John Carroll University: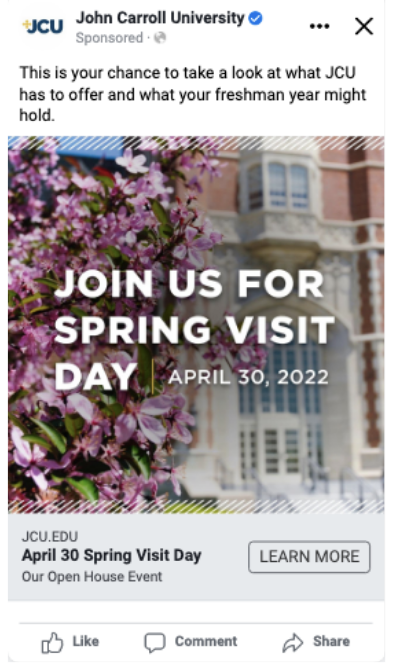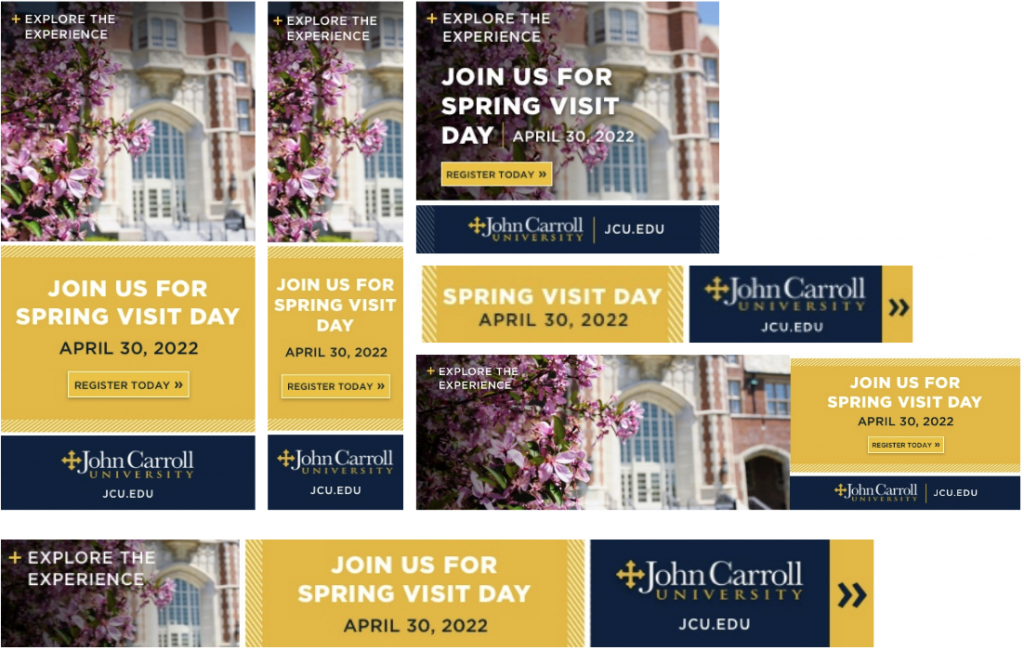 Facebook & Retargeting Ads for Exercise Science Campaign for John Carroll University: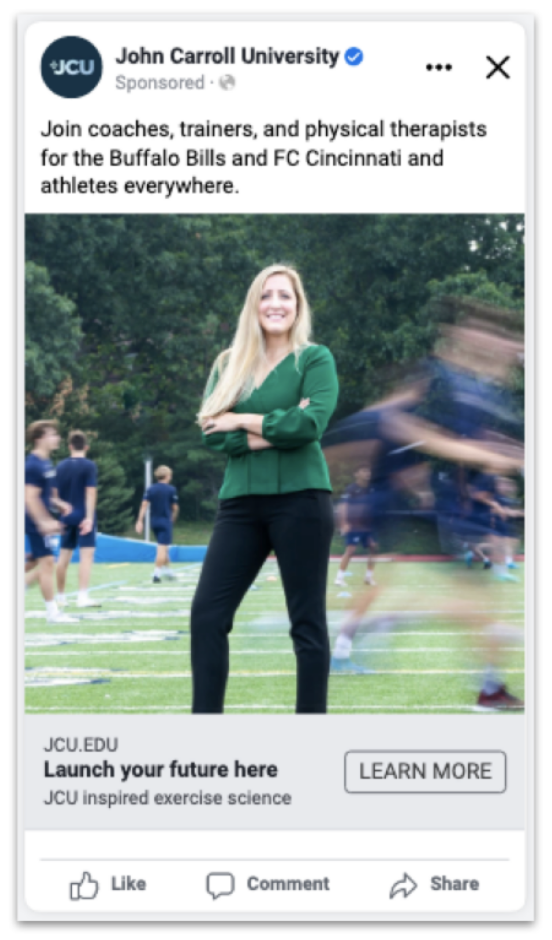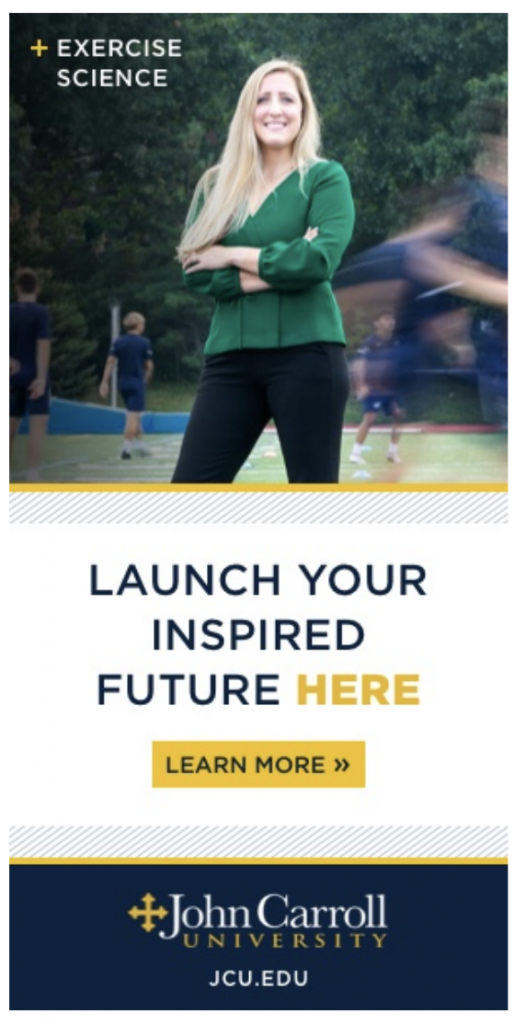 A/B test ad creatives:
A/B testing different sets of ads, whether it is videos, images, copy and other creative elements in ads will help you understand which message resonates with your audiences better. As a result, you can tighten your messaging and talk directly to your prospective students.
John Carroll University Exercise Science Program Campaign: We tested the following three images for the Exercise Science campaign that we ran for Jon Carroll helping us narrow copy and images which resonated best with prospective students.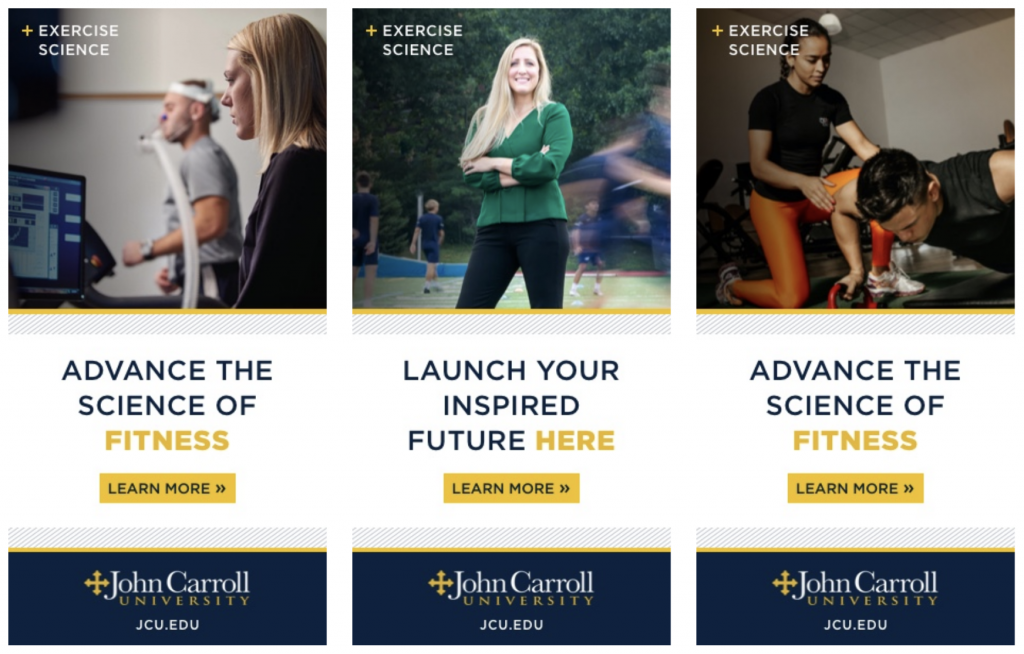 Saint Vincent College Reputation Campaign: We tested the three different images and two sets of copy for the reputation campaign that we ran for Saint Vincent College to reach the right fit audience for the College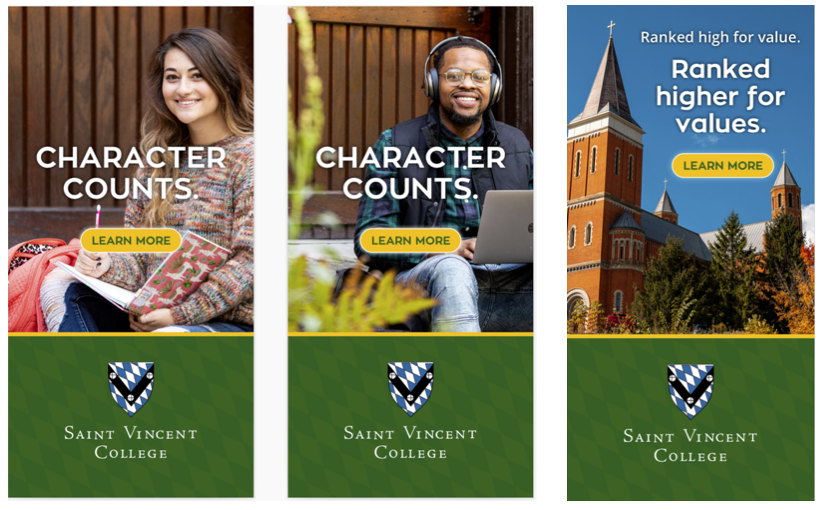 If you are seeking a paid advertising agency for your higher education institution, view our work with many higher ed clients and consider partnering with us.