Featured Snippets are the highlighted results at the top of a Google Search Results page. Also known as position "zero", they appear above the first organic result. Google displays these results when they determine that this format will help the user more easily discover what they're looking for. Featured Snippets can show up as a list, a paragraph, a table and a video.
At Elliance, a higher education SEO and digital marketing agency, we have been helping clients get top rankings for over 20 years. As we work to boost rankings for our higher education marketing clients, we aim our efforts to get strong featured snippet rankings for our clients. There have been some remarkable results that we've noticed in cases where we've achieved featured snippet rankings.
Benefits of Ranking on Featured Snippet Results
Higher clickthrough rates: Research shows that people click more on featured snippet results. According to Search Engine Watch featured snippets account for 35% of all clicks. FirstPageSage.com shows that in 2023 results with featured snippets on a Google SERP have an average clickthrough rate of 43%.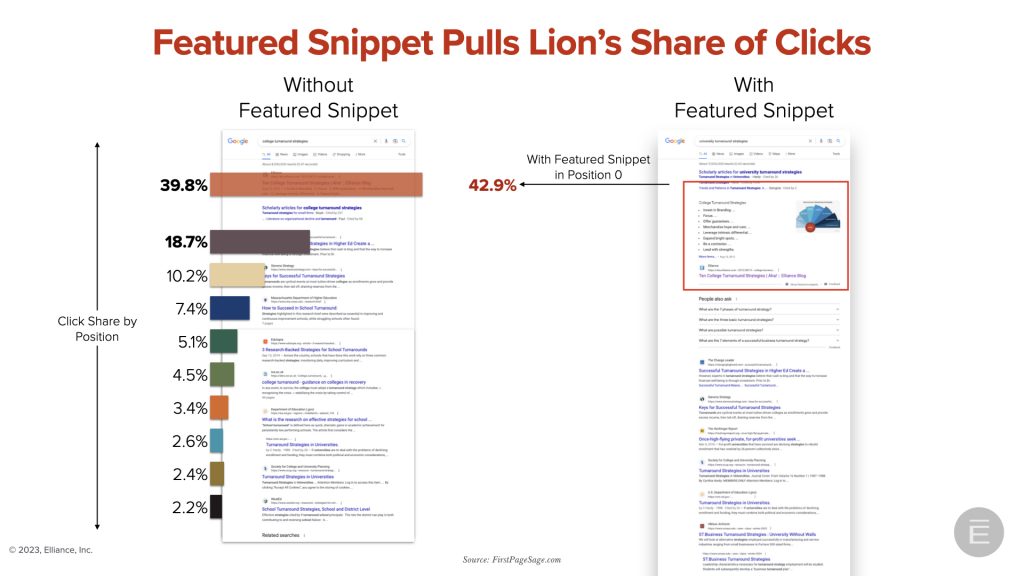 Better quality and qualified traffic: Due to the presence of a summary with a featured snippet, users can quickly understand what your page is about. This can result in better qualified traffic to the page as the users who are most interested in reading more are the ones who will click on that result.
Higher visibility: Featured snippets are the first thing that users see on a search results page. They become even more prominent with the presence of images. As a result, this ranking spot has the highest visual impact on a page for that keyword search. This leads to much higher visibility for the brand.
Increased credibility: Appearing in the featured snippet spot lends credibility to your website and brand, signaling to searchers that your content is authoritative and trustworthy
Higher Education SEO Client Case Studies With Featured Snippet Results
Keeping this in mind, we wanted to do a test and analysis of our own clients and see if we are seeing this positive trend in traffic from featured snippet results.
Higher Education SEO Case Study #1: 396% increase in organic traffic
With this client, we were tasked to build content for several different programs. We were regularly building content for nursing, communication, creative writing, tech degrees and other health science programs. The resulting traffic in the chart below shows the large increases that came from achieving featured snippet results for many of these programs.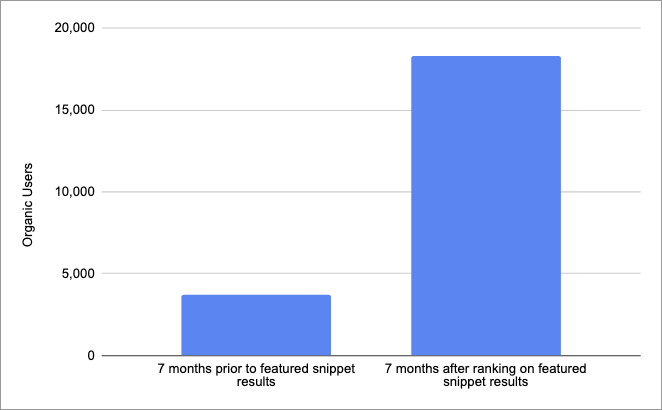 Bounce rate for organic traffic, usually pretty strong to begin with, improved in this time period even further by 59% and average session duration improved 21%.
Higher Education SEO Case Study #2: 500% increase in organic traffic
This client was focused on providing technology education to both undergraduate and graduate students. Located in a really competitive region, we were able to get them top rankings on Google and eventually for many long tail variations achieve the featured snippet rankings as well. The before and after picture in the chart below of achieving the featured snippets shows a pretty marked increase in traffic to those pages.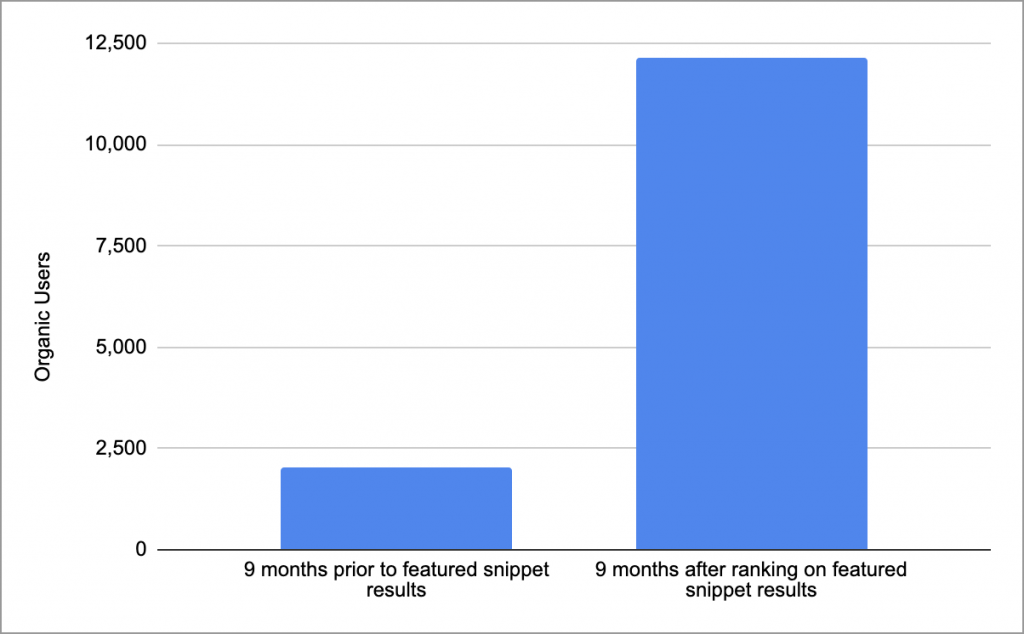 The pages that achieved featured snippet rankings currently all bring a large amount of organic traffic to the website. They are all in the top 20 referring pages, resulting in increased visitors that wouldn't have found the website otherwise.
Higher Education SEO Case Study #3: 210% increase in organic traffic
This client serves a graduate student audience. They were looking to increase visibility for a couple of different degrees and in both cases we were able to get really strong rankings on Google page 1. Overall, their organic traffic has been improving but for the specific pages where we achieved featured snippet rankings, organic traffic increased significantly as shown in the chart below.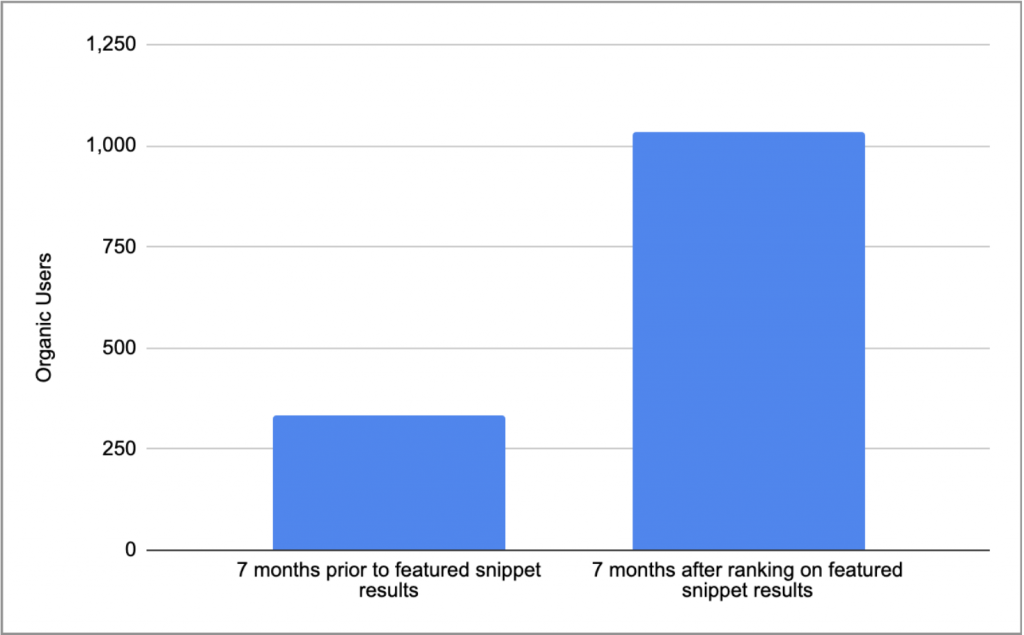 The amount of new users coming to these pages increased by 218% in this time period, resulting in increased brand visibility. Most of the search terms bringing traffic to these pages were also non-branded terms resulting in this increase in traffic from new users.
Tips for improving rankings for featured snippets:
With such strong increases in traffic and improvements in engagements on the page, the featured snippet spot is a really valuable piece of real estate that you should aim to rank for. Here are some tips that can help you improve your Google page 1 rankings and achieve featured snippet rankings:
Thoroughly research keywords to respond to the searcher's query.
Optimize content & make it easily readable using relevant headings and subheadings.
Provide a direct answer to the user's query.
Use structured data to help search engines better understand your content and increase your chances of being featured in a snippet.
Monitor your search engine rankings and traffic to identify which pieces of content are performing well and adjust your strategy accordingly.
Continue to optimize and make changes as this will help to refine and improve your chances of success.
If you are seeking an SEO marketing agency for your organization, view our library of infographics and SEO capabilities and consider partnering with us.