This guide was written to help under-resourced, small to medium colleges and universities who can't compete in the marketing arms race and yet need to out-wit and out-smart the deep-pocketed Goliaths. We call them small giants. As one of the leading higher education marketing agencies, we learned the strategies and tactics presented here from serving several small giants of higher education. We salute them.
Higher education marketing is a sacred art for a noble cause. Its primary goal is to grow enrollment, endowment and reputation for colleges and universities. Colleges are literally spending billions on marketing and advertising. The first threat that private and public colleges faced was from t
he meteoric rise of for-profit colleges who invest more than 20% of their revenue (equating to hundreds of millions of dollars) on marketing. The next threat has arisen from within their own ranks. Now there are more than twenty private and public universities that are investing over $100 million in marketing to grow their enrollment.
The net impact of this massive spending is that small and medium sized private and public universities who are unable to spend at that level, must get smarter in owning their own backyards and attracting students for distinct programs from across the country and across the world. They must lead with strengths, invest in branding, sharpen their value propositions, offer unique programs, reimagine their publishing potential, abandon ineffective student search models and adopt more effective yield strategies.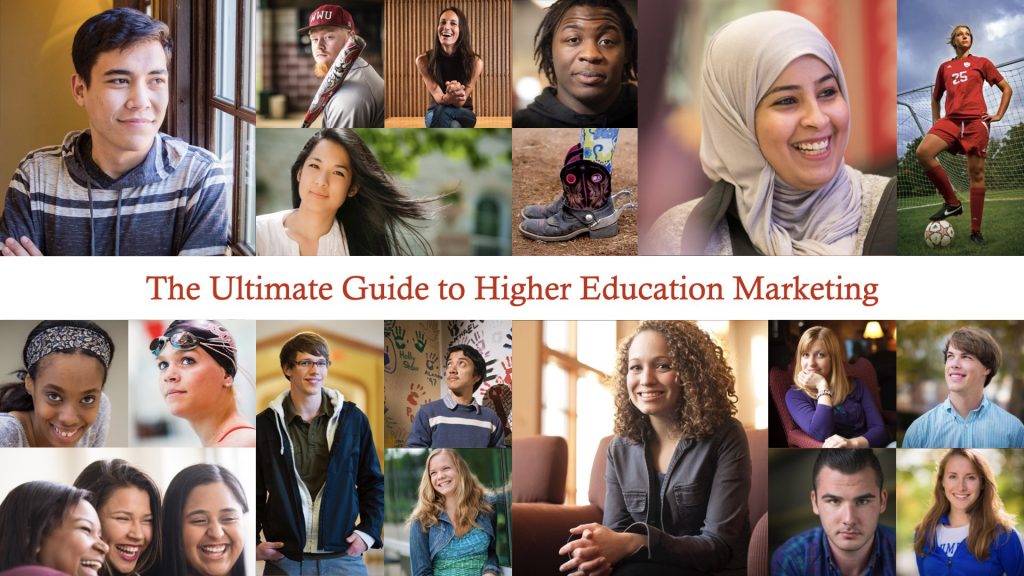 Table of Contents:
1. The 3 R's of Higher Education Marketing: Revenue, Reputation and Rankings
2. A Manifesto for Higher Education Marketing
3. Higher Education Branding
4. Higher Education Website Design
5. Higher Education SEO/Inbound Marketing
6. Higher Education Paid Advertising
7. Higher Education Social Media Marketing
8. Higher Education Traditional Advertising Strategies
9. Higher Education Marketing Ecosystem
10. Higher Education Marketing for Fundraising
I. The 3 R's of Higher Education Marketing: Revenue, Reputation and Rankings
In the past 25 years, we've had the privilege of collaborating with more than fifty college chief marketing officers in over 100 colleges and universities. Whether they are recruited as a change agent or a strategic visionary, they are increasingly expected to liberate new growth for the college by focusing on the 3 R's of prosperity: Revenue, Reputation and Rankings.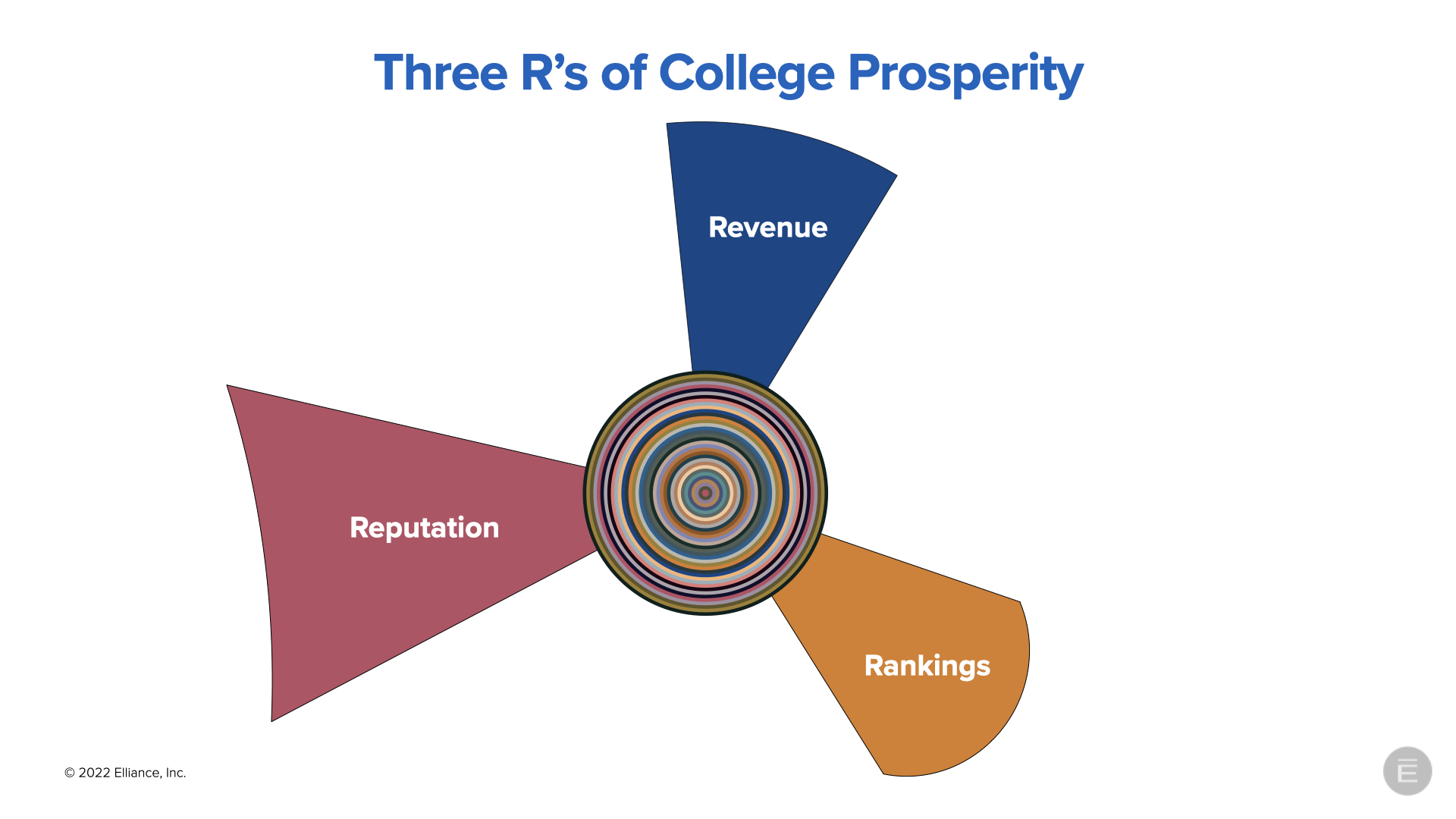 1. REVENUE
In institutions of higher learning, revenue flows from four primary sources: enrollment, endowment, partnerships and research. Higher education marketers assist with revenue generation from all these sources.
Higher education marketers run campaigns to liberate enrollment growth from undergraduate, graduate, online, adult or international students. While existing programs generate a lion share of enrollment revenue, they ensure that new programs are launched successfully.
Higher education marketers also play a crucial role in supporting annual giving and micro/comprehensive capital campaigns. In conjunction with their Advancement peers, they keep an eye on donor giving rates and donor attrition rates. They grow endowments to generate increased interest income to fund scholarships, attract talented faculty and more.
They project brand confidence that attracts mission-aligned community organizations, corporations, foundations, government agencies and trade groups to their institutions.
2. REPUTATION
All great higher education marketers engage in branding to position their colleges and universities as institutions of consequence. They curate, orchestrate and elevate their content strategy to deftly manage their institutional destiny with flagship publications, storytelling on websites and social media channels. They maximize their content productivity and amplify their thought leadership with Keyword Lexicons and search engine optimization best practices. They widen their content reach beyond alumni and friends to influence people who aren't aware of their college brands. They measure and communicate the economic impact of their institutions.
3. RANKINGS
Successful higher education marketers understand that they must influence the twin traditional (US News etc.) and Google (+Bing etc.) rankings. They understand the factors that weigh into each ranking and proactively influence those factors with talented committees and agency partners.
II. A Manifesto for Higher Education Marketing
The thirteen practices for managing and running a successful college marketing operation that all successful higher education marketers follow in this manifesto will liberate new prosperity for colleges and universities:
1. You become the story you choose to tell.
It's how institutions make meaning from the arc of their history, and operate with a sense of destiny to create purpose that propels them into the future. This story is what students, parents, donors, funders and partners buy into. A brand rarely exceeds the size of its ambition and the story it chooses to tell about itself.
2. Students, not the institution, are the real heroes of your story.
The best colleges and universities realize that students, alumni and faculty — not the institution — are the real heroes of a college's story. That's why successful colleges and their marketing departments primarily celebrate their personal heroes' journeys and the consequential problems of humanity they are solving.
3. Invest in the brand. Speak with one brand voice.
In the sea of sameness, brands win. Know your core promise, values, ideals, distinctions and what you stand for.
Articulate your brand value cheerfully irrespective of whether you are a liberal arts college, STEM university, research powered, experiential brand, college of access, online educator or an integrative brand.
Speak with one brand voice to all audiences, but strike different notes for each segment of students, alumni, donors, partners and influencers.
4. Prove your brand claims.
Buyers are both intelligent and skeptical. Persuade them by providing proofs in the form of stories, stats and third-party validations. Go long on proofs and short on claims.
5. Invest in first impressions.
Fortify every digital touch point including websites, social media channels, search engine descriptions, paid campaigns and brand anthem videos. Also infuse beauty and strength in every physical touch point such as open houses, information sessions, college entrance, campus grounds, campus signage, classrooms, tours, and admissions office décor. The sum of these experiences builds a college's brand reputation.
6. Romance prospects with high-fidelity academic program pages.
They are the "money pages" on a website used by value-minded prospects and their families to make their college choices. Build them with the right balance of persuasion architecture, science of conversions, and beauty. Prospects want to be assured that the value of their degree far exceeds the cost of their education.
7. Pursue right-fit students.
Invert the admissions funnel by marketing your students and alumni heroes to attract like-minded prospects. This creates admission pipes, not funnels. Right-fit students go on to become engaged citizens, brand ambassadors, recruiters, partners and donors.
8. Surround and engage prospects and influencers where they hang out.
Fish where the fish are. Allocate marketing investments in digital channels where students roam. Invest marketing dollars in both traditional and digital channels where influencers live.
9. Facilitate creation of distinctive academic programs.
Know and market your signature programs, program portfolios and mission-oriented academic programs. Defend your core franchise while creating new degrees of the future: integrative, flavored and emergent. Encourage involvement of industry advisory boards to inform new program creation and program adaptation.
Prospects pay a premium to schools that have a competitive advantage and are continually relevant. Nothing creates surplus revenue for a college than a strong portfolio of distinctive programs.
10. Reimagine your publishing potential. Claim your thought leadership.
Weaponize your content based on your college's natural wellspring of ideas, innovation and thought leadership with a thoughtful Keyword Lexicon, search engine optimization and social sharing. Insist that each and every piece of content your college produces is "juiced" with keywords, so your college can secure its rightful Google page 1 rankings. When you secure them, traditional rankings follow suit. Don't surrender top search rankings for your signature programs to competitors, lead aggregators and commoditizers.
Leads generated from high-fidelity content out-convert paid advertising leads by three-folds (which, again, out-convert purchased names by another three-folds). The best prospects prefer to "discover" the college of their choice through word-of-mouth on social media and via "accidental finds" on Google page one.
11. Stand for something. Win battle for meaning.
Stand for a societal or global cause that is meaningful and consequential yet rooted in your institutional core strengths. Actively participate in it and promote it. In a fragmented world where there are competing voices and narratives, it's vital for a brand to win the battle for meaning – with intentionality – by owning mindshare, social shares and Google rankings for your distinct point-of-view.
12. Support the institution.
You, the marketer, are the linchpin for building institutional communications across all aspects of your college including enrollment, advancement, alumni relations, academics, research, athletics, internal communications and reputation management.
13. Measure what matters.
As management guru Peter Drucker said, "You can't manage what you can't measure." Create a culture of disciplined accountability with a shared dashboard of key performance indicators. Mutually define a set of essential metrics that truly matter. To achieve results, hold your people accountable for realizing their measurable goals.
The next few sections dive deeper into the six pillars of higher education marketing: branding, website design and four elements of integrated marketing – SEO/inbound marketing, paid advertising, social media marketing and traditional advertising strategies.
III. Higher Education Branding
WHAT IS A BRAND?
A brand is the sum of all experiences. It attaches an idea to a product or service e.g. achievement for Nike, freedom for Southwest Air, great books for St. John's College, and engaged learning for Elon University. A brand creates expectations and promises around a product or a service while creating strong or even impenetrable differentiation in the marketplace.
WHY REBRAND?
When choices proliferate, branding ascends. Three reasons why successful colleges brand:
In the ocean of generics, brands shine and triumph.
Brands command premium prices.
People value brands higher than generics.
After serving over 100 colleges and universities, Elliance has developed the following six steps to brand success for higher education marketers:
FIRST, DISCOVER YOUR BRAND
Bring both a rational and an investigative mind to brand discoveries. Scour all available data to look for key insights. When listening to internal stakeholders, customers and partners, choose quality over quantity. Listen as much to what's not being said. It's better to find brand proofs with happy, ambitious, and essential brand ambassadors. Look more closely at hidden assumptions and unexamined bias — on your way to a clearing where new light allows something fresh and unforeseen to emerge. Be ready to receive brand insights and cues that arrive as faint signals from unlikely sources. Be ready to challenge conventional wisdom.
SECOND, ARTICULATE A STRONG BRAND PLATFORM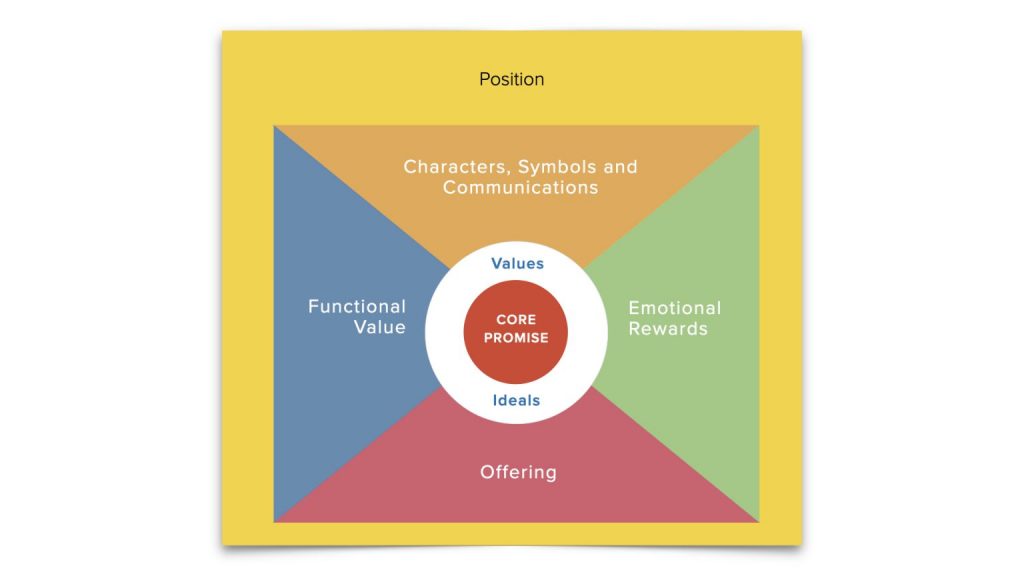 Your "Core Promise" is the unchanging center of all you are and do. Your "Values and Ideals" shape and support who you are and guide what you do. Your "Offering" is how customers experience your brand "viscerally" in servicing their needs. Your "Functional Value" is the ROI that your customers receive from you. The "Emotional Rewards" are how you make customers feel about you and themselves. Your "Characters and Symbols" are the first visual evidence of your brand that customers identify you with. Your "Brand Position" is the uniqueness you offer that sets you apart from competitors.
THIRD, STAND FOR SOMETHING UNIQUE AND LET THE WORLD KNOW ABOUT IT.
To stand out and draw attention, champion a meaningful societal or global cause that is rooted in your organizational strengths. Capitol Technology University is advocating for STEM equity. Kansas City University supports health equity. Berea champions self-sufficiency. Elon stands for engaged learning.
FOURTH, TEST THE BRAND PLATFORM
Test the strength of our brand propositions using the following criteria: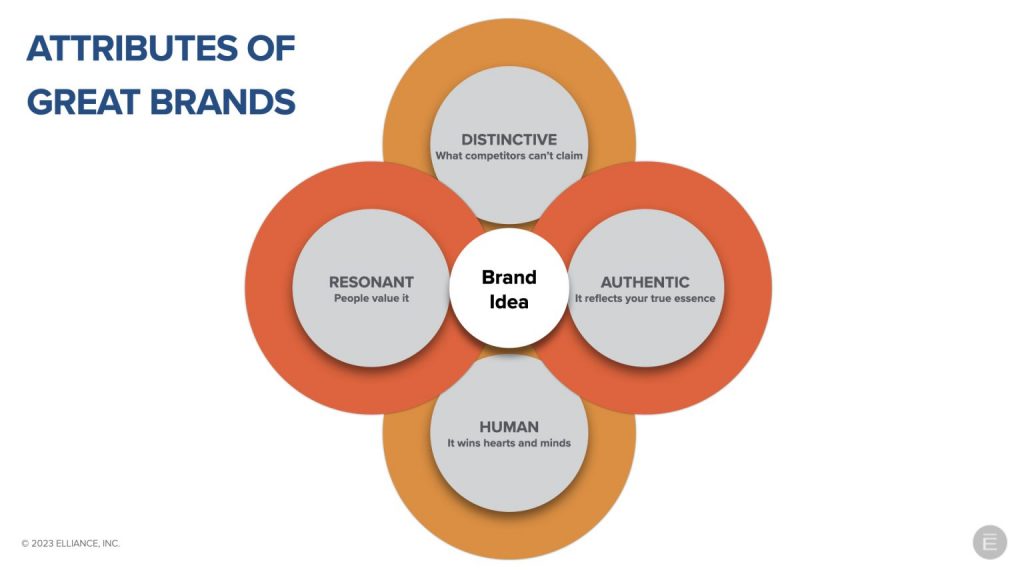 1. Brand Idea/Ideal
There is a deep yearning in people to belong to a tribe of like-minded people. Along with the wish to "buy" a product/service, they have a subliminal desire to "buy into" the ideals that the brand embodies and personifies. Great brands intentionally attach an idea/ideal to their product or service e.g. independent thinking and open-mindedness for St. John's College, and environmental and social responsibility for Patagonia. What's yours?
2. Distinctive
One key way for small to mid-sized colleges to outsmart competitors without outspending is to elevate the brand by creating a memorable and distinctive brand. Indeed, in the sea of sameness, a distinctive brand always wins.
3. Authentic
True and believable authenticity sells. To live authentically, brands unshackle themselves from a life of ought's, musts and shoulds. They must know themselves and yet remain devoted to telling better stories of smart, real, honest, surprising and delightful customer heroes – filled with grace and hope.
4. Resonant
Buyers are taking in the entire gestalt of a brand they endorse: what it stands for, its identity, its visual essence, its origin story and the stories it tells. To win the hearts and minds of buyers, a brand must continually curate, orchestrate and elevate its content so it'll continue to resonate with the right-fit buyer's senses and sensibility.
5. Human
Great brands always remember that prospects, customers, users, ambassadors and loyalists are real people, with real wants, needs and motivations. They never forget that they are in the business of making the lives of people (their customers) easier. They treat them like human beings. They know that their customers are the real heroes of their brand's story.
FIFTH, LAUNCH YOUR BRAND WITH GREAT CREATIVE
1. Speak with one brand voice
Articulate your brand cheerfully. Merchandise hope. Speak with one brand voice to all your audiences, but strike different notes for each segment.
2. Touch people's hearts with great customer-centric creative
Remember that the student, not the college, is the real heroes of your story. In a world in which audience "testing" and quantitative research threatens to aim communication down to the lowest common denominator — a people's choice kind of popularity contest — a few brands and creative teams dare to still speak to those "better angels of our nature." American University did it with their "Wonk" campaign. Babson did it by claiming and owning the word "Entrepreneurship". Thunderbird School of Management pretty much owns the phrase "International Business".
3. Choose the right media.
Brands can be launched in dozens of media channels like your own social channels, out-of-home advertising, radio and TV. The media you choose will depend on your budgets. Just remember that frequency and reach are both important.
SIXTH, MEASURE BRAND STRENGTH PERIODICALLY
Every two to three years, listen to the market and monitor the institutional brand strength, brand sentiments and brand reach – with both brand "awares" and brand "unawares". Benchmark your brand against competitors.
IV. Higher Education Website Design
WHY REDESIGN THE COLLEGE/UNIVERSITY WEBSITE
Today, more than any other touch point, a website is the digital soul of colleges and universities. All roads lead to it. The website is the #1 lead and application generation tool for colleges and universities. A website redesign should:
· energize the entire organization.
· create an inflection point
· realize your destiny
· bring prosperity
· become a catalyst for organizational transformation
· realign and reshape power structures
· align internal stakeholders
Here are five ROI metrics that higher education marketers can use to justify the investment in a comprehensive website redesign: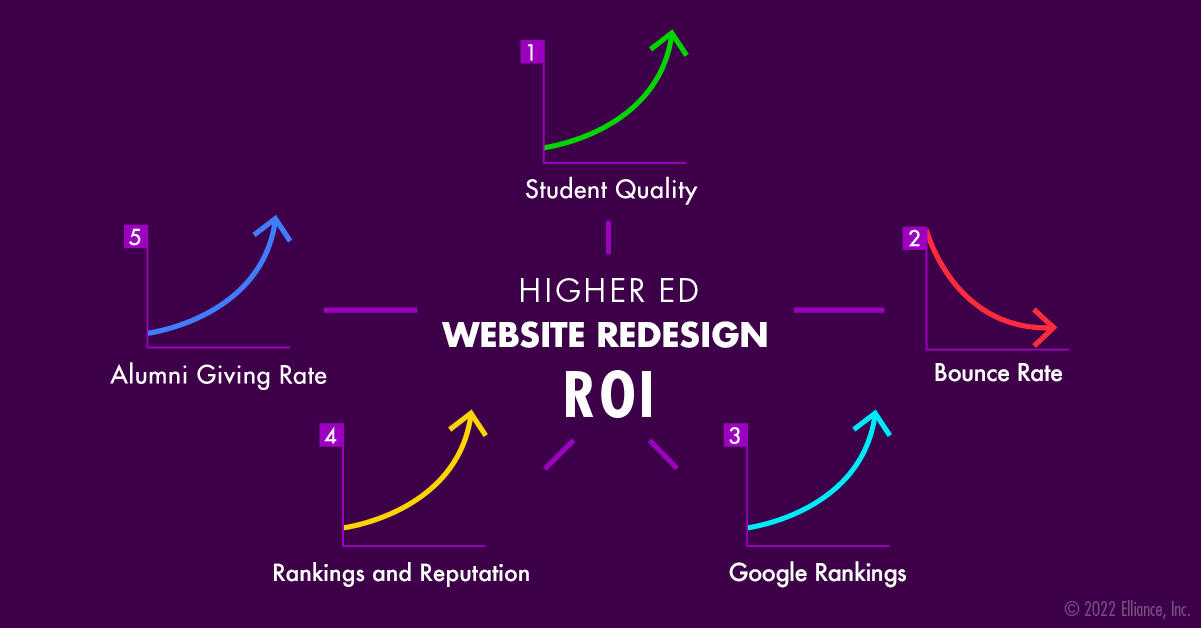 Hire a trusted website design agency with strategic smarts, creative chops, and deft diplomacy to build bridges between academics, enrollment, marketing, advancement and external relations.
DEPLOY THE WEBSITE DESIGN BEST PRACTICES
Our arsenal of website design best practices includes:
1. Start with the Wise Strategy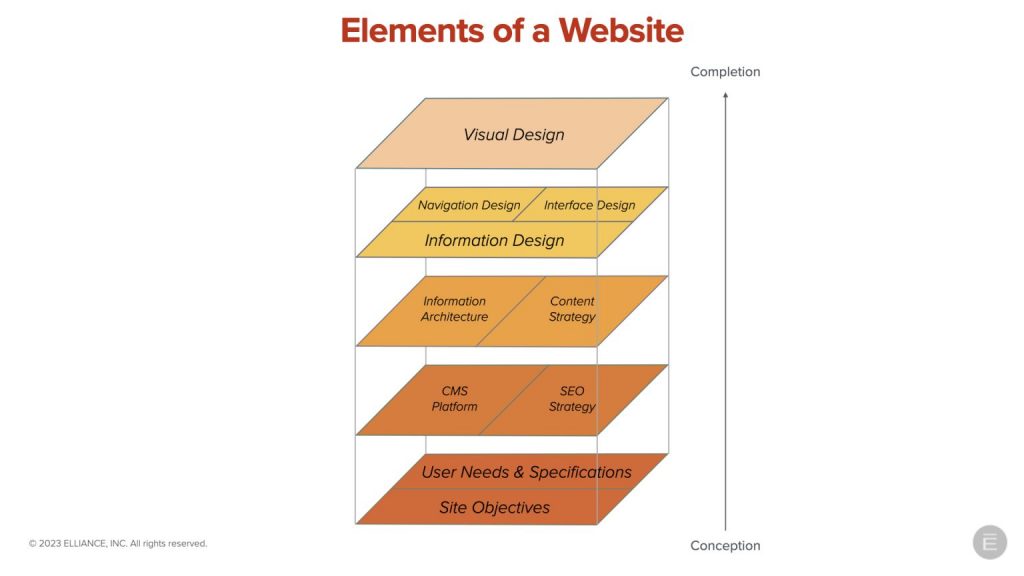 Revenue Strategy, Communication Strategy and Search Engine Ranking Strategy are the three building blocks of Website Strategy. Bake each of them into every stage of website development.
Inform your website strategy with insights from market research, competitive benchmarking and the university's strategic plan. Let website strategy guide the development of information architecture, content, design and development.
Make it search-engine-friendly. Inform it with a keyword guide. Bake best practices in search engine optimization (SEO) into all aspects of website design and architecture.
2. Make it Beautiful
Strategy is invisible. Good design makes it visible. Make your website beautiful. Romance prospects. Merchandise hope.
Milton Glaser, the iconic designer, once said "There are only three reactions to a piece of design: no, yes or WOW! Wow is one to aim for." We couldn't agree more. Create a beautiful website with contemporary aesthetics. And like retailers, refresh it periodically so it reflects the most current aesthetic.
3. Delight Prospects and Customers
You can't bore people into buying from you. Create a user experience that is persuasive, delightful and conversion-friendly. Recognize that customers, not your company, is the real hero of the story. Make sure that the needs of the right-fit customers come first. Make it easy for customers to do business with you.
4. Make it Mobile-First & Responsive
Given that more than half of website traffic now comes from mobile devices, build a responsive website (i.e. auto-adjusts to various browsing devices) that is mobile first and delights people. Ensure that third party embeds such as forms, apps and videos are equally mobile-friendly. Most importantly this influences the Google bot to rank your website higher on search engines.
5. Make it Accessible
Whether you are motivated to create an ADA compliant website by the noble desire to serve all audiences or simply wish to avoid being sued by unscrupulous law firms chasing non-compliant websites, your website should be both beautiful and compliant with the WCAG AA Level 2.1 standard. Use third-party tools like DubBot, WAVE and A-Checker to ensure your website is accessibility compliant.
6. Make it Google Friendly
If people can't find you — your organization, your products, and your services — they can't buy you. Google page 1 is destiny. 90% of users never go beyond page 1 of Google results. Organic rankings (i.e. the top 10 natural search results) are clicked more, trusted more, and convert three-folds better than paid ads. Begin a website project with a Keyword Lexicon. Bake SEO thinking into every phase of website development: strategy, architecture, copy, design and development. Create buckets for fresh content (blogs, magazines, feeds, etc.) which Google rewards.
7. Power With Smart CMS Technology
Depending on website requirements, the size of your organization, your need for flexibility and internationalization, availability of in-house technology talent and budgets, you must pick a proprietary, open source or commercial grade CMS that best suits your needs. Ensure it is thoroughly SEO-friendly and plays well with other software components such as analytics, marketing automation software, CRM software, tracking tools, and more.
8. Host it Right
Because websites are mission-critical, people are impatient and Google penalizes slow websites with lower rankings, hosting matters a lot. Ensure your website is hosted securely on a high-speed Tier-1 environment with weekly software and security patches.
9. Sustain With a Content Governance Framework
Because content is the lifeblood of great websites, brands and Google rankings, three things are needed to manage a healthy content ecosystem: people, processes and frameworks. Key components of a content ecosystem include Keyword Lexicon, Brand Guide, Web Style Guide, and Content Governance Guide. These must be managed periodically, rationally and systematically. They must cultivate the content habit.
10. Measure Website Effectiveness and ROI
Measure both upstream metrics and downstream metrics. Upstream ROI metrics include growth in overall demand, achievement of thought leadership, and increase in brand value. Downstream metrics include bounce rates, inquiry rates, application starts, yield rates, time on site, growth in organic traffic, content popularity, expansion in reach, and more. Establish regular meetings to measure the ROI.
V. Higher Education SEO/Inbound/Content Strategies
A new paradigm of inverted admissions funnel has emerged. It begins by capturing, creating, publishing and sharing search-engine-optimized stories of your thriving students, alumni heroes, rock star faculty and pivotal partnerships. As a result, they surface in academic program pages, information sessions, search engines, social media and university magazines. Through these stories, colleges "get found" on search engines and "get shared" on social media and emails. This attracts like-minded, look-alike prospects. This creates admission pipes, not funnels. These right-fit students go on to become engaged citizens, brand ambassadors, recruiters, partners and donors.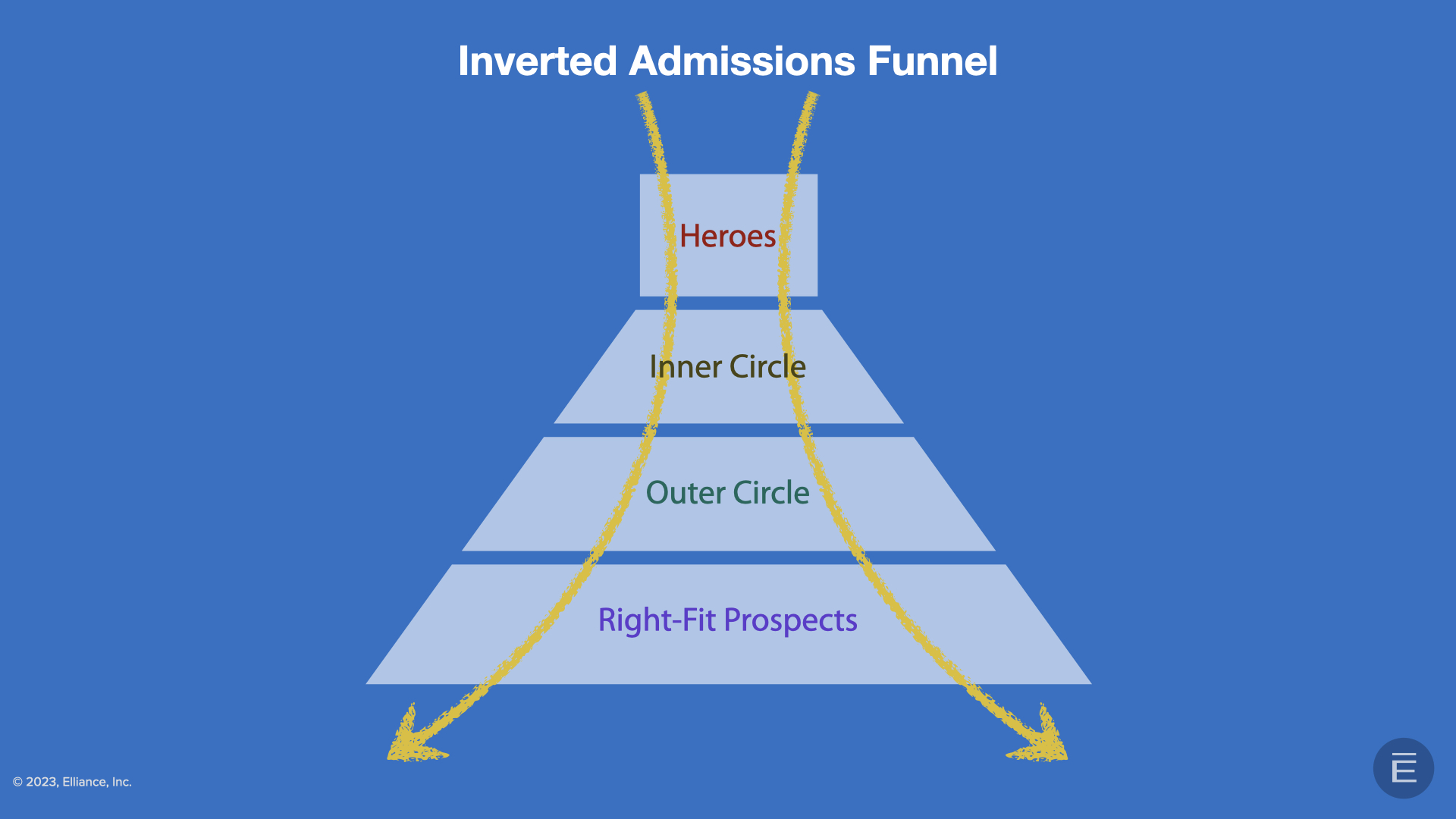 Colleges and universities that pursue and achieve top organic or natural Google rankings prosper and thrive. There is a good reason for this. Organic rankings are more trusted, more clicked and out-convert paid advertising leads three-fold. The best prospective students prefer to "discover" the college of their choice through "accidental finds" on Google page one and via word-of-mouth on social media and influencers.
SEO or "search engine optimization" is a set of techniques marketers employ to improve your website rankings on Google, Microsoft Bing, and other search engines. Five factors affect rankings, the URL factors, on-page factors, off-page factors, social factors and local factors.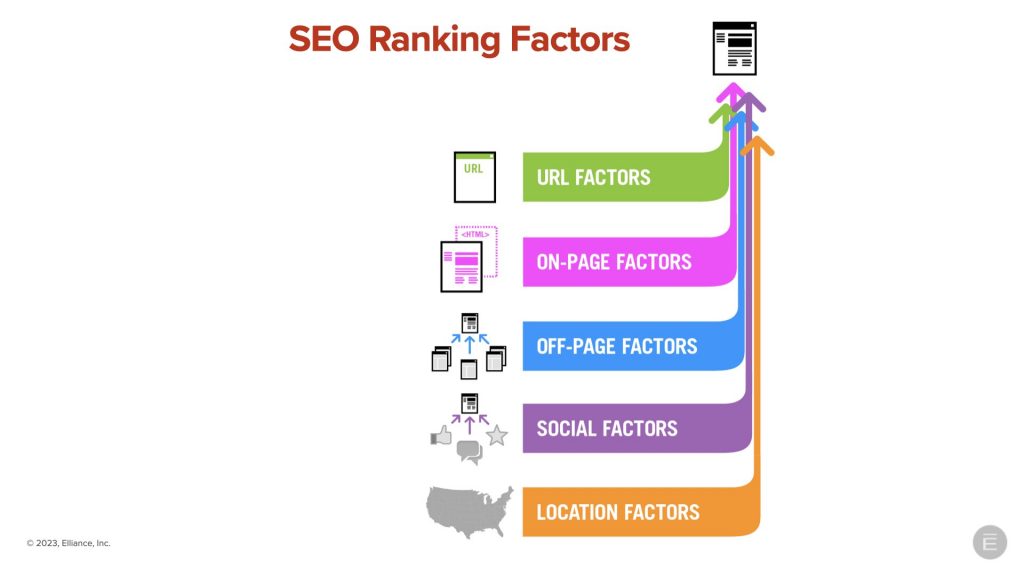 Because Google rewards fresh content, marketers must create a continuous stream of high quality, trusted and relevant content (such as articles, blog posts, videos, infographics, white papers, thought leadership articles, social posts, quizzes, games, etc.) and ignite it via promotion and conversation-starters to encourage peer-to-peer sharing.
KNOW THAT SEO/INBOUND/CONTENT IS A LONG GAME
It takes several months to achieve local and regional rankings, and a year or more to achieve national and international rankings. Higher education marketers who have the patience and determination to achieve Google rankings create an enduring rising tide of rankings and are able to reduce their paid marketing spend as SEO rankings are achieved.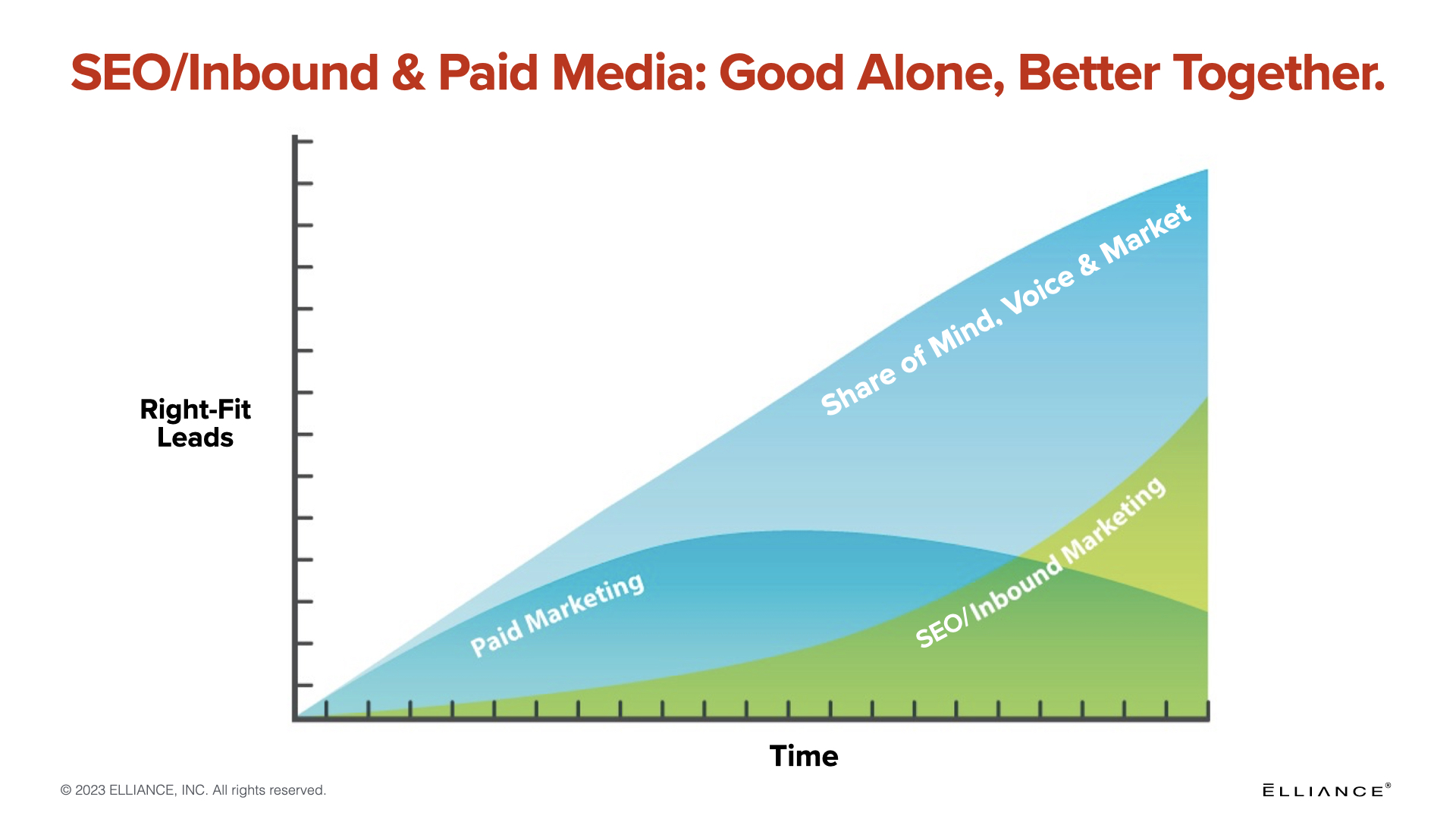 Paid advertising and SEO/Inbound/Content marketing are good alone, better together.
The following strategies have proven to grow undergraduate, graduate, online, adult and international student enrollment:
1. Establish a Multi-Year Attack Plan
Take the long view. Develop a plan that goes after the lowest hanging fruit first (local and regional rankings), then harder-to-achieve national rankings, and finally the hardest-to-achieve international and reputation rankings. Slow and steady wins the race.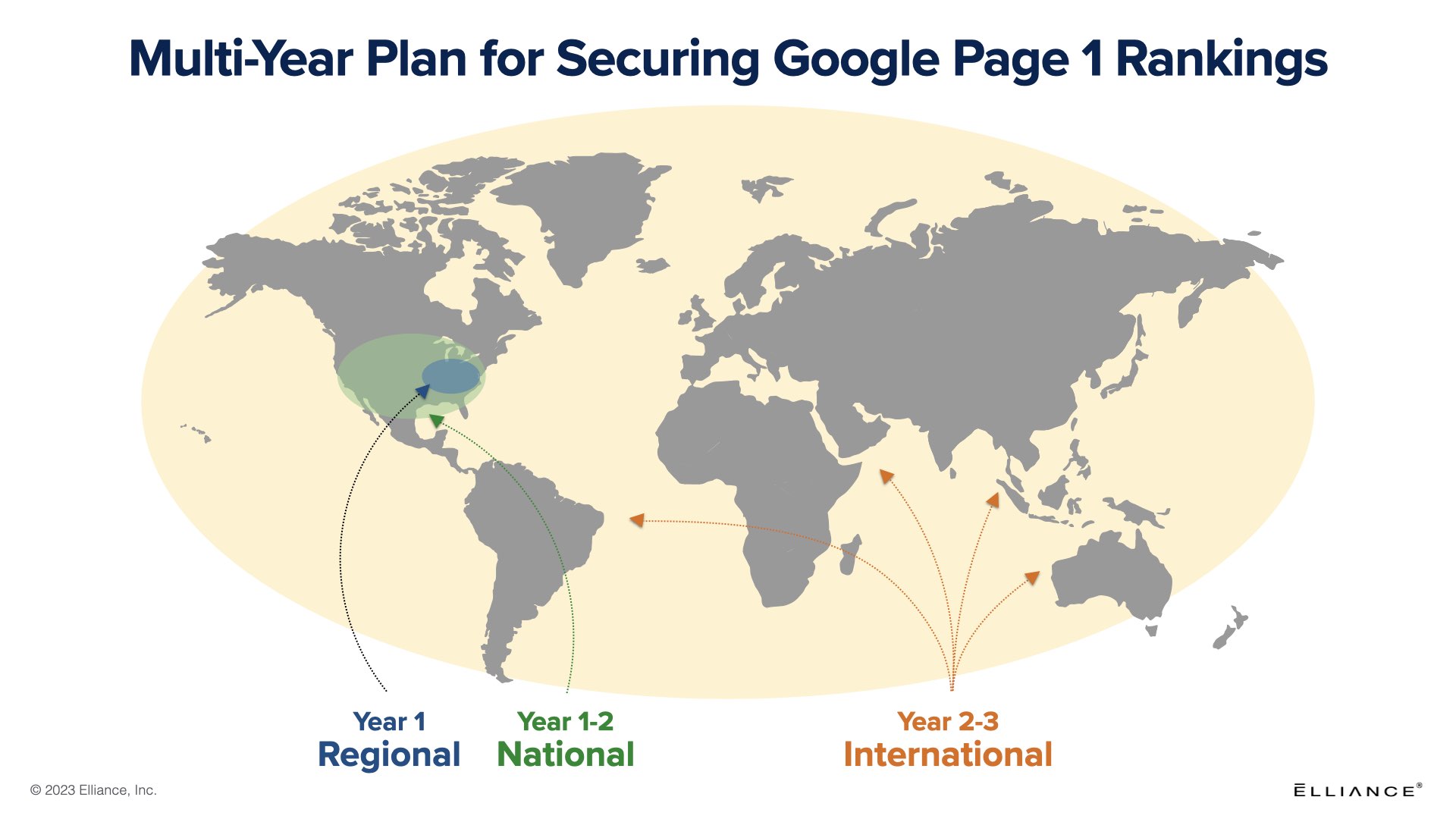 2. Create a Keyword Lexicon
Craft a Keyword Lexicon that contains clusters of keywords and phrases spanning your academic programs, brand ideals, and areas of thought leadership, innovation and intellectual capital. Laying claim to the keywords begins with an intentional plan. Categories in the lexicon include academic program keywords, brand positioning keywords, reputation keywords, decisioning keywords, and location keywords.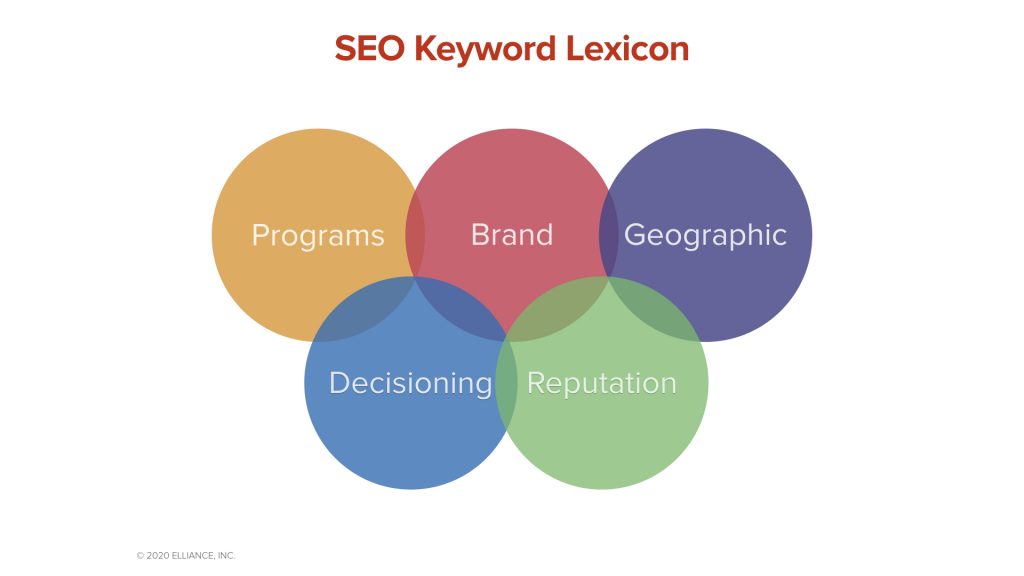 Know that prospects use different clusters of keywords at each phase of the decision funnel. e.g. they'll use reputation keywords during the awareness phase, category keywords during the consideration phase and branded keywords during the preference/purchase phase.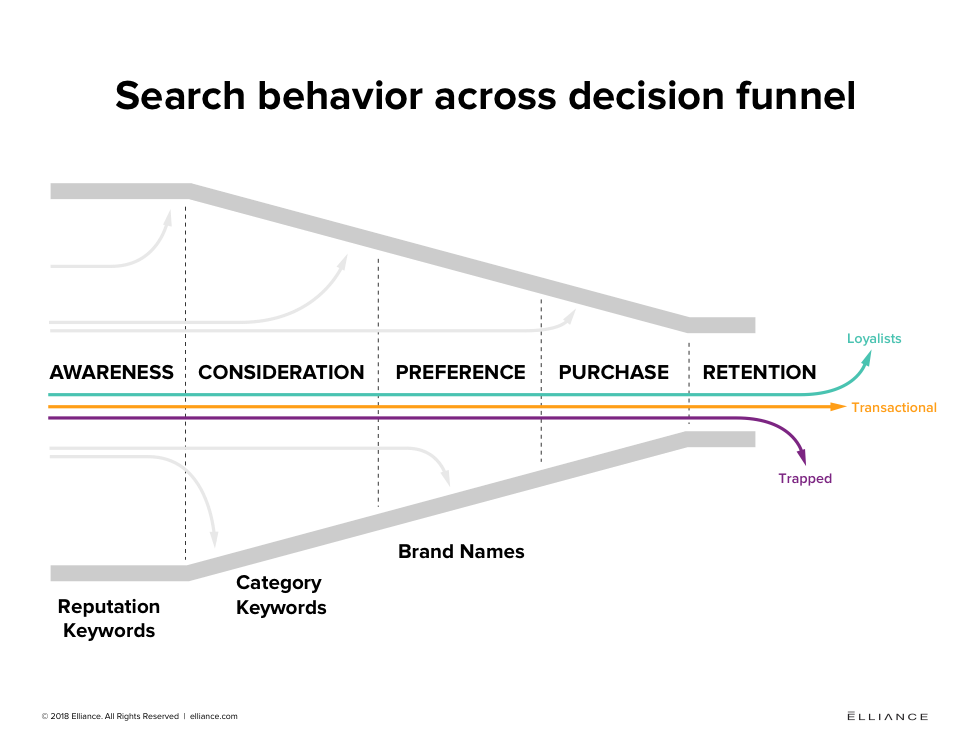 3. Make Your Website Responsive, Secure and Fast
Google rewards responsive websites – the ones that auto-adjust gracefully on smartphones, tablets or desktops. Google also ranks higher websites that load fast and are running in secure mode.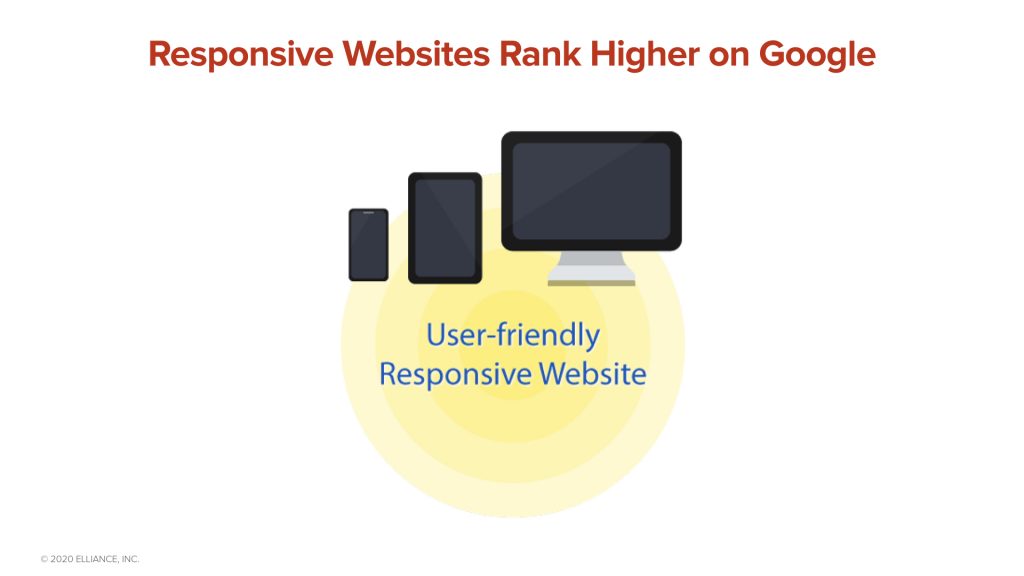 4. Infuse SEO into All Existing Digital Assets
Embed SEO smarts, tactics and strategies into architecture, design, copy and programming of your prospecting, research, university magazine, centers of excellence and corporate relations websites.
Because Google serves up a mix of copy, images, videos, maps and tabular data on a search results page, make sure you optimize copy, images, videos, pdf's, tables, links, and meta-data on every website page. Search engine bots also review assets on social media channels, so ensure these assets are also optimized.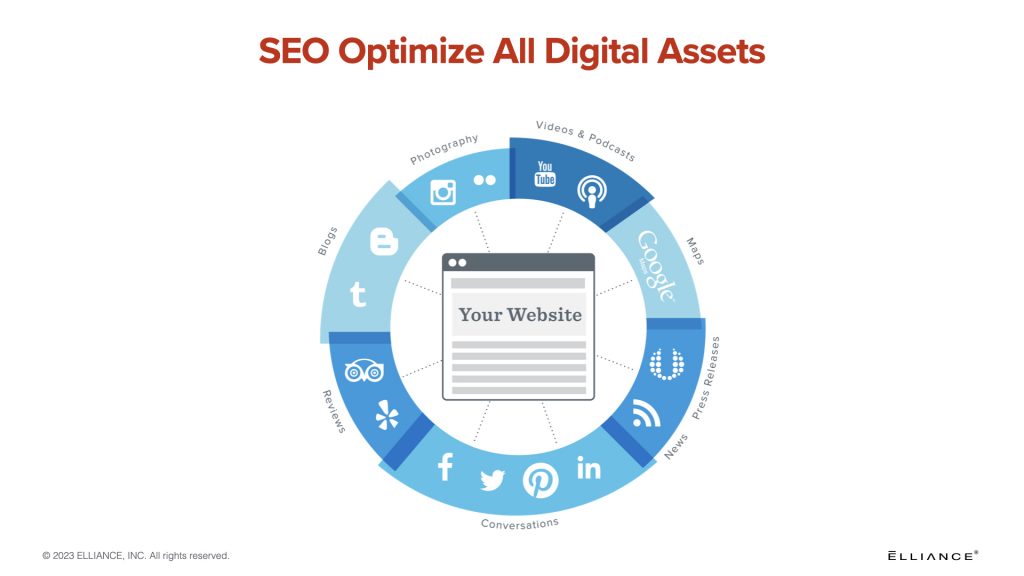 5. Create Fresh Content to Secure and Sustain Top Rankings for Important Keywords
Because Google rewards websites with fresh content, develop a content strategy to create new content (microsites, blogs, magazines, etc.) for various parts of the decision funnel. Inform all content with the Keyword Lexicon.
The more competitive a keyword, the more high-fidelity content (infographics, videos, quizzes, etc.) you'll have to create to secure and sustain page 1 rankings.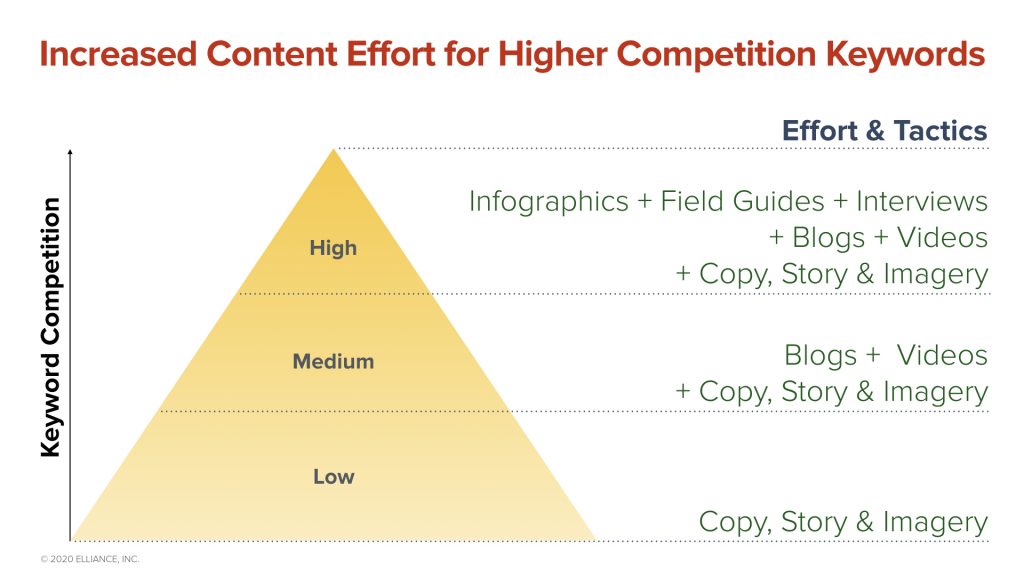 6. Embrace Voice Search
We have entered a new era of "natural language", "sentence based" and "question based" search with the advent of voice-activated search on mobile phones (like Google Assistant, Apple Siri, Microsoft Cortana and Amazon Alexa) and gadgets like Amazon Echo, Google Home, Apple HomePod and others. Since 50% of searches are now voice driven, take the following steps:
Get responsive. Speed it up. If your college website isn't responsive yet (i.e. auto-adjusts gracefully to mobile devices, tablets and desktops), make it responsive, ensuring it's fast, fully SEO optimized and running in secure mode.
Write colloquially. Since people won't change their speaking habits for the computer, write new content using everyday vernacular.
Write page summaries. Write short, persuasive, 29-word page summaries above the screen fold on long-form pages. These summaries act as pop-up snippets served up by voice searches on mobile devices and home gadgets; they also appear as answer boxes on desktop search results.
Build social shares. Run social share campaigns because the more shared the page is on Facebook, twitter, LinkedIn and other social channels, the more likely it'll surface on voice search.
Think globally. Act locally. Since more than 20% of searches are local, add phrases such as 'near me' into your copy, especially if your college is a local or regional brand.
Rank high on desktop/mobile search. It'll automatically increase the chances of your website ranking high on voice search.
7. Monitor and Protect Keyword Rankings
Measure keyword rankings and competitors periodically. Respond to encroachment with counter-moves on an as-needed basis.
8. Measure ROI with Marketing Automation Software
To quantify the return-on-investment, connect the dots between SEO efforts and conversions, deploy marketing automation software like HubSpot or Pardot.
In serving over 100 colleges and universities, we have not found a more dependable and reliable way to ensure predictable enrollment growth than securing Google page one rankings for a college's academic programs, thought leadership, and brand ideals. The students who enroll by "discovering" the college on Google are relational, and go on to become brand ambassadors and long-term donors.
Done well, these steps grow student recruitment, reassure parents, engage lifelong learners and invite working professionals to up-skill and become more prosperous.
VI. Higher Education Paid Digital Advertising Strategies
Paid digital advertising channels, options and methodologies have grown dramatically in the past two decades. Beyond advanced micro-segmentation and affinity groups, AI-based techniques such as look-alike audiences and machine learning based A/B testing are increasingly used to generate better quality, right-fit leads. Of course, not all paid channels perform equally well.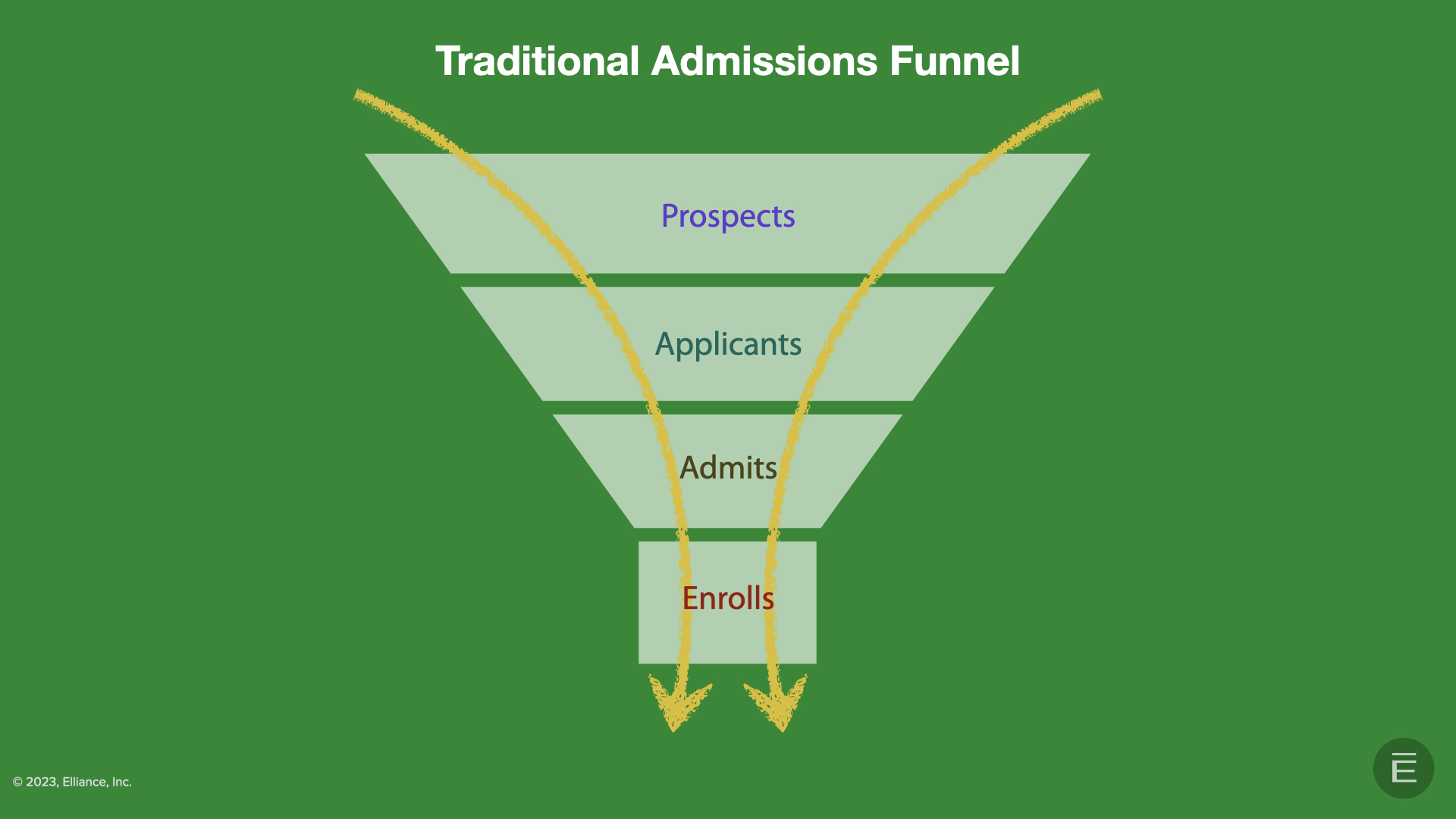 Paid Google: Paid Google is a stalwart and generally works well for most academic programs. Google generates solid leads for most professional and pre-professional undergraduate degrees.
Paid Facebook/Instagram: Once a rainmaker, Paid Facebook episodically works for marketing some undergraduate and graduate programs. Undergraduate students convert best on Instagram. Parents can be reached best on Facebook.
Paid LinkedIn: Generates quality leads for most adult and graduate programs. Over time, it has become an increasingly expensive advertising channel. LinkedIn is also a good channel for reaching influencers like teachers, principals, recruiters, HR and training professionals.
Paid YouTube: Undergraduate prospects convert best on YouTube.
Paid Snapchat and Tik Tok: They are good for brand building.
Paid Retargeting: If you click on an ad but don't fill out a form, the ads chase you around until you do so. That's why we call these stalker ads or, more politely, reminder ads. They are relatively inexpensive and quite effective at reminding prospects to take the next steps with your offering.
Paid Content Promotions: Popular platforms like Facebook/Instagram and LinkedIn offer marketers cheaper options to boost your posts so they can be viewed with target audiences of your choosing. If you want to get your content in-front of completely new communities, Outbrain and Taboola are some great options.
Paid Communities: Online communities like Reddit and Quora are great for brand building and increasing brand awareness.
Paid Digital Radio: Digital radio advertising with Pandora, SoundCloud and Spotify are great at reaching Gen-Z and Millenials.
Paid Landing Pages: Directing prospects to skinny, high-pressure landing pages has reached its maturity date. Romancing prospects with rich, story landing pages and microsites which inform, persuade, engage, delight and convert prospects is the new normal. You simply can't bore prospects into buying from you or buy into your brand; you must romance them.
VII. Higher Education Social Media Marketing
With hundreds of millions of monthly users active on social media, it is a crucial channel for growing enrollment, endowment and reputation.
What makes social media social? It's about people and their hero's journeys. It's about telling the compelling stories of their aspirations, ambitions and relationships. It's about telling stories with great photographs, videos and intriguing ideas. If a college posts about inspirational alumni, professors and community leaders, the posts get shared.
Colleges and universities are using social media to reach their audiences. But what are the real benefits of using social media for the college brand? Here's a few that come to mind:
1. Amplified brand awareness: The sharing mechanism on most social media channels becomes the vehicle, which transports your content and brand name in front of an expanded audience.
2. Higher visibility for your content repository: If only one piece of content gets shared, that can bring visibility to older content pieces. As a result, one piece of content can introduce your audience to other great works that you have.
3. Engaged customer base: Social media is one marketing medium that goes to the roots of marketing: word of mouth. For brands, this can be a way to reach the right audience who, as a result, become brand ambassadors by liking/sharing your content and spreading the word for you.
4. Better rankings in search engines: With changes in search engine algorithms, social signals also contribute to improved rankings for your content, thus resulting in higher visibility and higher traffic.
5. Additional traffic to your website: Overall traffic increases result from the higher visibility of content. Generally, a direct increase in social traffic is noticeable but over time, that results in higher traffic from other sources like direct and search engine traffic.
6. Improved sales and conversions: As a result of all the above, the bottom line is also affected resulting in more conversions and a higher number of inquiries and applications over time.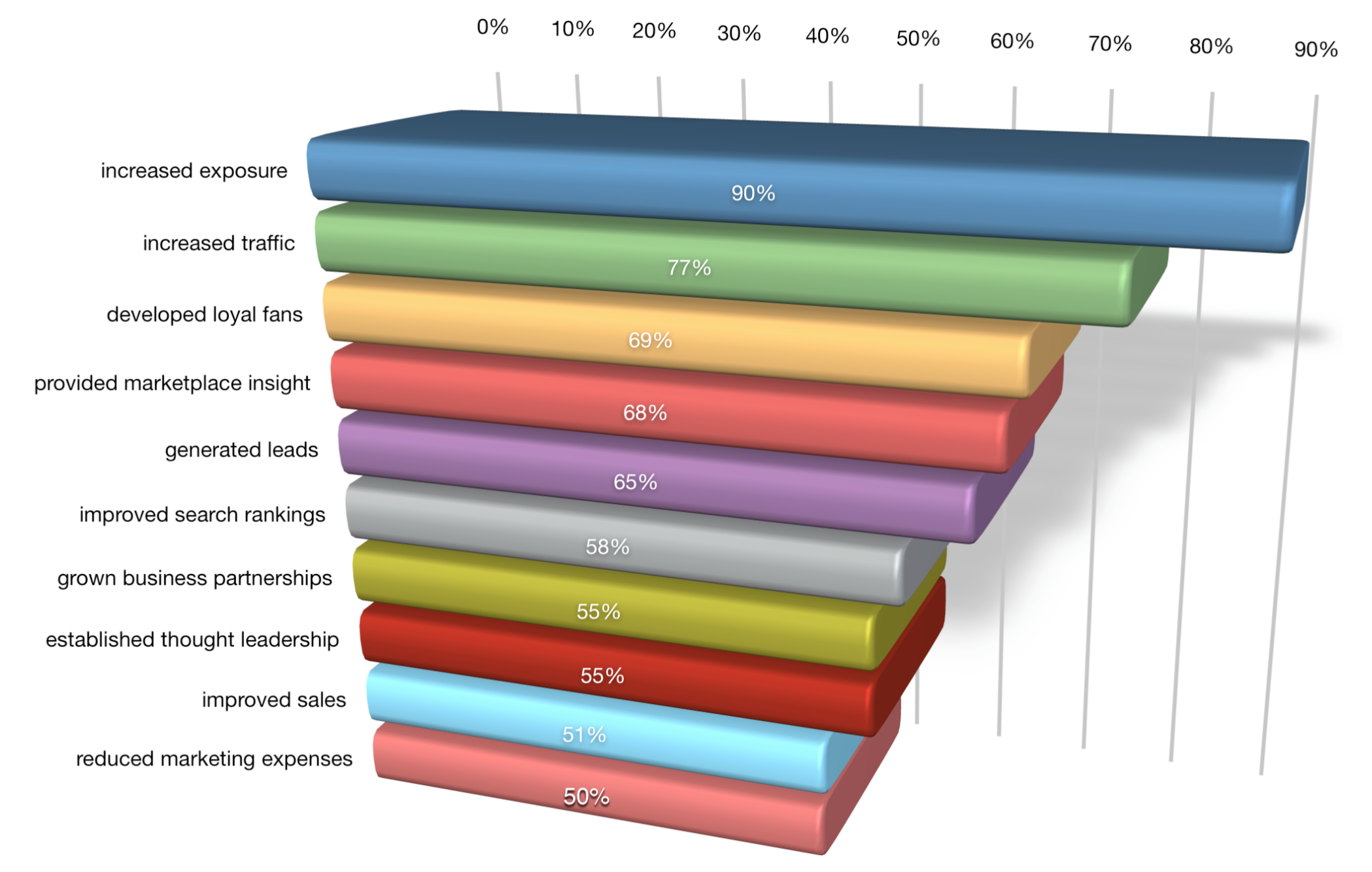 To put this in perspective, a recent Marketing Industry Report by Social Media Examiner shows the percentage of marketers who saw some of these benefits. 90% of marketers stated that they increased exposure for their brand, 77% received higher traffic and 65% generated leads as a result of these efforts.
Smart colleges are not only producing great social media stories, but they are also promoting it through content discovery networks such as Outbrain.
VIII. Higher Education Traditional Advertising Strategies
Even though digital advertising is the lead horse for reaching higher education prospects and their families, traditional advertising remains an important channel specially for launching and building brands.
To remind prospects, use traditional advertising such as billboards, posters, flyers and signs at bus stops and public places. Don't waste your precious marketing dollars on newspapers, but if your budget permits, consider running regional radio, TV and NPR ads.
To earn a larger share of dwindling attention in people's busy lives, traditional advertising is only successful with breakthrough creative, something that interrupts you, something that jolts you to such a degree that you can't help but stop and take notice – and then take action.
IX. Higher Education Marketing Ecosystem
Now that we have reviewed the six pillars of higher education marketing, let's ponder on how these seemingly disparate parts mutually reinforce and enhance each other to form a complex ecosystem of reciprocal relationships thriving in a network of mutuality. Parts grow, interdependence begins and symbiotic relationships form. It adapts to each new season.
Let's explore the ecology of a higher education marketing ecosystem.
Mutual Reinforcement in a Higher Marketing Ecosystem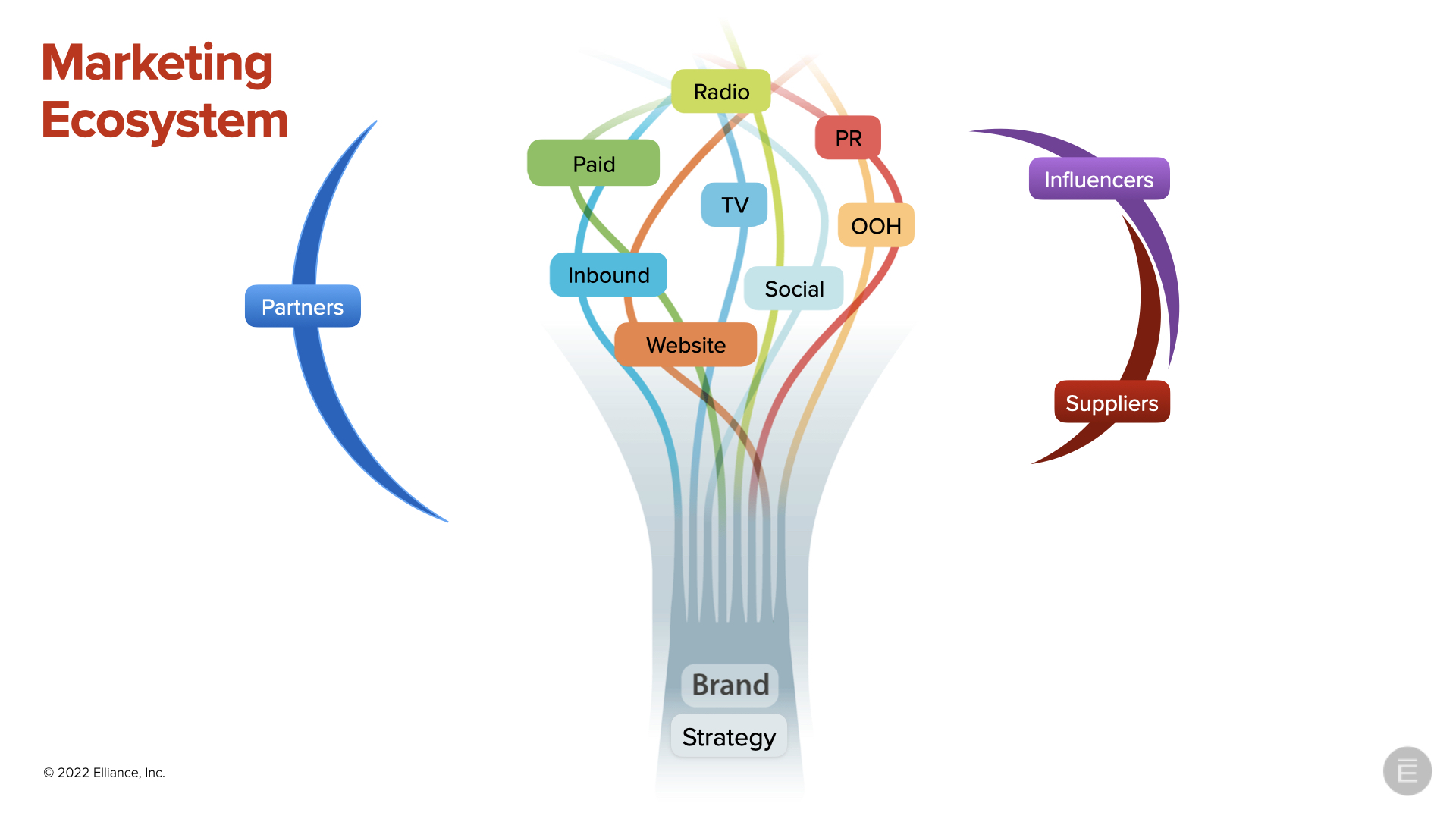 On the organizational or micro-level, higher education marketing is a highly interconnected, mutually reinforcing and complex ecosystem of paid, owned and earned media tactics – part digital and part traditional. Examples include:
Brand strategy and strategic plans build strength upon strength.
Magazine stories lift program/service offerings; in turn, program/service offerings imbue the stories with context and relevance.
Tightly aligned page content and SEO meta-coding persuades humans and influences the Google bot alike.
Content marketing creates a rising tide of website visitors, and paid advertising lifts the site visitor volume disproportionally.
The presence of the brand in both Google organic and Google paid results creates a four-fold increase in click-throughs.
Billboards and the website tango to enhance brand reputation.
Lean print pieces and advertising complement smart websites.
Landing pages and digital ads join hands to elevate the brand.
Website pages dance gleefully alongside hermetically-sealed landing pages.
Musical social media posts sing together to create a harmony of hope.
Analytics across marketing channels tell an emerging story. For example, on an elementary level, billboards create a lift in overall traffic and paid advertising raises organic Google searches. On a liminal level, branding lifts all KPIs.
The brand informs every touch point, and everything builds the brand.
All roads lead back to the website, the digital soul of the organization.
Just as the single greatest predictor of ecological health is the diversity of flora and fauna, the single greatest predictor of marketing success is the diversity of mutually reinforcing tactics — where each part amplifies the other and the whole is larger than the sum of its parts.
On the macro-level your organization exists in a web of relationships with partners, influencers and suppliers. Your long-term success as a brand depends on building trust with these players turning them into recommenders and feeders. Examples include:
Partners and suppliers generating a steady stream of referrals for you and you reciprocating.
Influencers in digital channels becoming your brand ambassadors and you promoting them.
You conducting joint marketing events, giving joint presentations and writing co-branded case studies.
Care and feeding of partners, suppliers and influencers is an integral part of all successful brands.
Disease in a Marketing Ecosystem
Just as in ecosystems, when one part is sick, the sickness permeates and affects the whole.
On the micro-level, a transactional marketing message in paid advertising weakens relational brand reputation; a misconfigured domain or web server leads to erroneous conclusions in website analytics; a broken inquiry follow-up process reflects poorly on the effectiveness of the entire brand; leaning on one-half of the brand pillars builds a less holistic brand.
On the macro-level, falling out of favor with partners, influencers and suppliers prevents your long-term growth.
Achieving Prosperity in a Marketing Ecosystem
In marketing, as in ecology, pilot-and-scale strategy works turning one success into two and two successes into four. First, experiment, assemble and grow each part – creating a groundswell, unleashing reciprocity and mutual reinforcement along the way. Next, facilitate bridge-building between disparate parts. Finally, create initiatives in both the organization's micro marketing ecosystem and the larger macro business ecosystem. Let collaborative victories snowball into unstoppable momentum. This is how brands begin to grow trust and thrive.
X. Higher Education Marketing for Fundraising
Alumni giving rates have dropped by more than 50% in the last twenty years while large gifts have continued to grow. The debate rages on for the underlying causes of this troubling trend: is it generational change of habits, concentration of wealth in the top 1%, exposure to more giving options due to social media, optical illusion of economic well-being in the face of rising tuitions and healthcare costs, shortage of marketing imagination, or are philanthropic officers out of touch using antiquated models of donor engagement? The net impact of all this is that while the total dollars raised has increased, the total number of donors has declined.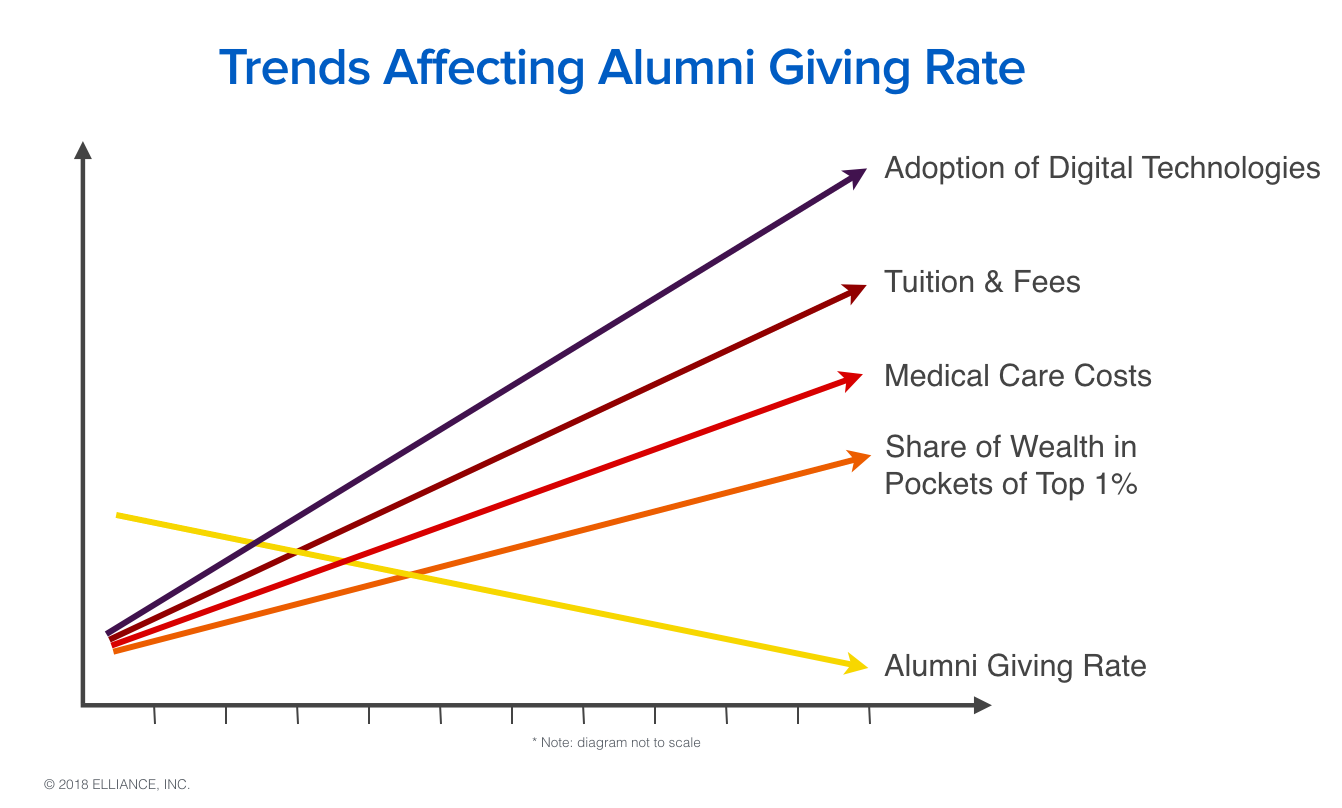 To combat the decline, college and university marketers and advancement teams:
1. Invest in branding.
With more than 4,000 colleges, branding pays dividends by making the institution stand out. For a college, a brand is the reason for its existence, the sum of life-changing interactions between students and faculty, a measure of lives transformed, and its impact on the greater world. Alumni want to belong to a brand that matters, and a tribe that is solving consequential problems of humanity.
Great colleges invest in branding, and refresh their brands periodically to stay relevant. Capital campaigns become a forcing function to revisit and ensure their brand is fresh and relevant.
2. Cultivate major donor relationships early.
Mighty oaks from little acorns grow. The best time to establish and cultivate a relationship with a major donor is when they are still small, making sustained modest donations for more than a decade, and engaging with the university in their own unique ways. Just as Nike bets on emerging talent, the advancement officers identify, watch and invest in recent alumni with potential. Smart advancement officers involve potential donors in shaping giving priorities.
At the appropriate time in the relationship, senior college advancement officers make the personal ask, with all the necessary formalities that the occasion demands including personalized, human-scale communications.
3. Create a culture of sustained giving.
Five things are needed:
Cultivate alumni engagement with programs commensurate with what they can give: time, treasure and/or talent.
Develop a model that segments the alumni into a spectrum of likelihood to give based on their history of giving. Send personalized and customized communications to each donor and potential donor.
Maintain sustained communications with alumni. Colleges can't stay dormant for a long period of time, show up one day and expect alumni to simply start giving.
Avoid sending tone-deaf communications, which are insensitive to emotions, motivations and needs prevalent in different stages of life of alumni.
Deploy measured social media strategies for annual giving with relentless focus on celebrating hero journeys of students, faculty and alumni with the institution acting as an enabler.
4. Invest in communicating the strength of an institution's reputation.
Alumni need continual assurance that their alma mater is thriving; that the value of their degree is growing; that the tribe they belong to is healthy and flourishing.
The best way to achieve this is to keep alumni and friends informed with a flagship publication that tells high-fidelity stories. The publication should be delivered periodically in hybrid digital and print formats, and the stories should be made productive with search engine optimization and social sharing.
5. Craft micro and comprehensive capital campaigns
There are hundreds of ways for capital and comprehensive campaigns to go wrong, but these five characteristics define all successful ones: they are consequential, ambitious, strategic, investable and heroic.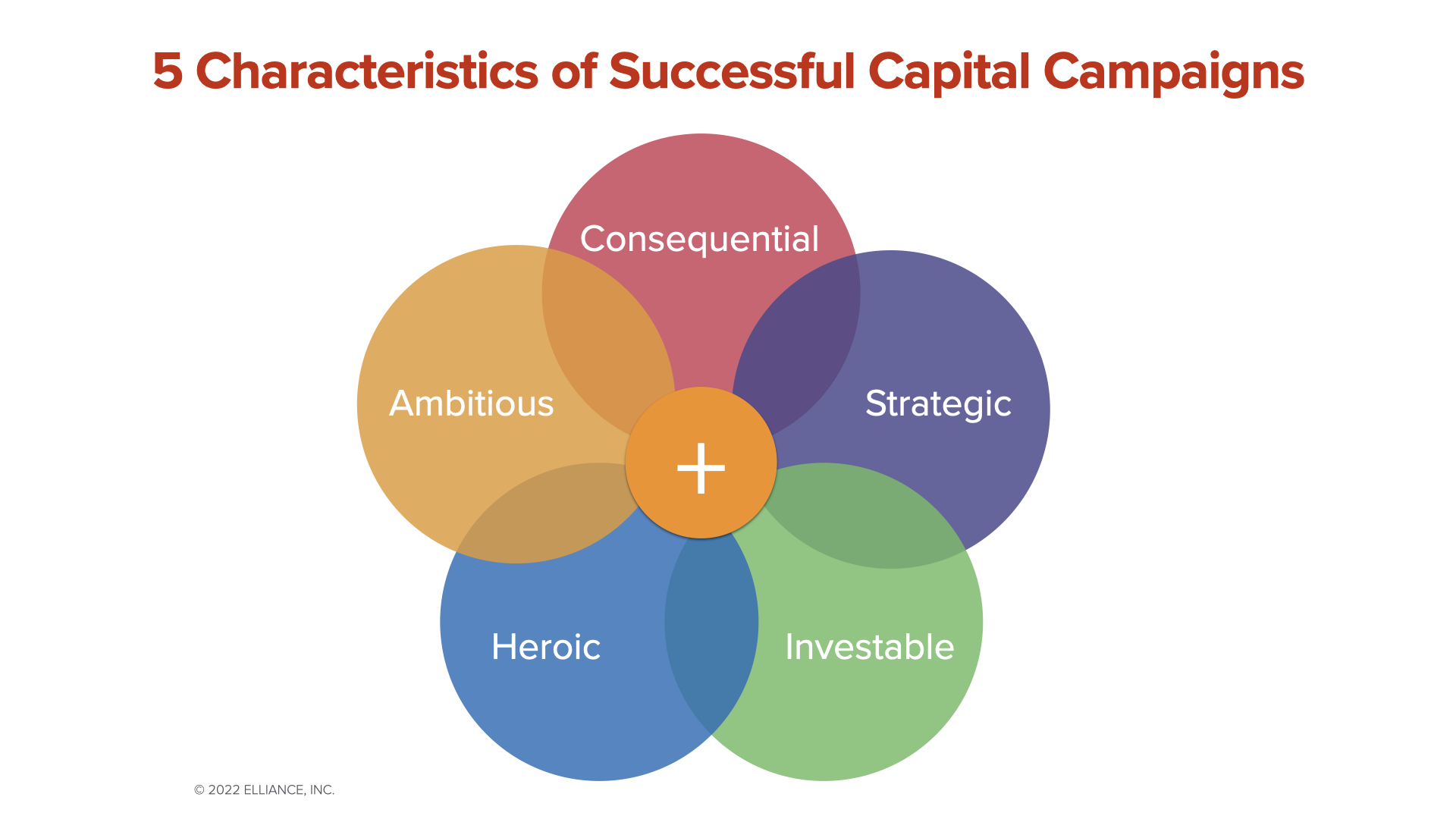 If you enjoyed this guide and want to join the tribe of small giants, and are seeking a higher education marketing agency partner to win against the Goliaths and realize prosperity, please consider contacting us.