This post was informed by our agency experience with clients and partially inspired by my reading of Jim Langley of Langley Innovations' books on fundraising.
College presidents, vice presidents for advancement, and board members form the trifecta for envisioning, executing and consummating a successful capital or comprehensive campaign.
Board members do far more than simply fundraise. They also quietly direct and choreograph the fundraising dance by playing three crucial roles: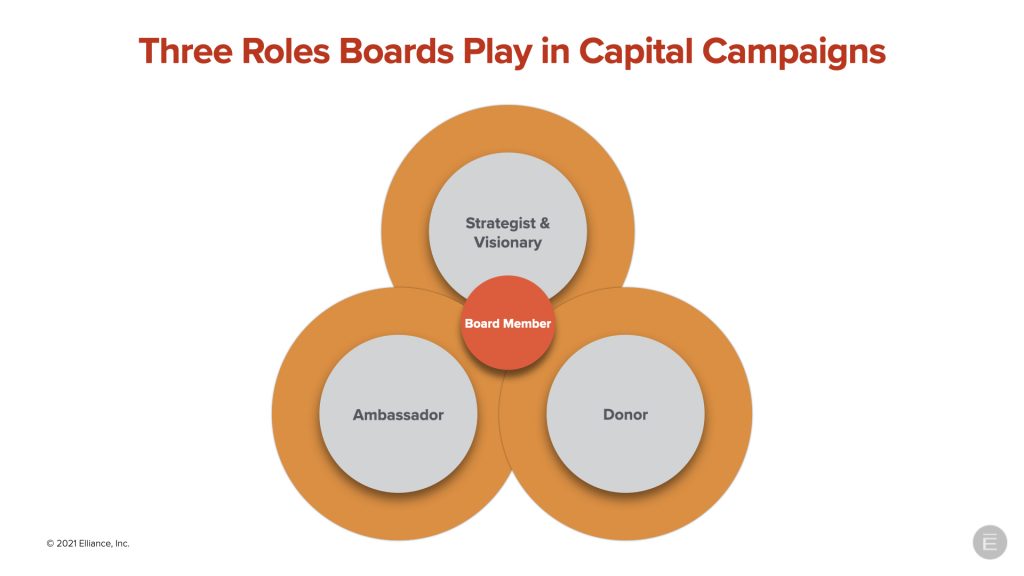 Strategist & Visionary
As institutional visionaries, they:
Ensure strategic planning is based on objective institutional assessment, not naive and self-serving assumptions.
Apply a strategic, evidence-based, milestone-driven approach to all aspects of the campaign.
Serve as sounding boards for the overall purpose of the campaign.
Act as venture capitalists to ensure that campaign priorities are sensible, business plan-like and investable.
Help select talented fundraising consultants and hold them accountable.
Demand that funds raised are invested quickly in designated initiatives.
Donor
Every board member must be a lead, major or a supportive donor. No exceptions.
Ambassador
As institutional friendraisers, they:
Volunteer in campaign initiatives that best correspond to their personal passions and areas of expertise.
Preserve and enhance relationships with major and loyal donors.
Mobilize their personal relationships with other philanthropists and personal networks to multiply their donations.
Help identity and recruit energetic fundraising volunteers.
Prior to starting a new comprehensive campaign, the president and vice president for advancement should brief their board members on the unique roles and expectations they'll play.
In the next blog post, I'll share the roles that a college president plays in launching successful capital and comprehensive campaigns.
Learn more about Elliance philanthropic marketing services.