As an agency that has served more than 250 corporate, higher education and non-profit brands, here is what we have concluded: successful brands invest in cultivating and nurturing these seven powerful habits with fierce intentionality: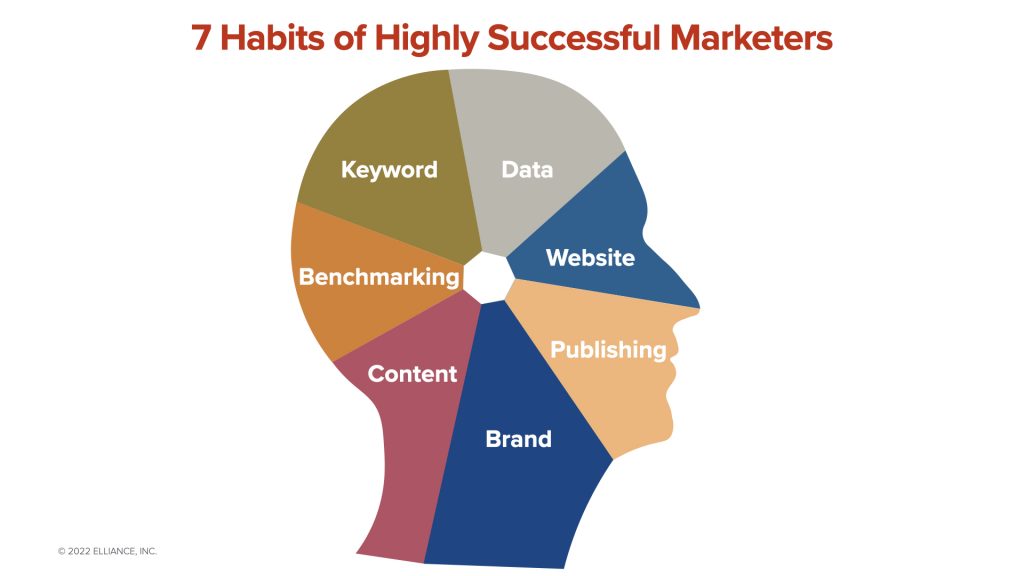 1. Keyword Habit: The SEO Keyword Lexicon includes a variety of keywords that prospective buyers will use on Google to search for your products and services. It includes groups of keywords related to your brand, decisioning, reputation, thought leadership and products and services. Great brands develop an Institutional SEO Keyword Lexicon which informs creation of new content based on keywords of strategic importance.
Successful colleges and universities include keywords for brand positioning, signature academic programs, areas of thought leadership, college search by prospects and institutional reputation.
After all, what's the use of creating new content if it's going to become a lotus flower in the Himalayans, which only a few people can enjoy?
2. Data Habit: Great brands develop an institutional data framework that includes sales funnel and metrics that measure quality, ROI, website performance, campaign performance, brand strength and business KPIs.
High-performing colleges and universities also include metrics for admissions funnel, yield, stealth application, giving, retention and rankings offered by rating agencies.
Successful brands embrace data-informed decision making but also trust their instincts and experience-based common sense. They are unafraid to take bold decisive action based on their insights and the data.
3. Benchmark Habit: Respectable brands periodically compare themselves against key competitors and industry benchmarks — both qualitatively and quantitatively — and perform a SWOT analysis.
They benchmark so they can improve performance over the past year.
4. Website Habit: Since all roads lead to the website, reputable brands analyze their website for alignment with their strategic plan and institutional brand from a design, user experience, Google visibility, conversion architecture, persuasion architecture and performance perspective.
Enviable college and university brands tell a better story, celebrate their star students, alumni and faculty, integrate social media and carefully manage their 155-character snippets that appear on Google search results as their first brand impression.
They know that their website is a conversion machine and it must be their #1 sales tool.
5. Content Habit: Because content is the lifeblood of brands especially on social media, good brands develop an institutional content framework. They invest in creating great content. They understand that it takes both an investigative mind (that discovers and uncovers brand evidence and proofs) and an imaginative mind (that infuses brand romance) to create persuasive content.
They recognize that content exists in a large ecosystem. For instance, click here to see the vast content ecosystem serving multiple stakeholders for a typical college: prospective students and their families, current students, alumni, corporate partners, foundations, research funders, ranking and rating agencies, community organizations, athletic conferences and government agencies.
In our 100+ years of collective brand experience, we have come to realize that great brands artfully orchestrate content, code, optimization and channels to create their success.
6. Publishing Habit: Respectable brands develop a strategy for transforming their e-Newsletter and Institutional Magazine into a Google ranking engine. They power each story by a keyword from their Keyword Lexicon. They avoid publishing in pdf and Issuu formats because they aren't Google friendly.
All successful brands become the story they choose to tell.
7. Brand Habit: Elevated organizations first create imaginative and poetic brands that win the hearts and minds of stakeholders. Then they infuse the brand into all their touch points: sales, marketing, operations, support services, and internal and external relationships.
Successful universities create memorable brands and fortify every touch point – including websites, social media channels, Wikipedia entries, Google results pages, email signatures, newsletters, tours, information sessions, presentations and all student experience touch points. They take a long view of the student life cycle.
Great brands outsmart, not outspend, their competitors. They cultivate these holistic, integrative and smart habits to realize their greater destiny. If you are looking for a strategic, thoughtful and experienced partner as a sherpa for shaping your brand journey, contact us.