Over the last 25 years, Elliance has developed .edu websites using proprietary, open-source and commercial grade content management systems (CMS). As one of the few technology agnostic agencies, we try and support the prior investments of our clients. However, for medium to large colleges and universities, we recommend Hannon Hill's Cascade CMS (content management system). Here are five reasons why:
1. Cascade CMS Allows Us to Implement our "Smart Page Builder".
The traditional way to build a website is using page templates. However, when constructing large websites with many schools and departments, Elliance has developed a lego-style assembly of building blocks to create customized pages. We've extended the Cascade CMS to construct a "Smart Page Builder" tool which combines building blocks to create all website pages easily and cost-effectively via a single interface. In sharp contrast to template-based websites, this gives our clients the flexibility to create custom layouts as needed for various parts of the website. This dramatically reduces their training and website maintenance costs.
As an example, we created a custom "Smart Page Builder" for Catholic University of America's online presence. Their online universe comprises the main .edu website, 12 graduate school websites, and promotional landing pages. Even though each of these websites have a unique look and feel, they belong to the same brand family because they are built using a single interface. The beauty of this system is that it allows differentiation while maintaining brand consistency across all divisions. See some examples:
The smart page builder was also used to build Saint Vincent College website and the institutional website for The University of the Incarnate Word including its five health profession schools.
2. Apache Velocity Software Easily Integrates with Cascade CMS to Create Custom Applications
Velocity is a nice way to extend the capabilities of the Cascade CMS. For instance, Elliance built Catholic University of America's Degree Explorer tool to allow a prospective student to quickly sift through more than 400 degrees the university offers. We also used Velocity to build the Smart Page Builder.
3. Ease of Use for Content Teams
Here is what our university clients love about Cascade CMS:
Ease of use for non-technical content teams
View content you are responsible for
Manage drafts and schedule publishing dates
Track changes with audit trails and version history
Crop and resize images
Generate reports for stale content, broken links, spelling errors and accessibility compliance
4. Strong Development Environment
As developers, we appreciate these features of the Cascade CMS:
Integrates easily with third party systems (CRM, Marketing Automation, Faculty & Staff Directory, Course Catalog, Events Calendar, and more) using web services, connectors, and feeds
Because templates in Cascade CMS are just valid XHTML and Cascade CMS fully supports HTML5 and
CSS3 for the creation of responsive sites, there is a clear separation between design and content layers. Unlike many CMS vendors, Cascade CMS does not force you to use or learn XSLT to build templates, which is too developer heavy.
Supports Apache Velocity for custom development
Offers a granular permission system and access control lists
Enables a personalized user experience
5. Secure Hosting
Finally, Cascade CMS gives us and our clients peace of mind by decoupling the hosting of the CMS from the production website(s).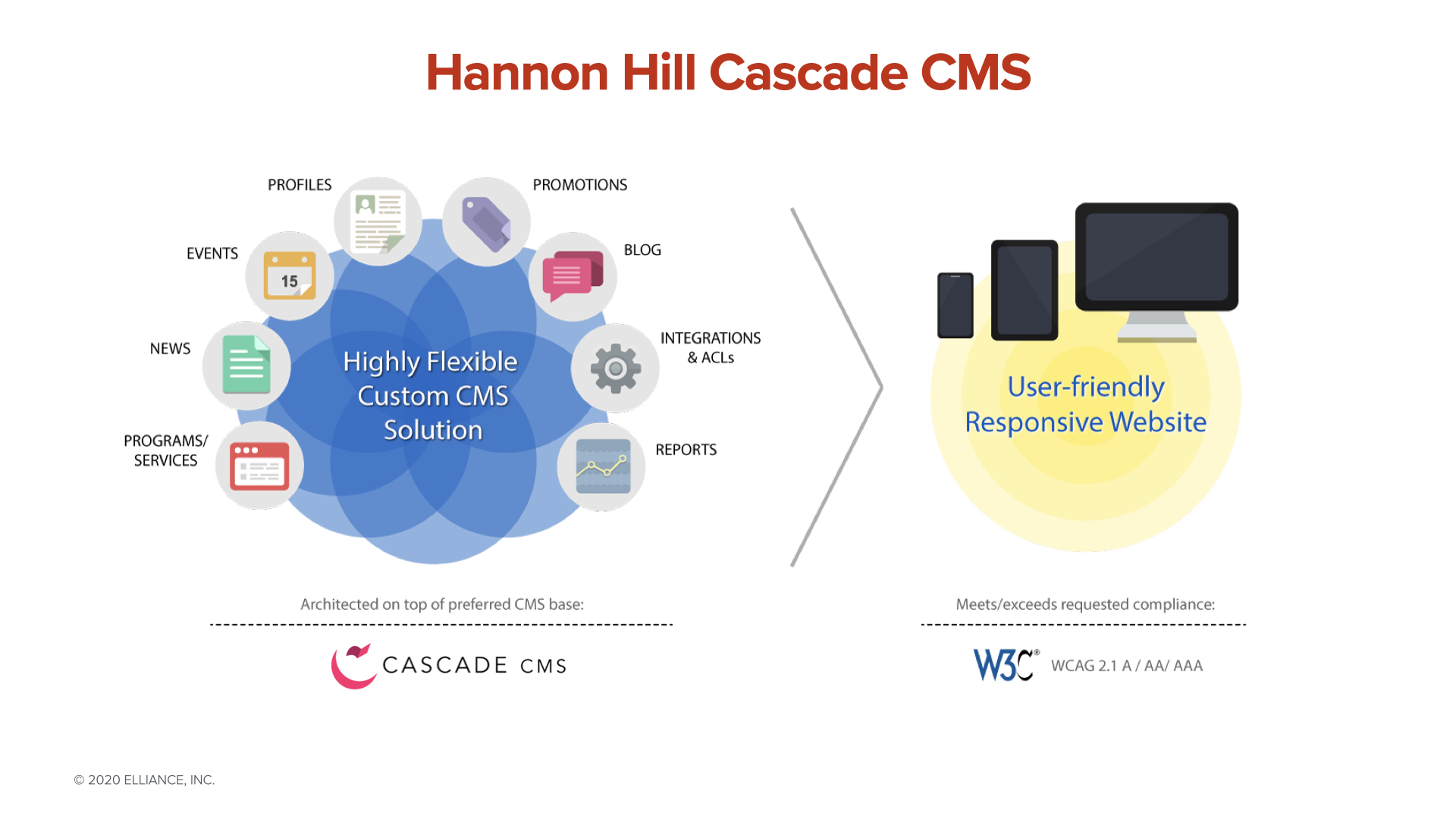 We understand that there are numerous other content management systems for higher education, but Hannon Hill Cascade remains the top ranked CMS in this space. We have partnered with Hannon Hill because we are committed to offering the best solutions to our clients.
If you are seeking higher education web development agency, please see our work and consider partnering with us.