Over the last 25 years, Elliance has developed .edu websites using proprietary, open-source and commercial grade content management systems (CMS). As one of the few technology agnostic agencies, we try and support the prior investments of our clients. Occasionally, we are asked to make a recommendation on whether to build the higher education website in Drupal or WordPress, especially if the client can't afford to invest in a commercial grade CMS. Here is our take on this important question.
The Origin Story Matters
To answer this question, it is important to look back at the origin stories of WordPress and Drupal.
At the dawn of the age of user-generated content and the death of authoritative voices, WordPress was started as a DIY blogging platform for everyone. It was designed to be an easy, point-click-and-start-publishing web platform that enabled anyone, irrespective of their technical knowhow, to share their opinions and passions.
In contrast, Drupal was created as an open-source content management system (CMS). It was born in reaction to the skyrocketing prices of commercial CMS systems during the tech explosion of the late 90's. It was designed to help professional software developers build sophisticated websites. These websites would support a plurality of content types, and would need to run on a proliferation of digital platforms such as mobile devices, laptops, desktops, and even print publishing systems.
Over the last two decades, the two platforms matured in interesting ways. The WordPress development community decided to change its focus from simply being a blogging platform to a fully-featured CMS. A whole marketplace developed that would extend the core capability of WordPress by using plugins and design themes. Drupal, too, evolved and became even more sophisticated with modules, design themes and frameworks for various industries. Drupal never lost sight of its mission to become a choice CMS platform for the serious software professional.
Capabilities of WordPress vs. Drupal
WordPress evolved into a lego-block-like system, while Drupal became a system built by modeling clay.
As WordPress became more template-driven, Drupal evolved into the CMS of choice for developers who wanted to create smart, flexible, customized, personalized and extensible websites. The Drupal community added features such as personalization, multi-language capabilities and ADA compliance – features that can be added to WordPress, but not easily.
Administrative Features of WordPress vs. Drupal
Since WordPress was conceived as a single-user blog-publishing system, to support multiple users and sophisticated features, a community emerged that developed new plugins that were added to the WordPress engine. Because these plugins are developed by numerous developers, a security hole in any one of them makes the entire website vulnerable to security hacks. Despite these efforts, WordPress still hasn't developed elegant solutions for workflows, access control lists (ACL) and development-staging-production environments.
In contrast, Drupal is more secure and it supports enterprise-wide collaboration, work-flows, access control lists, and development-staging-production environments.
As a result, WordPress has become the choice solution for small schools while Drupal has become the preferred CMS for medium-to-large colleges and universities.
In its 2018 "Website Hack Trend Report 2018", Sucuri Inc., an authority in malware removal and security, said that 90% of all infected websites were powered by WordPress.
The Department of Education's Office of Civil Rights has cited over 500 colleges for website non-compliance with ADA regulations. It is not known how many of these websites are powered by WordPress, but the built-in ADA compliance capabilities of Drupal certainly accelerate the detection and remediation of issues.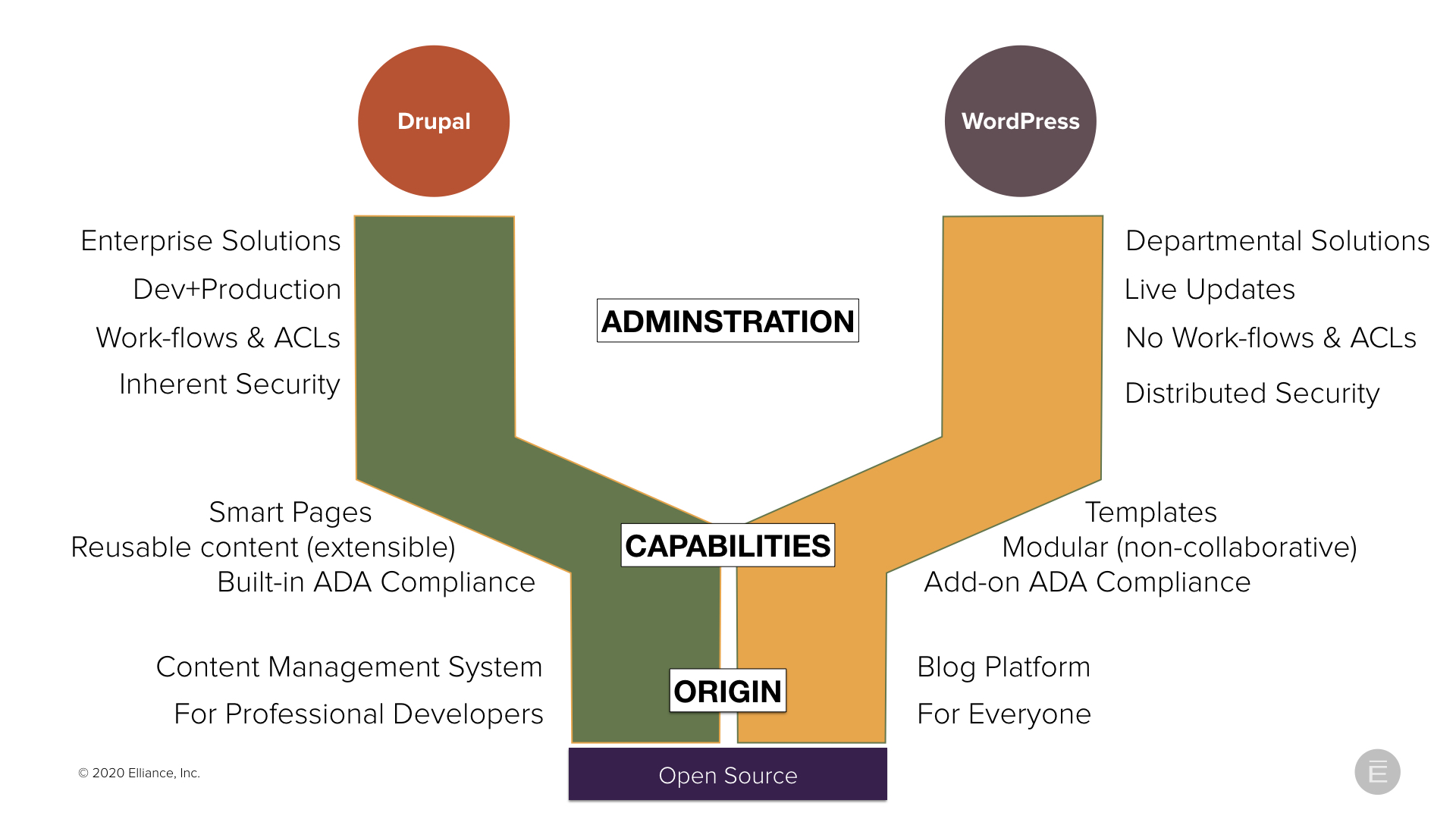 It is no surprise that Drupal has become the CMS choice for institutions that value security, scale, ACL, ADA compliance, and workflow management. Drupal is not only the go-to choice for universities, but also most government institutions. Additionally, schools challenged by rapid change appreciate the flexibility offered by Drupal.
Elliance can, and has, built school websites in both WordPress and Drupal. Given a choice, we encourage our clients to consider Drupal as a more robust solution. We have found that developing and maintaining a Drupal website takes less effort over time than a website built with WordPress.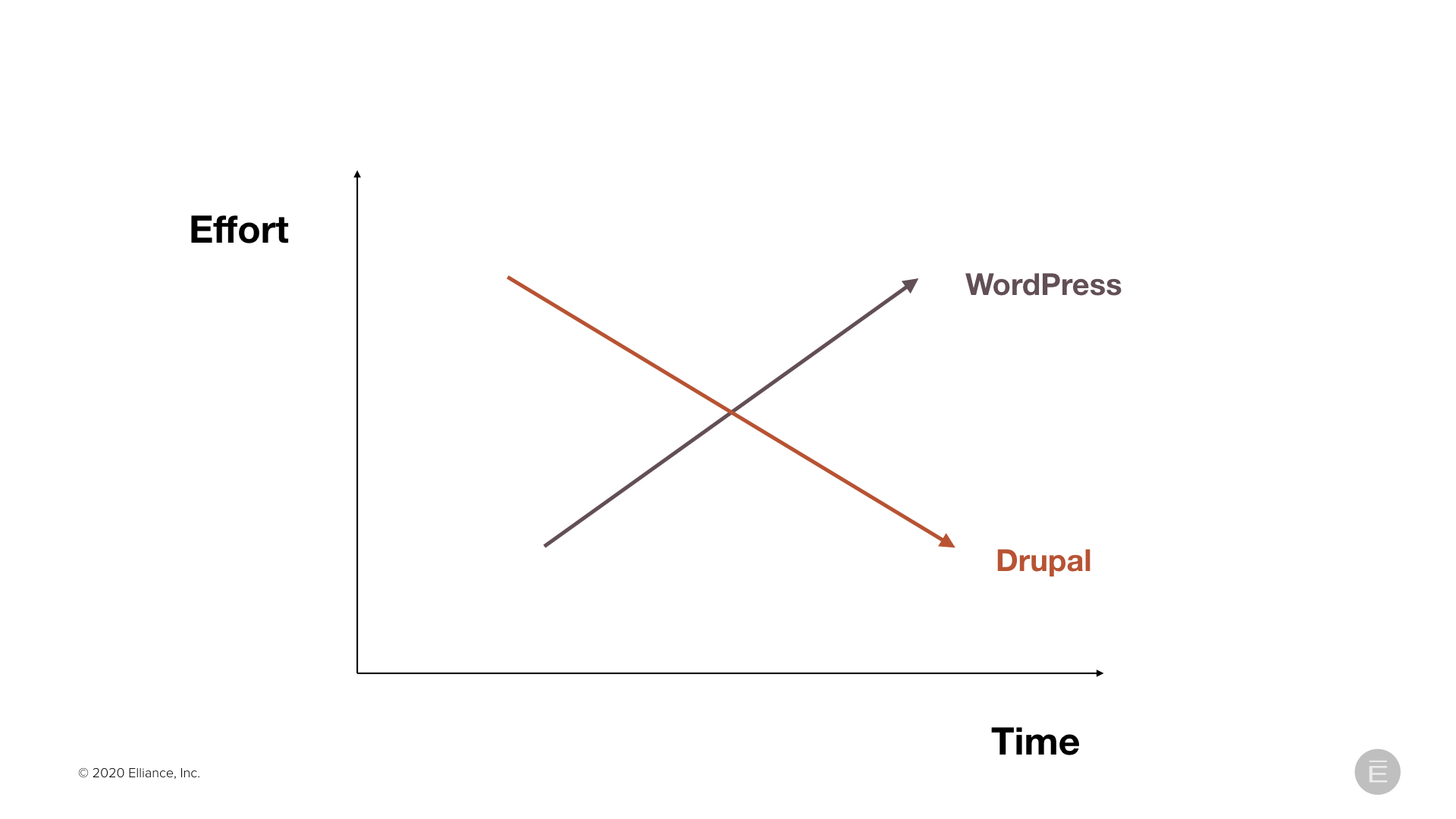 If you are seeking college web development agencies, please see our work and consider partnering with us.