Whether we're working on higher education website design projects or marketing campaigns for colleges and universities, SEO strategy is always central to our thinking. We always start by creating an SEO Keyword Lexicon that guides our content creation and optimization efforts.
The Keyword Lexicon includes different types of keywords that a prospective student will use at different stages of their college search process. Here's an infographic that illustrates the various stages in the search process and the type of keyword used at that stage.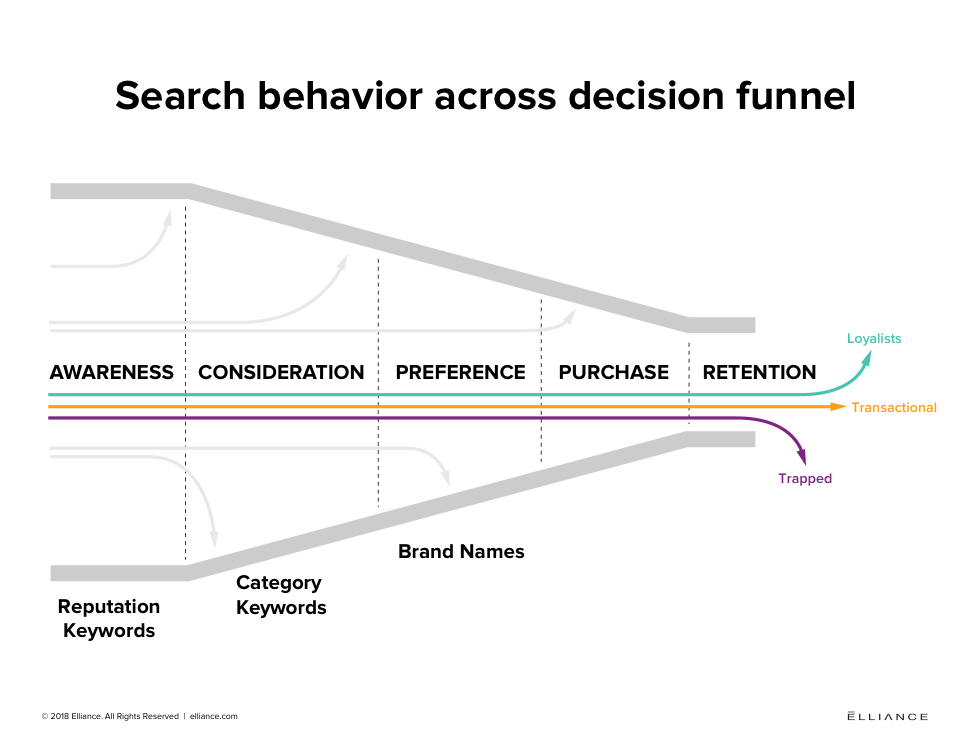 Awareness = Reputation Keywords:
At the beginning of the college search process, people tend to use broader keywords looking to build awareness about possible options at that time. One way to start the search process is by using reputation keywords – using "top" and "best" keywords as you look for the most reputable solutions. For example, someone searching for MBA programs in Pennsylvania will start their search with keywords like 'top MBA programs in Pennsylvania', 'MBA programs in PA', 'best MBA programs in PA', 'best value MBA programs in Pennsylvania', etc.
Consideration = Category Keywords:
The next phase for a prospect comes when they feel they are familiar with the options available. They will use phrases that are more specific to what they're looking for, in other words, category phrases. For example, the MBA prospect may be looking for an MBA with a focus in Business Analytics. Their next step will be to use words that refine their search to be more specific to what they're looking for. In this case, our prospect will most likely search for something along the lines of 'MBA programs in business analytics in Pennsylvania'.
Preference, Purchase & Retention = Branded Keywords:
As the prospect builds familiarity with the pool of options available, they will start to build a preference for the brand they like and in turn use branded keywords in the search process. As the prospect gets closer to the decision-making phase, these branded terms will become more frequent, eventually turning into a preference for a brand and an eventual decision.
Elliance SEO strategy is to write content and optimize it to ensure our clients are ranked on search engines for keywords at each stage of the decision funnel.
Learn more about Elliance higher education marketing services or contact us.