Today was a great day for Elliance, and Aerotech. We accomplished an engineering feat which is a rare occurrence in any company's history. A little over a year after launching their English website, we launched the German version of the website for Aerotech. The intriguing part of the story is that the German website wasn't built as a standalone website; instead, a common code base, data model and content management engine powers both their English and German websites. This translates into nominal costs for creating each additional international website and fixing a problem in all international versions in case a problem is discovered.
Doing this for a marketing website is an accomplishment in itself, but doing this for a marketing website with complex add-ons such as site search, facet search, international dealer locator, a complete product catalog and SEO hooks is an accomplishment on a different scale. It's as if we were climbing uphill with extra weights added to our backpack.
Metaphorically speaking, building software for a one story house, 10 story building or a 100 story skyscraper are totally different types of undertakings. While we routinely develop one story and 10 story websites, we excel at and love the challenge of building software and systems for 100 story skyscrapers.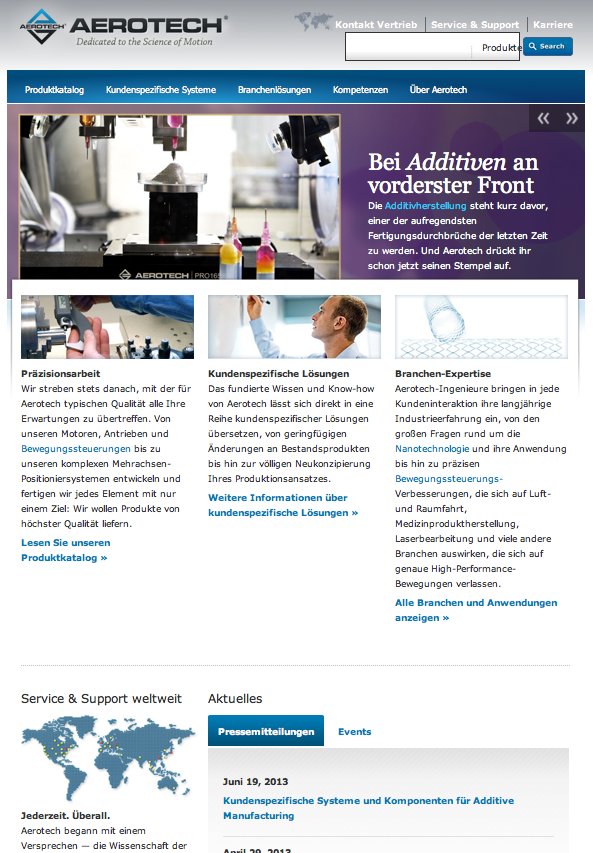 Click here to visit their German website and click here to visit their English website.
Aerotech is literally on fire. They have expanded their manufacturing facilities and are growing like gangbusters. They are not only dedicated to the science of motion, but they truly are best-in-class in their space. Stay tuned for more international versions to arrive in the upcoming months.
Three cheers for the Elliance team for accomplishing this amazing engineering feat. And for Aerotech to live and embody their brand essence even in their website.
Learn more about our website design and website development services.