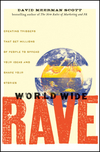 Just finished this poignant book by David Meerman Scott. The fundamental premise of this book is that the you should be creating interesting and valuable content that your target audience wants to 'rave' about to their friends. The content could be served up in the shape of blogs, e-books, tools, contests, videos, etc. The important thing is that 'buzz' factor should be built into the content; that automatically excludes happy talk about your products and services.
Interestingly, a couple of years ago, we came at this very concept from a different angle as part of our Search Engine Marketing Practice. To get top rankings on search engines, a website needs to win on three clusters of factors: on-page factors, URL factors, and off-page factors – with the latter being the most important, and comprising of in-bound links from especially social media websites. Here is how we had captured this thought in an infographic.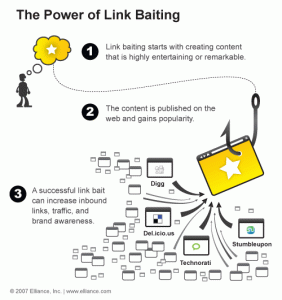 In fact, we too created a 'World Wide Rave' by creating a weekly SEO infographic, which we simultaneously posted on our website and on 'Search Engine Land', the second most popular marketing blog in the world. As a result, we have thousands of blog links, twitter chatter, delicious shortcuts, and many top-rankings on search engines. Furthermore, we are now known as the 'SEO Infographic Guys' or the 'SEO Infographic Company' in the marketing space.
If you wish to see the entire series of our SEO Infographics, visit our SEO microsite at searchengineoptimization.elliance.com. Cheers.