Search Engine Optimization (SEO) is the process of improving your website and creating fresh content to improve your website rankings on Google, Bing and other search engines.
Search engine algorithms today use Artificial Intelligence (AI) to understand and interpret user queries and serve up search results. Google has introduced some famous algorithm updates like RankBrain, Bert and MUM which use AI principles to improve search functionality. With the introduction of ChatGPT, AI has gone mainstream and now everyone is talking about it. However, in the world of Search algorithms & SEO, AI has been playing a part for a much longer time.
Here are some of the ways these AI principles are being used to serve up results that users are looking for:
1. Natural language processing (NLP)
AI-powered NLP enables search engines to understand the context, intent, and semantics of search queries and website content. The Google Hummingbird update that launched in August 2013 represented a fundamental change in how Google understood and processed search queries. It aimed to provide users with more relevant results by focusing on semantic understanding, context, and user intent using natural language processing technology. Additionally, the update paved the way for future advancements in search, including voice search, and the inclusion of structured data for rich snippets.
From an SEO standpoint, a natural response to this update was to change strategy to focus on multiple keyword variations rather than one focus keyword. As search algorithms started to recognize and understand semantics and meanings of words, they were able to serve up better results for a variety of phrases. For example, they serve up similar results for "top SEO agencies" and "best SEO agencies".
2. Machine learning:
In 2016, Google announced that it would become a machine learning first company. Google's RankBrain is the machine learning algorithm which helps sort search results by identifying patterns in queries, and also helping the search engine identify possible new ranking signals. Based on user history, RankBrain will serve up different results until it sees better user interaction and engagement. Some of the things that we encounter when we search are based on RankBrain. This includes personalization of search results, local results, and auto complete, all of which use RankBrain and machine learning to give you the best experience possible when searching on Google.
Localization of search results happened as part of RankBrain which resulted local results being served up. For example, searching for the word "restaurants" results in a list of restaurants around Pittsburgh, where Google automatically detects my location and serves those results up.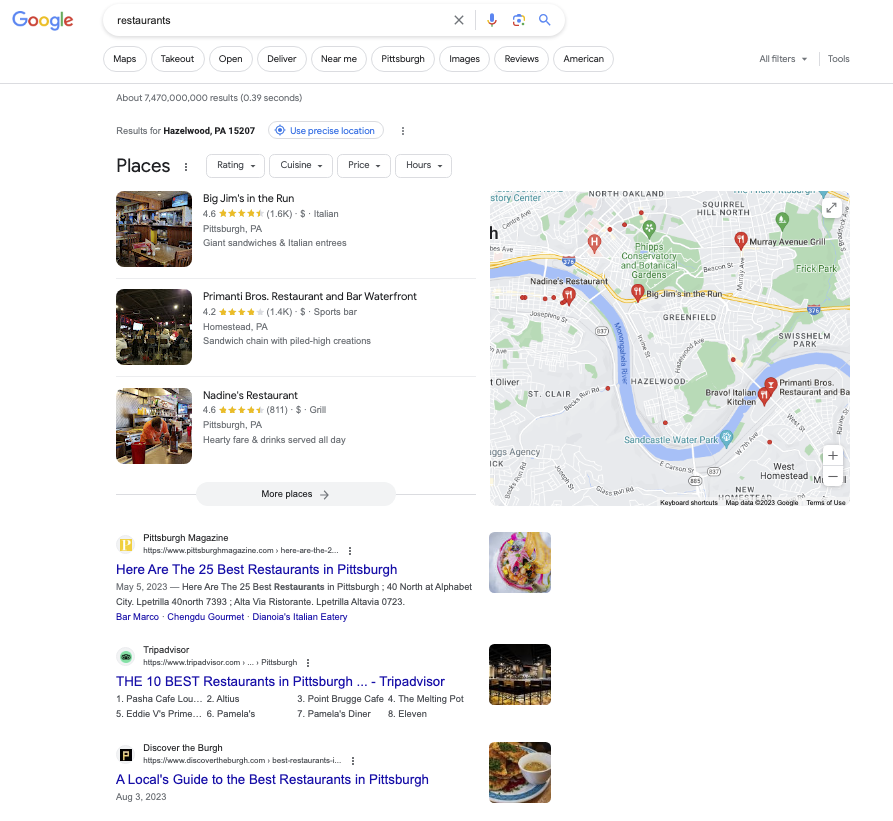 For the same keyword, autocomplete provides many more options for searching based on my search results history:

To gain success with local SEO, marketers began to incorporate local terms in their strategy.
3. Generative AI:
With new breakthroughs happening in AI, Google is now taking this to the next level and incorporating Generative AI in search. Again focusing on the user, their focus is on providing more context around a search so that the user has to do less and the algorithm can serve up a more comprehensive result. Currently in its experimental stages, this promises to be the new frontier in the world of search and AI.
Being aware of how AI is impacting SEO is important to understand and adapt your SEO strategies accordingly. This will help to stay ahead of the curve so you can continue to have success and build top rankings on search engines.
About Elliance
Elliance, a Pittsburgh-based SEO marketing agency, has helped more than 100 colleges and universities grow reputation and demand with page 1 Google rankings, with website optimizations, content generation and social media updates.