Fourth of a four part series on web development best practices we have used as one of Pittsburgh's longest standing web development agencies. These practices have consistently delivered prosperity to regional, national and global clients for the past 30 years.
Today, more than any other marketing touch point, a website is the digital soul of an organization. All roads lead to it. As a mission-critical asset, it must be kept current and fresh with an easy-to-use content management system (CMS). There are four types of CMS systems: proprietary, cloud-based small-business, open-source or commercial grade. Which one should you pick? The answer depends on four factors:
The Right Features
A good CMS system must be: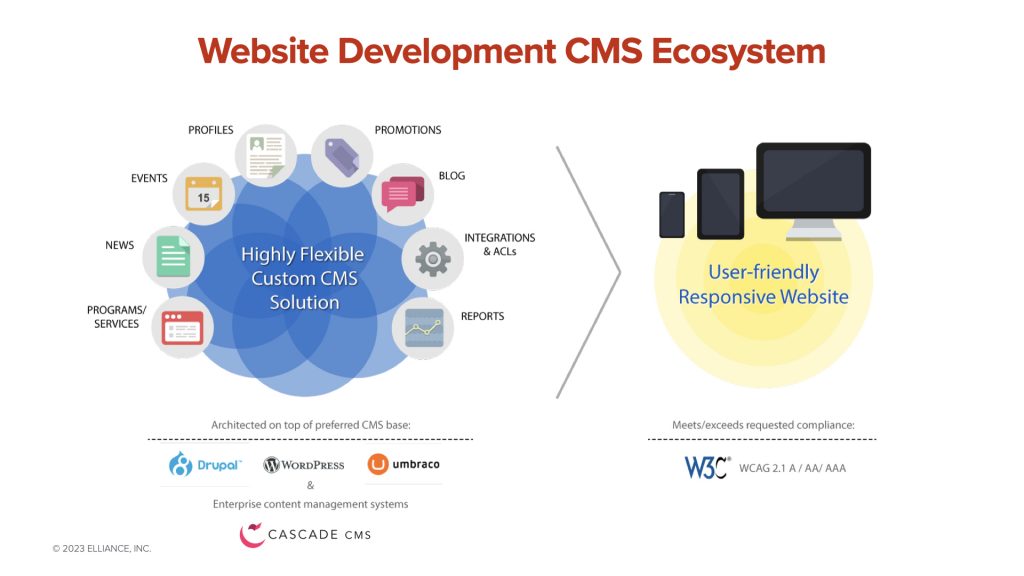 User Friendly – The CMS should be easy to use for both non-technical content administrators and web/technology teams. It should have spell-checkers, content preview, and content rollback features.
Customizable – It should be flexible and customizable for standard tasks, but it should also have the ability to extend its capabilities with custom language support.
Scalable – The CMS should be able to handle large amounts of content and accommodate the needs of multiple users and divisions.
Accessible – A good CMS system should generate code that supports all users including those with disabilities. They should either offer accessibility checkers or easily integrate with third-party accessibility checkers.
Responsive Design Friendly – Because this is both efficient and a ranking factor for Google, it should support the creation of responsive design which automatically adjusts to various viewing devices and browsers.
Integration Friendly – Because websites exist in a digital ecosystem, the CMS should be able to integrate with other technology tools and platforms such as social media, CRM systems, event management tools, HR tools, catalog tools, marketing automation systems, analytics packages, and more.
SEO Friendly – Because you can only buy what you can find, a website should support mechanisms that facilitate Google rankings: meta-data, social shares, automatic XML sitemap generation, 301-redirects, 404 pages, search bot friendly URLs, robots.txt files and more.
Multi-Lingual Support – If you are serving international markets or multiple ethnicities, your CMS should provide support for multiple languages.
Access Controls – Granular permissions, access control, audit trails and roll-backs are par for the course.
Secure – The CMS should have robust security features, including SSL encryption, firewalls, and user authentication. It should be regularly updated to address any security vulnerabilities.
Although commercial CMS systems are a little more expensive as compared to proprietary, cloud-based and open source systems, inclusion of these features is a customary practice for commercial CMS softwares.
The Right Support
Commercial, proprietary and cloud-based CMS systems are created and maintained by dynamic software companies. Open-source CMS systems thrive due to the dedicated contributions from a vibrant community of developers. All CMS systems require community websites where robust discussions are taking place between developers and users. Size them up.
The Right Teams
If you don't have a sizable Web/IT team or expertise in the specific open source CMS system, contract with a commercial grade, proprietary or cloud-based small-business CMS company, and shy away from using an open source CMS system. However, we have had clients ask us to develop using open source CMS so their teams can learn from our best practices and apply them to other internal strategic projects. Occasionally, client teams are busy with other internal projects and have asked us to develop a website using an open source CMS system of their choice.
The Right Budget
If you are a small organization, it's best to rely on either cloud-based small-business or a proprietary CMS solution. If you are a medium to large organization and if you have a large Web/IT team, then you can use an open-source CMS system. However, if you are a medium to large organization and your Web/IT team has too much on their plate, it's best to buy a robust, commercial grade CMS system license (most of which are now available in the cloud).
At the end of the day, a good CMS system should bring you peace of mind. It should work for you rather than the other way around.
If you are seeking a web development agency for your organization, view our website development capabilities and consider partnering with us.