Second in a three-part blog series on a concept that author R. Todd Erkel calls "the battle for meaning." We will look at the evolution of cause marketing and its relationship to code, content, Google's algorithm, and page one organic search results. Organizations and companies once believed that possessing knowledge was enough to win hearts and minds. Later, they believed that communicating knowledge – through traditional media and conventional cause marketing methods – would suffice. More recently, causes and companies have acknowledged the need for deep and sustained digital content campaigns – blogs, microsites, video – to engage customers and advance a cause. The next frontier requires even more intentionality so that all content efforts converge to produce a renewable source of organic traffic and an ever-expanding, loyal and engaged audience.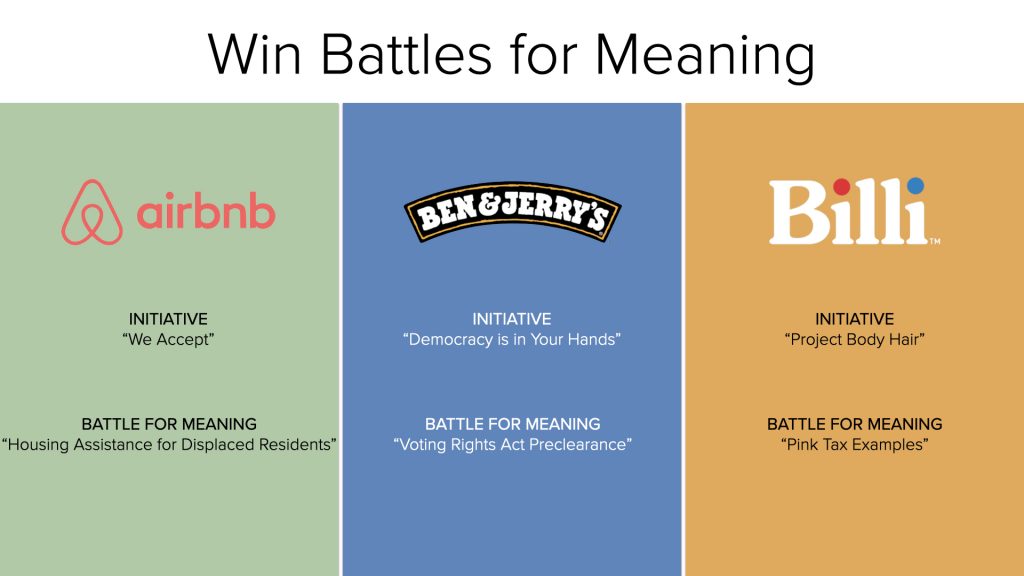 Three cause campaigns expanding into wider "battles" for meaning.
Air BNB: "We Accept"
A few years back, Airbnb faced backlash when customers raised concerns about hosts discriminating when accepting guest reservations. Airbnb introduced a nondiscrimination policy on its website. The accompanying 'We Accept' campaign championed Airbnb's long-held values of community-led and culturally diverse travel. The immediate PR crisis led the company to pledge short-term housing for 100,000 refugees, disaster survivors, and other displaced people over the next five years. Those early steps spun off into the Open Homes initiative and the creation of Airbnb.org, the new site for a 501(c)(3) nonprofit. Airbnb spent big on a 30-second video during the Super Bowl and followed up on social media with #WeAccept. The effort sparked 33k Tweets during the first half of the Super Bowl alone.
With time, the link between company and the issue of refugee housing has deepened. In recent times, Airbnb org funded short term housing for up to 100,000 people fleeing Ukraine. A company statement said: "we're now more committed than ever to helping shift (the refugee) narrative. That shift requires a full consideration of keyword priorities. For example, a current search for "housing assistance displaced residents" returns nearly 30 million Google results, with page one dominated by .gov, .org and .edu sites. A company like Airbnb has a limited pool of content and assets to leverage — choosing priorities becomes essential.
Ben & Jerry's: Democracy Is In Your Hands
In 2016, ice cream company Ben & Jerry's introduced its limited-time Empower Mint flavor to a new flavor to raise consumer awareness of voting rights. Along with the flavor came a campaign called "Democracy Is In Your Hands," which educated ice cream lovers about barriers (distance, voting jours, ID laws) designed to dampen turnout in low-income communities.
While the ice cream flavor was a limited edition, Ben & Jerry's tries to sustain the conversation each election cycle with a web page complete with background information, links, and information about how, and where, to vote. One possible "battle for meaning" keyword phrase would be "voting rights act preclearance." With just 200,000 Google results, this long-tail phrase would give Ben & Jerry's a foundation for future keyword efforts.
Billie: Project Body Hair
Billie, a New York-based personal care start-up, calls itself the New Body Brand. In 2019, it launched the "Project Body Hair" campaign to confront the taboo of talking openly about women's body hair. The campaign wanted to spark a conversation about female beauty standards. A viral video and the #projectbodyhair hashtag got the conversation started.
A campaign about celebrating women and bringing awareness to unrealistic beauty standards shows Billie's audience that their mission goes beyond selling razors. Billie expanded the campaign to address the issue of the longstanding pink tax which burdens women with higher prices for basic needs — like razors. A Google search returns some 128 million results for the phrase "pink tax examples." Securing a page-one Google presence for this or similar long-tail keyword phrase would ensure recurring traffic and give Billie influence — and future revenue — beyond its immediate, known customer base.
Contact us if you are interested in winning your brand's battle for meaning.