In recent blogs we've discussed the many benefits of universities and colleges utilizing Snapchat as a higher education marketing tool — from Geofilters that essentially act as digital billboards to Snapchat stories, which give you raw, in-the-moment exposure to a day-in-the-life at that institution.
But, as of August, there's a new kid on the social media block — Instagram Stories — and though the idea may have originated from that of its counterpart, Snapchat, they have taken it and run in their own direction, providing unique opportunities for individuals and marketers and winning over users left and right.
In just nine months of existence, Instagram Stories has reached over 200 million daily active users. The last recorded number of daily active users for Snapchat was released in December — reaching 161 million. This speaks volumes to the powerhouse that is Instagram. In months Instagram has measured up to and very-likely surpassed the number of story users Snapchat has garnered over the last six years since its launch in 2011.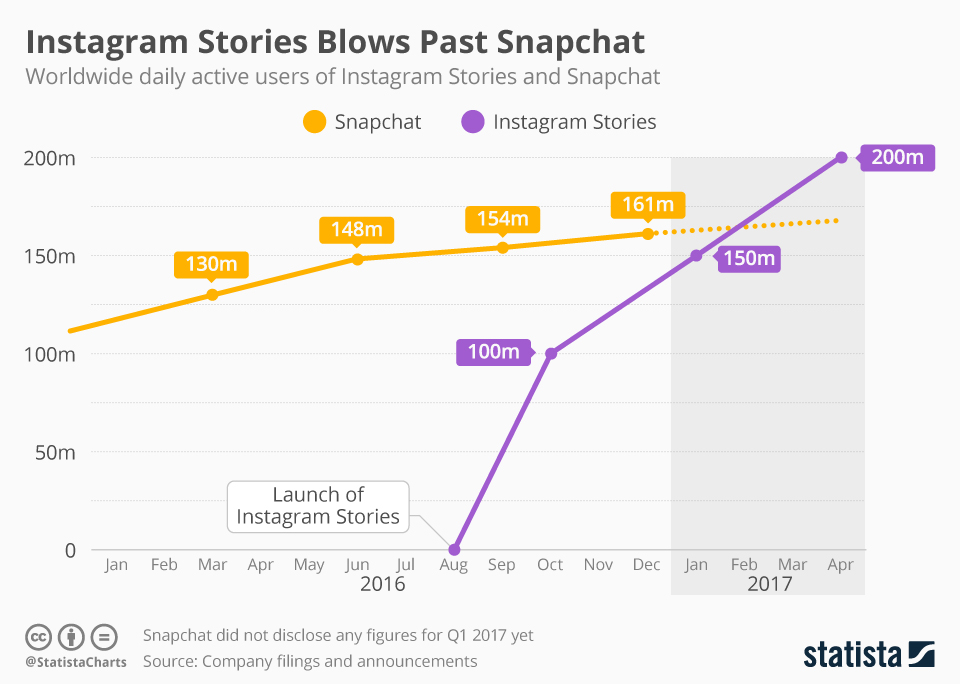 A recent study by Sprout Social shows that between these two social media platforms, Instagram is preferred by 22.2 percent of millennials with over 400 million daily active users, compared to Snapchat, which sits at over 150 million daily active users and is preferred by 15.8 percent of millennials.
The story feature on both platforms has its unique advantages and the concept as a whole has acted as a major influencer for marketers. "It's so relevant and brings forward this real-time moment for brands to really wrap themselves in," said Kyra Ulmer, evp of partnerships at Brand Networks.
Where you can utilize either platform for this raw, authentic storytelling, Instagram offers a greater canvas to paint the full picture of your brand.
Instead of having to switch back and forth between the two apps — going from beautiful, thoughtful posts to raw, in-the-moment story feeds, you can now have them both in one place on Instagram. It is the balance between a featured collection of your most important moments and messages of your brand and the realness and genuineness of the moments in between — the daily life of your students, faculty and staff and the day-to-day moments of campus living.
"With the Instagram Stories feature, you have everything you want from a mobile social network. You can edit and upload photos, upload videos, apply filters, send direct messages, advertise, and create content that disappears in 24 hours," Robert Katai shares in an article by the Content Marketing Institute.
The article also shares six tips for how brands can best utilize Instagram Stories. One of these tips includes short Q&A's, or "Instachats" as Katai calls them — having audience members direct message questions to one particular specialist and having him or her answer questions using Instagram Stories.
I can see this being a powerful approach to higher education marketing. Having a current student or faculty expert from each school or department, or even admissions counselors, take over the Instagram story for a day and allowing prospective students to ask questions about that school. Because the questions are asked privately through direct message, the specialist or faculty expert can choose to answer the questions they want and ignore any that may be irrelevant or inappropriate.
At Elliance we are always investigating the newest strategies for amplifying our clients brand message through content creation and social media sharing — connecting prospective students and key influencers to institutions.