I've noticed more and more, emojis are showing up in my inbox. My favorite restaurants and retailers are tacking little images of suns, fireworks and ocean waves to their email subject lines. I found myself clicking on them more often, and got curious if others did too. Do emojis really trigger spam filters? As a major emoji enthusiast, a connoisseur if you will, of the best way to emojify my conversations, I had to know.
If there were badges for Google search proficiency, I'd consider myself highly proficient. My fourth grade librarian, Mrs. Williamson, would be elated to know that I'm still actively using quotation marks and plus and minus signs in my search fields.
So imagine my surprise when I searched Emojis + Spam Filters and couldn't find a single reputable article from the last year with data to support that adding an emoticon to the subject line of an email would trigger the spam filter.
Mail Chimp makes no mention of emojis in their Knowledge Base article about avoiding spam filters. And emojis don't appear on Remarkety's list of 25 Ways to Avoid Sending Spam either.
In fact, in all my Googling, I found that emojis can actually increase open rates, when used strategically. According to Experian, 56 percent of brands that use symbols in their subject lines have a higher open rate. 😯  And according to Experian, emails with emojis in their subject lines get opened 45 percent more often.
Ad Age estimates that the average American consumer receives somewhere between 500 and 1500 brand messages every day. Forty percent of those same consumers are receiving more than 30 emails per day. Adding an emoji to the subject line of your email can help you stand out in a sea of Arial.
Of course, while emojis are the largest growing language in the world, you should still exercise caution when considering adding them to your e-marketing communications.
Here are a few tips to follow:
Know your target audience.
Grasshopper cautions that "businesses that sell B2B should probably avoid using emojis. But generally, if you have a fun, casual brand… emojis can help your email stand out against the black and white of a crowded inbox."
Choose emoticons that compliment the subject line.
There are hundreds of emojis available, choose emojis that add emotion, humor or even a hint of sarcasm to your subject line.
 Here are a few examples of real email subject lines featuring emojis from my inbox: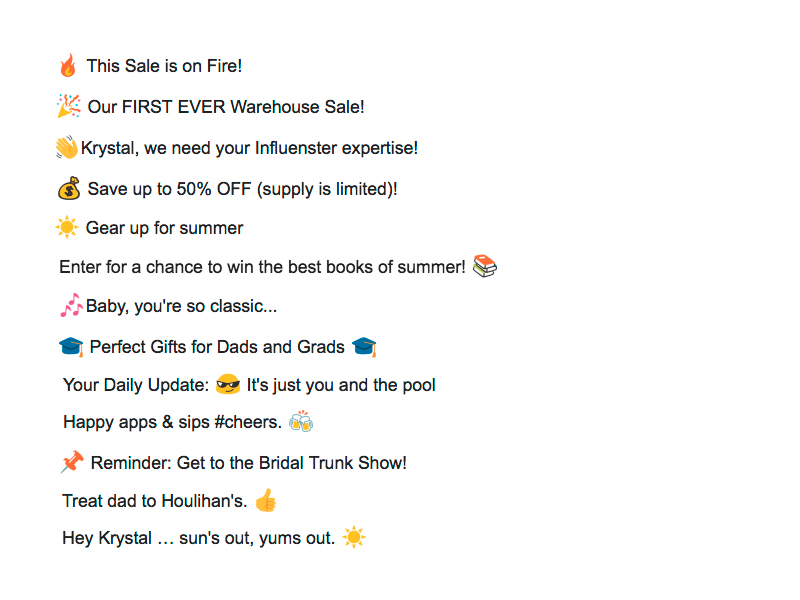 Don't replace words with emojis.
Treat emojis as garnish and add them only when it makes sense and they support the messaging.
Don't overdo it.
The goal is to be noticed, not annoying. Use emojis only when it makes sense. Test them out in campaigns with a higher priority or during peak seasons when you need to stand out. Limit yourself to one, maybe two, emojis per subject line. While you may not trigger the filter, too many emojis will have you looking like a bedazzled jean jacket.
Know where to start.
Unicode provides a list of Unicode emoji characters with images from different vendors and versions to show how a particular emoji will render for different users. This is also a great place to see what's available when you think an email might benefit from the addition of an emoji.