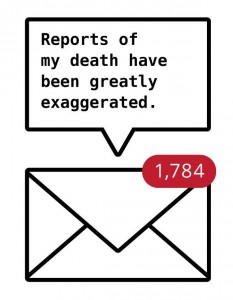 The widespread adoption of social media was a marketing game-changer. By 2014, social media users had surpassed two billion, by January of 2015, 42% of the world's population had access to the Internet and, today, over half owns a smart phone.  The numbers are staggering.
But despite predictions just a few years ago that social media would lead to the demise of email as a viable marketing platform, the email apocalypse never materialized. While it may lack the novelty of its younger digital marketing cousins like search, social and PPC, email is getting new love as an invaluable—and in many cases—superior marketing channel.
Need proof beyond the number of times you check your own inbox a day? Email volume continues to grow exponentially, marketers are expected to invest $2.3 billion in email campaigns this year alone and email remains the number one activity on smart phones and other mobile devices.
Future-minded marketers didn't abandon their email outreach to chase social media followers, but found ways to integrate the two platforms in ways that bolstered the reach and impact of the other. In reality, social, along with mobile, didn't make email obsolete but, in many ways, contributed to its renaissance.
Today, we know that email and social both play important roles in digital marketing planning. The whole of these two channels is greater than the sum of their parts as each has its own strengths and its own shortcoming.
Social reigns supreme as a way to build brand awareness and fan bases, but email boasts advantages that are too significant to ignore:
Statistics show that email reaches its intended recipients 90% of the time, versus a Facebook post that reaches less than 3%
Emailed content is believed to have more longevity that tweets or posts
Marketers rank email as the most effective customer acquisition and retention channel, perhaps due to it's more personal, intimate nature
Email is the only channel that brands completely own and manage, independent of social networks, ever-changing search algorithms and competitors
Email delivers unsurpassed returns; every $1 spent on email marketing produces an average return of $44.25
If your email and social content are still operating in silos, now is the time to integrate the two by leveraging your social media channels to build your email subscriber list and leveraging your email subscriber list to build a bigger community of followers on your social channels.
Always include social media share buttons in your emails (research shows this can increase click through rates by 158%)
Encourage your social followers to subscribe to your email list with email-only discount offers and incentives
Use similar incentives to encourage your subscribers to share your email content
Promote exclusive email-content via your social channels
Encourage readers of your blog to subscribe to your email list
Include a prominent email sign-up box on your website
Add an email opt-in form to your Facebook page