Not long ago, Abu wrote about how social media is being adopted by big name manufacturers. The GE and John Deere examples he shared show that some manufacturers are doing an amazing job with their digital marketing efforts. Data from a recent MarketingSherpa Benchmarking study shows that investments in website design, SEO and social on behalf of manufacturing marketing are all expected to rise in 2012. For success in these marketing ventures, it's important to implement and integrate your strategies with a purpose.
Let's take GE as an example. GE is doing a wonderful job with its social. The website is well done, the visuals are great and GE is telling compelling stories about its products and services. Images and branding both on the website and associated social channels contribute to the seamless integration between the two.
Let's look at some different views of their homepage: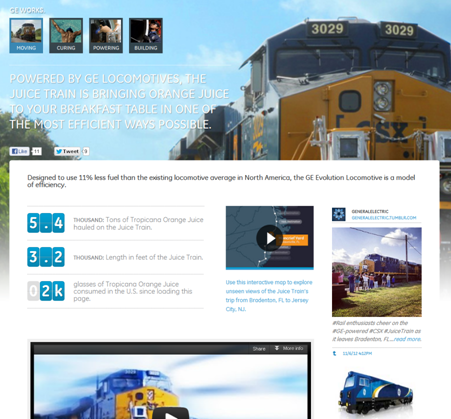 An ongoing campaign — "GE Works" — is at the center of the whole GE strategy. These two views of the homepage are actually news stories that are posted for each of the 'GE Works' categories; Moving, Curing, Powering and Building. They include some interesting statistics related to the story, followed by a video which is pulled in from their YouTube channel. GE has also added small "Like" and "Tweet" buttons to encourage readers to share with their personal networks. Each story pulls in content from related social content to the right. The first screenshot shows a photo of the 'Juice Train' from Tumblr while the second one shows a health related story from Facebook. All in all, it's a great way to represent a news story and engage your audience.
But what does this have to do with their search efforts? Why is social and SEO integration so important?
With all the recent changes in search engine algorithms, social activity has become more important than ever for top search engine rankings. One of the most important ranking factors in SEO is inbound links to a site, and social networks can play a big part in creating those links. Every time you link back to your website from a social post on Facebook, Twitter or LinkedIn, you're increasing the number of links to your site. Of course, the ultimate prize is to have a post go viral, which benefits your website in both traffic and increased links, signaling to search engines that there is something important about this site.
For social and search to work hand in hand, it's very important that the search strategy translates across the website and all social channels. In this case, GE has put the "GE Works" campaign at the center of all its efforts. By using this theme in branding, images, news and social channels, the company is able to increase the reach of all those things.
Carrying a single theme through all of your channels and your website can be a challenge, but in GE's case, they've taken it all the way. Look at the following description for their homepage as it shows up in a Google search result:

You can see the "GE Works" theme translate down to the meta data for their webpages. GE seems to be doing almost everything right.
For your own website, think about carrying your campaign or theme throughout your website and social channels. It's not easy, but it's worth it.
Learn more about our manufacturing marketing and search marketing services.