Great marketers are a rare breed. They are shapeshifters who play ten crucial roles and gracefully switch between them: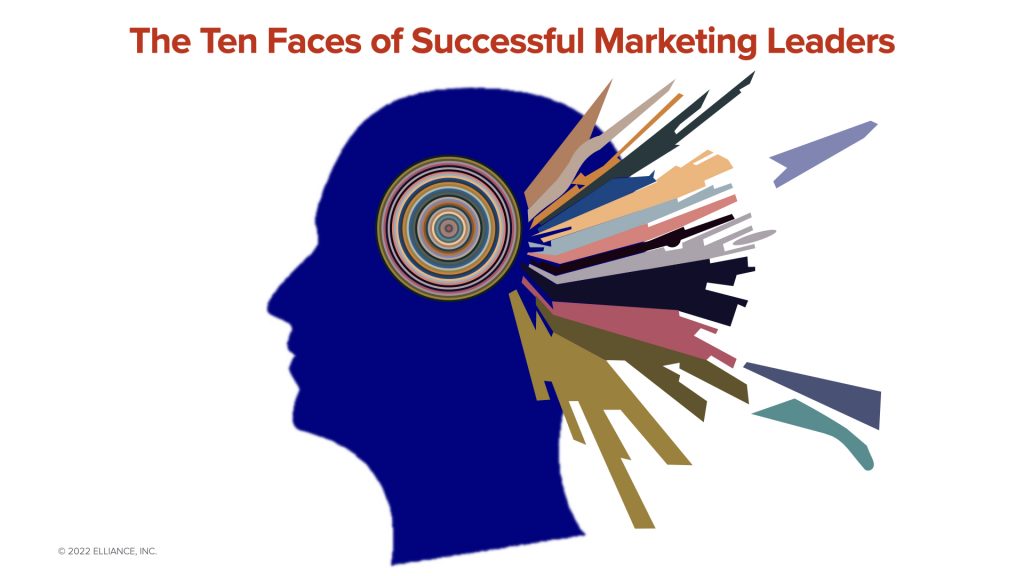 S T R A T E G I S T
As strategic thinkers, they imagine new possibilities, combinations and offerings that don't yet exist. They don't confuse strategy with planning or tactics. They play to win.
D I R E C T O R
The daily work of a marketing leader is to orchestrate in-house and out-sourced talent in service of larger goals. They recognize, motivate and unleash talent…wherever they can find it.
I N T E G R A T I V E T H I N K E R
They understand that marketing is a highly interconnected, mutually reinforcing and complex ecosystem of paid, owned and earned media tactics – part digital and part traditional. They have the capacity and the desire to work through its complexities.
E V A N G E L I S T
They help define the brand and then insist on speaking with its distinctive brand voice. As brand ambassadors, they manage first impressions and monitor the brand reputation. They continuously find new proofs of their brand claims. Not only are they merchants of hope, they know that a brand ultimately becomes the story it chooses to tell.
S T O R Y T E L L E R
Marketing leaders understand that the customer, not the organization is the hero of the story. They tell stories about their heroes and their unique journeys.
D I S C E R N E R
Successful marketing leaders don't deploy a shotgun approach to marketing. They don't try to be all things to all people. They only target and pursue right-fit prospects.
H U S T L E R
As marketing leaders, they act with a sense of urgency. They persevere in the face of challenges. Unafraid to fail, they are resilient.
D A T A S C I E N T I S T
Great marketers measure what matters, metrics like ROI and KPI's. They listen to the market and periodically monitor the institutional brand strength. They also periodically benchmark themselves against competitors.
D E C I S I O N M A K E R
Their approach to decision making is consultative and collaborative. They are customer-focused, empathetic and observant. They are instinct-powered yet data-informed decision makers.
T R U T H S E E K E R
They are honest and surround themselves with truth tellers. They know the unsaid is sometimes more powerful than what's said.
Above all, they are selflessly devoted to the success of their enterprise.
Contact us if you are seeking a smart marketing agency which can partner with you and help you join the elite group of successful organizations we've re-launched.