It's called Back to School, Welcome Week and New Student Orientation and it is a fall ritual at most higher education institutions.  These fun-filled social events are an annual right for returning students and an initiation of sorts for incoming freshmen. College events like Back to School Week are ingrained in the campus experience and they take on a whole new language and culture in itself. If you are not familiar with a particular school's rituals then you would probably have no idea what some students and alumni are talking about when it comes to their own school's unique events.
So how does higher education marketing distill these internal campus phenomena into an external global message that could help attract prospective right-fit students?  Go heavy on the digital – use university and college higher education marketing websites, social media channels and blog platforms to broadcast all of the exciting, spirit-filled on-boarding and welcome week events.  Show prospective high school, international and transfer students what they will experience and feel as a student in the first few days on campus.
Check out some of these cool Welcome Week activities that schools like William Woods University, The Catholic University of America, West Virginia University and The University of Delaware host for their student bodies.  And by the way, all of these events were easily found and prominently displayed on each school's higher ed marketing website, landing pages and social media channels making them good examples on how to approach higher education digital marketing.
---
The Catholic University of America
Washington, D.C.
Orientation 2016


Orientation 2016, the next four days will prepare for the next four years at CUA. You will learn about the campus, DC, your classes and what it means to be a CUA student. Be sure to say hi to everyone you see and have A LOT of fun!
Orientation- House of Cards: Spend the last night of Orientation in style! Dress to impress for a casino night and sharpen up your blackjack skills! Come win tickets to Adele or a new Keurig for your dorm all while sipping some sparkling cider!
Orientation Late Night Breakfast: come get some breakfast for a midnight snack on the first night of Orientation! Spend time with new friends, and have some laughs all while enjoying delicious pancakes and tater tots!
---
West Virginia University
Morgantown, West Virginia
Welcome Week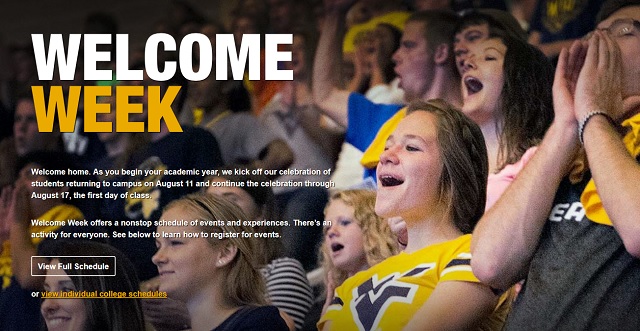 Welcome home. As you begin your academic year, we kick off our celebration of students returning to campus and continue the celebration through the first day of class. Welcome Week offers a nonstop schedule of events and experiences. There's an activity for everyone.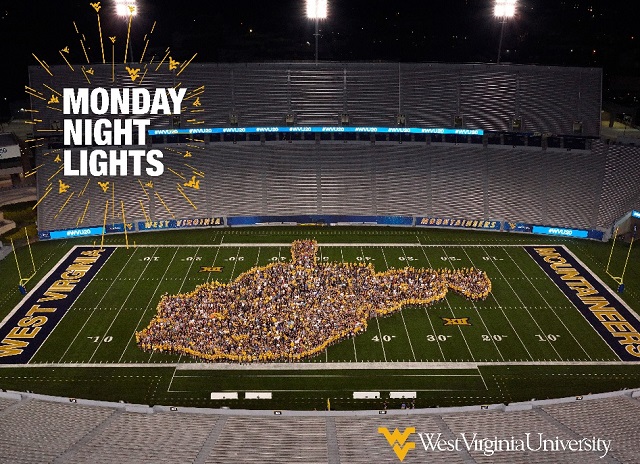 WVUp All Night: WVU's freshman class gathered on Mountaineer Field for a group photo – and a few selfies – at the Monday Night Lights celebration Aug. 15. With 5,400 students, this year's class of new students is one of the largest in school history.
Mountaineer Midway: A carnival extraordinaire – Mountaineer style! Bring your friends for fun games, good food and an opportunity to check out ways to get involved in student organizations.
Bumper Cars: In response to a Twitter poll to see what our students would like to have in the Food Court, bumper cars will be FREE for you to enjoy with your new Mountaineer friends.
Super Trikes:  Heavy-duty oversized trikes that accommodate adults of all sizes. Fitted with helmets, racers make their way around the inflatable course outside on the Mountainlair Plaza.
---
William Woods University
Fulton, Missouri
Brick Blast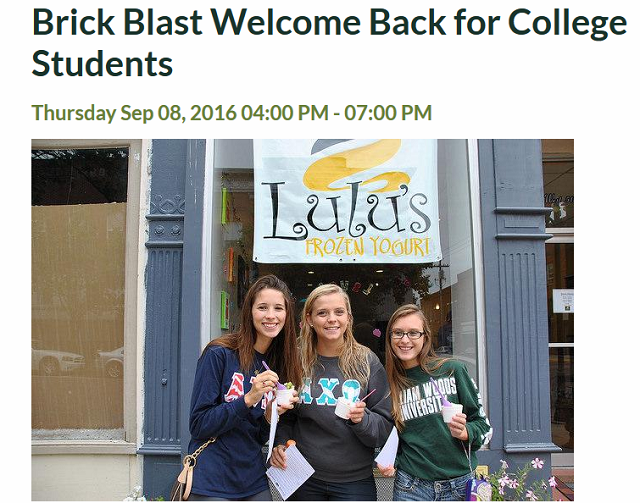 Members of the Brick District in downtown Fulton would like to welcome new and returning William Woods and Westminster students with the third annual Brick Blast. The event will provide an opportunity for students to mingle and become familiar with the city of Fulton.
Celebrate Brick Blast: The event will feature a DJ, food from local restaurants, and a scavenger hunt which will allow the students to explore local stores and potentially meet the Mayor of Fulton!
Run With It: A rising powerhouse pop-rock trio from Kansas City, will perform at William Woods University. The show, which is free and open to the public, will be at the new Sam B. Cook Amphitheatre on campus.
---
University of Delaware
Newark, Delaware
1743 Welcome Days




We can't wait to welcome you back to campus for 1743 Welcome Days! These three fun-filled days prior to classes will help you transition socially and academically as a new UD student. Our goal is to give you time to settle into your new home, meet and socialize with your new classmates, and learn more about your new academic life at the University of Delaware. We invite you to CONNECT with your new community, EXPLORE all that UD has to offer, and consider how you will CONTRIBUTE during your time at UD.
Hen Zone: Gather in the Hen Zone to play board games, Wii, Xbox, Playstation, air hockey, billiards, chess, foosball, table tennis, and much more!
Meet and Eat Welcome Picnic: We're roundin' up the first year class for an outdoor picnic, university style. Join your RA and new student community for an outdoor picnic on the Central Green.
Fall Activities Night: There are over 400 Registered Student Organizations on campus and more than 200 of them will have information tables set up in the two student centers: Perkins and Trabant, so make sure to stop by both locations.
Late Night Pancake Breakfast: Wrap up your day with pancakes and your Blue Hen Friends in the Caesar Rodney Dining Hall.
---
Penn State
University Park , Pennsylvania
Welcome Week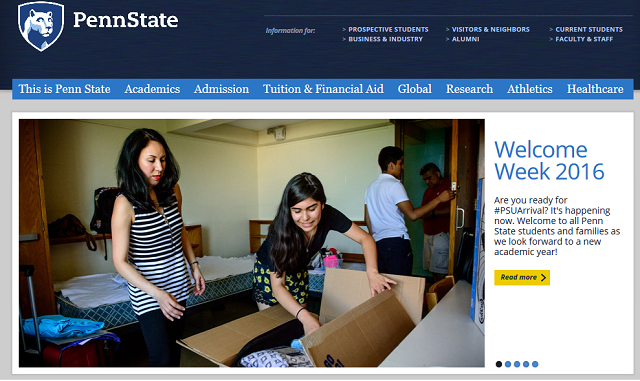 Fall Welcome is a tradition at Penn State. Welcome Week is full of activities to help you get to know University Park, meet new friends, and learn about the new opportunities available to you here.
Nittany Block Party: Come to the block party for live entertainment, free food, and activities.
Blue & White Bash: Join the student membership of the Penn State Alumni Association for their annual celebration! Free food, fun games and opportunities to get involved with the largest active student organization on campus – BASH has it all! New and returning students welcome.
LION Bash: Get to know downtown State College! Enjoy live music, food, face painting, photo booths, and a dunk tank.
---
Long live school spirit, campus culture and just plain excitement for college life.  What are some of your favorite Back to School and Welcome Week memories?