Have you noticed promoted pins showing up in your Pinterest feed?
Last month, Krystal shared how Pinterest boards and pins are being utilized to their fullest to attract, reach and inspire (Pinterest and your Business).
Pinterest is continuing to find ways to grow within their 100 million Pinner community.  They introduced a paid advertising feature called Promoted Pins. These are just like regular pins, only you pay to have them seen by more people. While this feature was initially launched last spring, it's still in beta and only available to certain business account holders in the U.S.
Below is a snapshot of how baby retailer Carter's is utilizing promoted pins to push their Christmas clothes while a Pinner is looking for baby toy ideas for Christmas.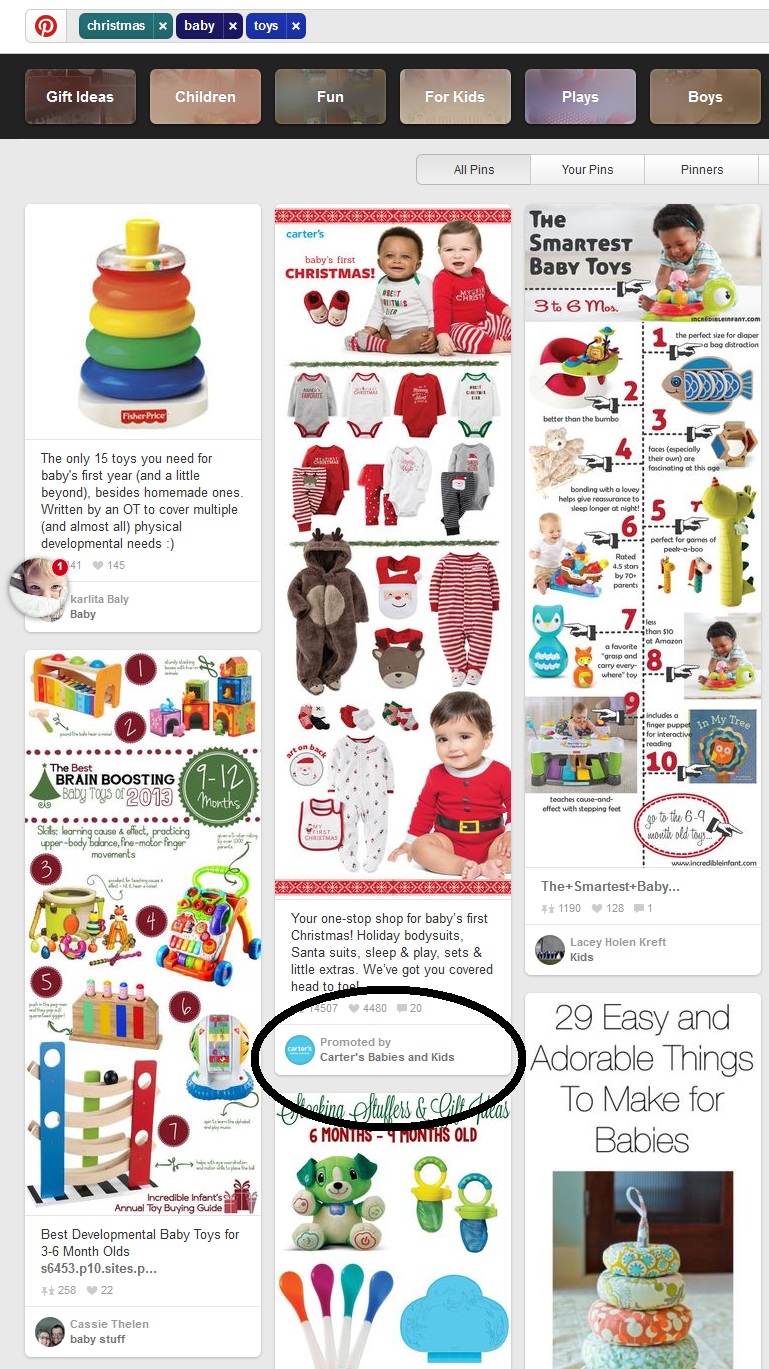 How can you use Promoted Pins?
A promoted pin is essentially a paid ad on Pinterest. You can geo-target by location, demographics and devices, to reach customers who are searching for or have shown an interest in what you offer. Promoted pins run on a cost-per-click (CPC) basis. You pay only when someone clicks through the pin to your website or landing page.
Why use Promoted Pins?
Promoted pins can help draw attention to something you want to feature, such as an event or promotion. They may also help you get exposure to people who don't yet follow your business on Pinterest. Promoted pins are also a great source for seasonal content.
Pinterest has been experimenting and testing frequently since the beta version launched last year. They last reported that they are working to roll out paid ads testing in their search and category feeds – a dream come true for b2b marketing! Stay tuned for more information as we follow official roll out.
If you are seeking a paid advertising agency, consider partnering with us.