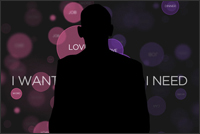 Artist, Osman Khan, Interactive Developer, Chris Natale, and Internet Marketing Company, Elliance, in conjunction with the August Wilson Center for African American Culture have collaborated to create an participatory installation that explores the pulse of Pittsburgh's citizenry. Theh installation is located in the window front of the August Wilson Center. Onlookers are encouraged to voice their personal response to the prompts "I want", "I need" by calling a particular number on their cellphones. Their answers are added to other peoples responses through a dynamic animated projection onto a screen in the window. Thus a collective archive emerges, at times humorous, at times sad, at times profound, at times banal, an evolving document of the desires and despairs of the people of Pittsburgh.
Interested participants may send a text message beginning with I want or I need to 79649
We are hopeful that President Barack Obama will come to the August Wilson Center. And if he does, this is a picture we are dreaming of capturing.