Businesses spend money on marketing channels to attract right-fit prospects and take a desired action on their website, e.g. make a purchase, request information, download a pdf, sign-up for newsletter, etc… Each of these actions when completed is counted as a 'goal'. However, most visitors to the website find their way to the goal after interacting with various marketing channels. Google Analytics (GA) provides a way to help understand and evaluate these encounters. All this digital touch-point information is captured during each website visit but standard GA reports do not provide this information without some additional setup.
Using the 'Goals' feature in GA helps measure the above engagements and understand their contribution in meeting the business objectives. Setting up goals is easy in GA profile admin. There are existing templates to choose as well as the ability to create new ones.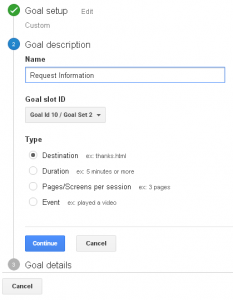 The goals overview report under the conversion section is the starting place to check goal completion trends, compare relationships between various goals or track goal performance over time.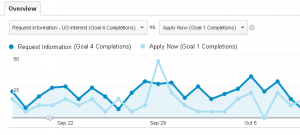 The best part of a goal setting exercise is the Multi-channel funnels report. This is where all the digital touch points prior to goal completion are reported.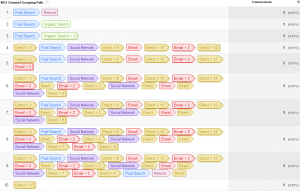 The online 'goal completion' behavior report addresses important questions like;
1. How do different marketing interactions affect your business success?
2. How do different channels help move users towards a goal?
3. How many touch points are accessed before goal completion?
4. Which channels play a role in assisting the goal?
5. Which channel triggered final goal completion?
6. How long does it takes to complete a goal?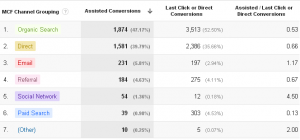 The dividend gained by investing a little time in defining and creating 'goals' in Google Analytics are the insights that help in making important decisions related to website content and effective use of marketing and advertising resources.