Here are nine strategies that smart colleges are deploying to fortify and turnaround their institutions: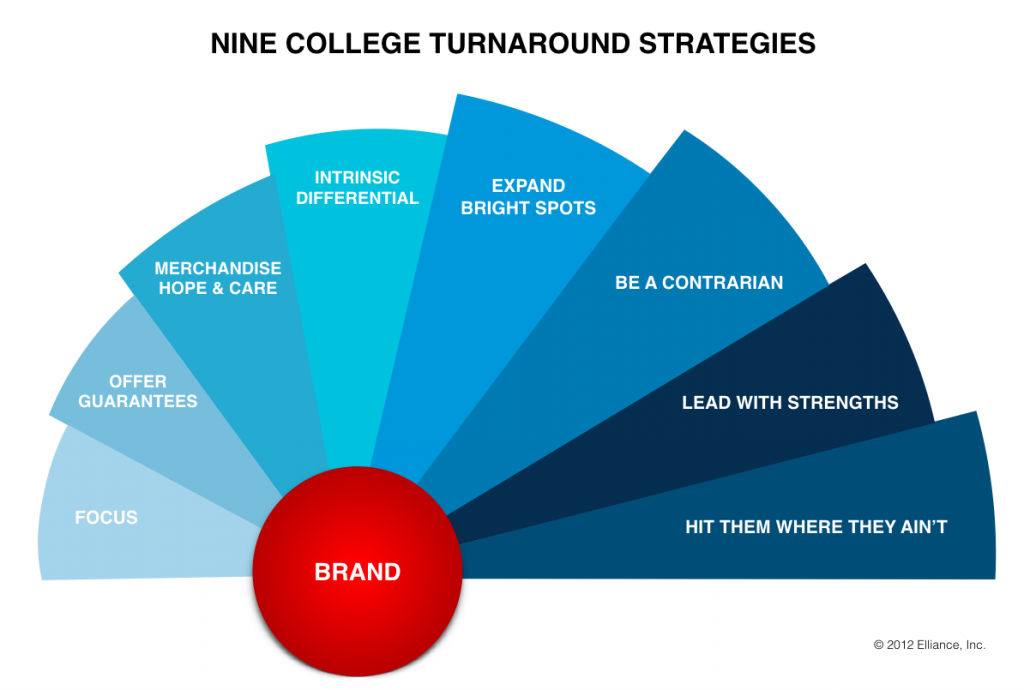 1. Hit them where they ain't. Think Elon University. No Harvard envy there. Elon attracts students who learn by doing and not just by reading text books. They own the "Engaged Learning" position.
2. Lead with strengths. Focus on the programs where the school has strengths and build from there. Or, as Dean Edward Snyder of Yale Business school says in New York Times: 'Give up the undifferentiated, multi-brass-ring strategy of best recruiters, best students, best facilities, blah, blah, blah.'
3. Focus. Palo Alto University offers psychology degrees only, Wheelock College offers child development programs only, and Thunderbird School of Management specializes in International business only. Inch-wide, mile deep.
4. Be a contrarian. Many liberal arts institution are buckling under pressure from a society that values vocational education. Not St. Edward's and St. Olaf. They have decided to embrace their strength in the liberal arts and are busy building a business case for why liberal arts education not only has an ROI, but is good for society and the world at large. They are busy producing adaptive, thinking and ever curious graduates.
[added Nov 26, 2017] While most colleges are still using traditional student search strategies (i.e. buying names, sending them a ton of emails/postcards, whittling the names down to a small number of interested students, and courting them ferociously), smart colleges are embracing micro-segmentation, 1-to-1 marketing and A/B testing that social media now enables with their big-data algorithms.
5. Expand bright spots. President Kirk walks into Saint Leo University, sees the depth of experience the university has amassed in distance learning while serving the mobile military, and decides to extend the technology to serve the adult students nationwide with online programs. Thus begins an amazing success story.
6. Intrinsic differential. Where others saw a school in distress, President Norman Smith of Wagner College saw prime real-estate facing New York City. He used that as the enticement for attracting students from the entire northeast. After all, who wouldn't want to be near the City, and live in a pristine bucolic setting? Students showed up in hordes.
7. Merchandise hope and care. Charismatic President "Buck" Smith put the tiny David & Elkins college nestled in remote Appalachia on a path of prosperity based on sheer power of good old fashioned values of hope, optimism, decency, encouragement, generosity of spirit and nurturing of relationships. The college, once bleeding, is now operating debt free.
8. Invest in Branding. Babson has positioned itself as THE college for entrepreneurship, American University as the supplier of "wonks" to the political and governmental establishment, Drexel as the university that mandates coop experience, and so on. Investing in a strong brand for a decade or more can lift your college from obscurity to national prominence.
9. Provide Guarantees. Whether it is job guarantee or a tuition lock, parents and students are attracted to colleges willing to stand behind their commitments.
None of these strategies are workable without a leader who leans in, and a senior team that hustles.
Deployed judiciously, these will create an inflection point for any college seeking a turnaround.
What successful turnaround strategies are you seeing out there?
Learn more about our strategy and higher education marketing services.